The charming city of Rochester is filled with delectable brunch spots. Offering the best of both worlds, these brunch restaurants offer both a juicy carving station and a sugared-up waffle bar.
Balancing between caffeine and boozy delights, brunches taste all the more delightful at the restaurants on our list.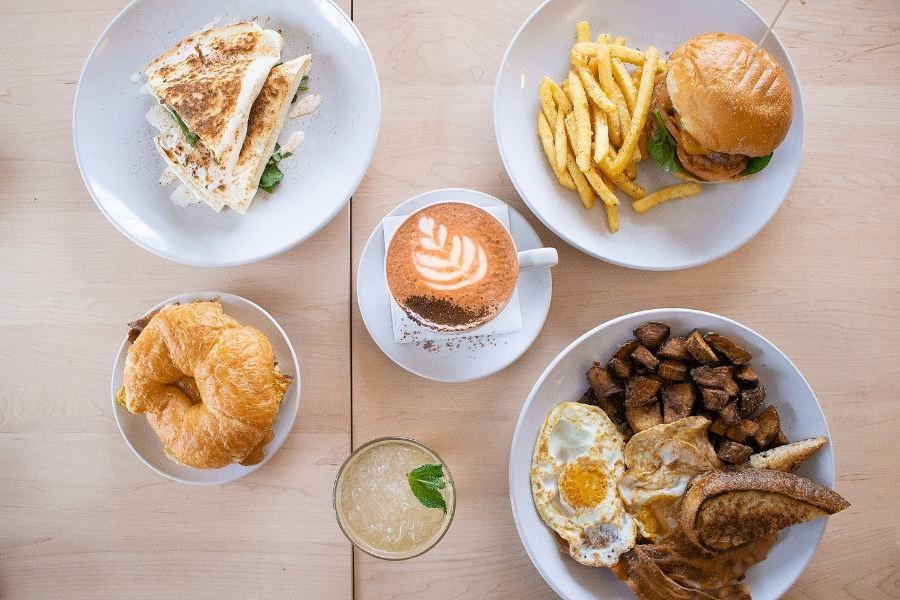 If you are looking for a delicious brunch spot to enjoy with your girlfriends this weekend, take your pick from the restaurants mentioned below and we promise that you won't be disappointed!
Best Overall Brunch: Locals Only
Best Affordable Brunch: POP ROCK
Best Brunch with a Bar: The Cub Room
Best Healthy Brunch: The Owl House
Best Breakfast & Brunch Rochester, NY
Locals Only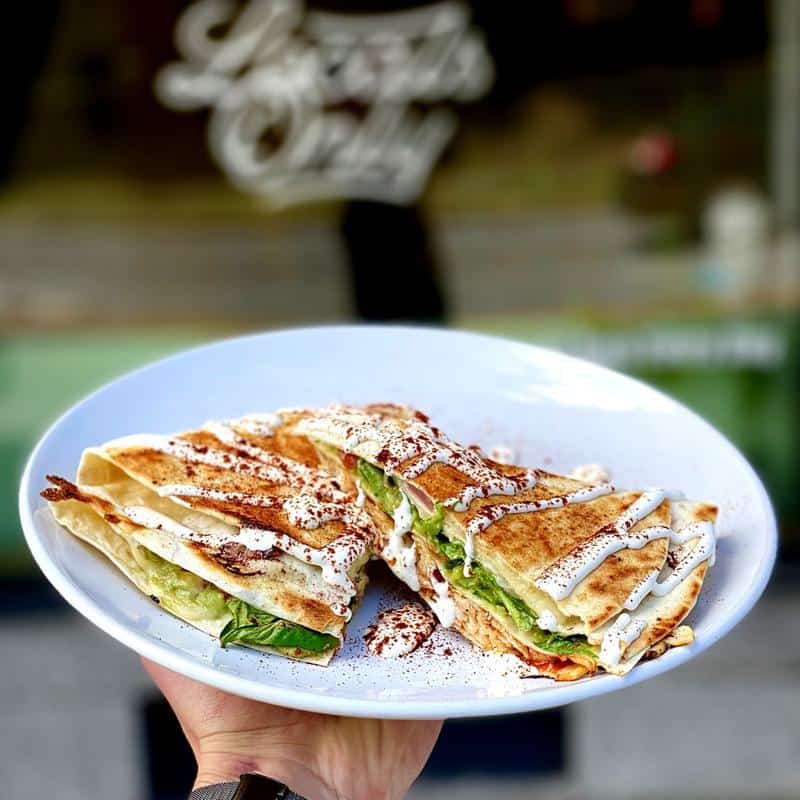 Address: 311 Alexander St, Rochester, NY 14604
Known for: Trendy brunch spot with classic American dishes and mimosa-inspired bubbly drinks
the super-cool and trendy Locals Only is a classy brunch spot in Rochester. With an impressive lineup of mouth-watering brunch delights and chef's specials, it is a wonderful spot to indulge in delectably prepared Bruschetta and scrambled eggs.
The top items on their brunch menu include Gucci Egg Sandwich and tasty Grilled Quesadillas. The Tot Flight is a great appetizer to start with before diving into a stack of buttery pancakes or waffles doused in maple syrup.
The restaurant has a full cocktail menu with numerous mimosa-inspired bubbly drinks to get a little tipsy on the weekends.
POP ROC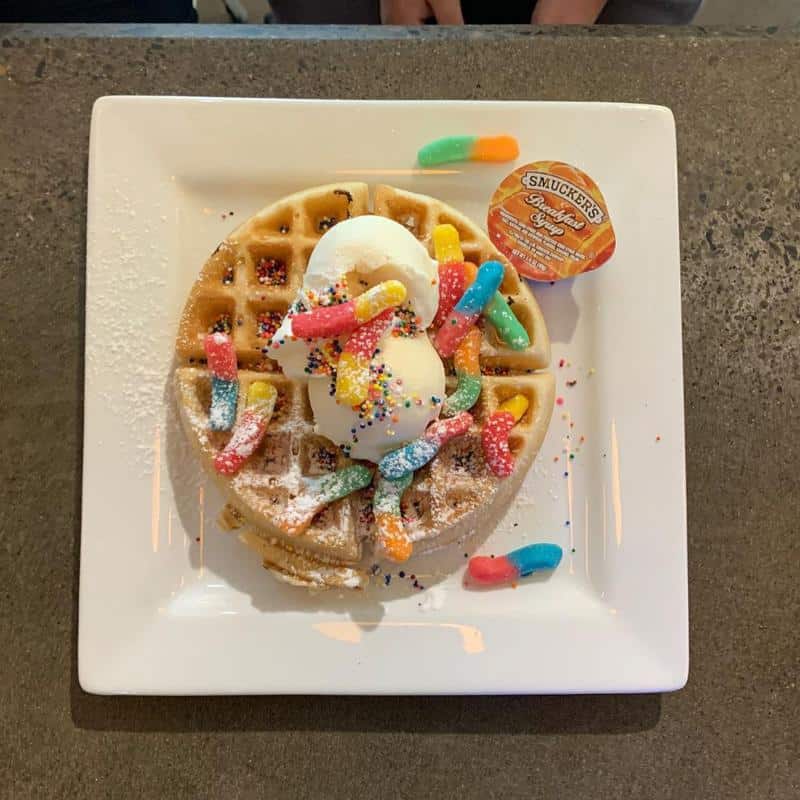 Address: 45 Euclid St, Rochester, NY 14604
Known for: Reference to pop culture and fandoms with a great line-up of classic brunch dishes
If you are into fandoms and pop culture, you will love the eccentric vibes and fun atmosphere at POP ROC. It is the spot where everyone belongs with an array of unique breakfast and brunch delights that warm up the belly and send you on a rollercoaster of nostalgic comforts.
The café pays homage to geek and pop culture with its unique setup, retail offerings, comics, collectibles, and custom-made geek gift packages along with an excellent brunch. Eat to your heart's content from the cereal bars with choices like Cookie Monster, American Pie, Choco Mountain, and S'mores.
The Sweet Spot hits right with fun-filled Waffle Toppings and a Scoop of the flavor of the week.
The Cub Room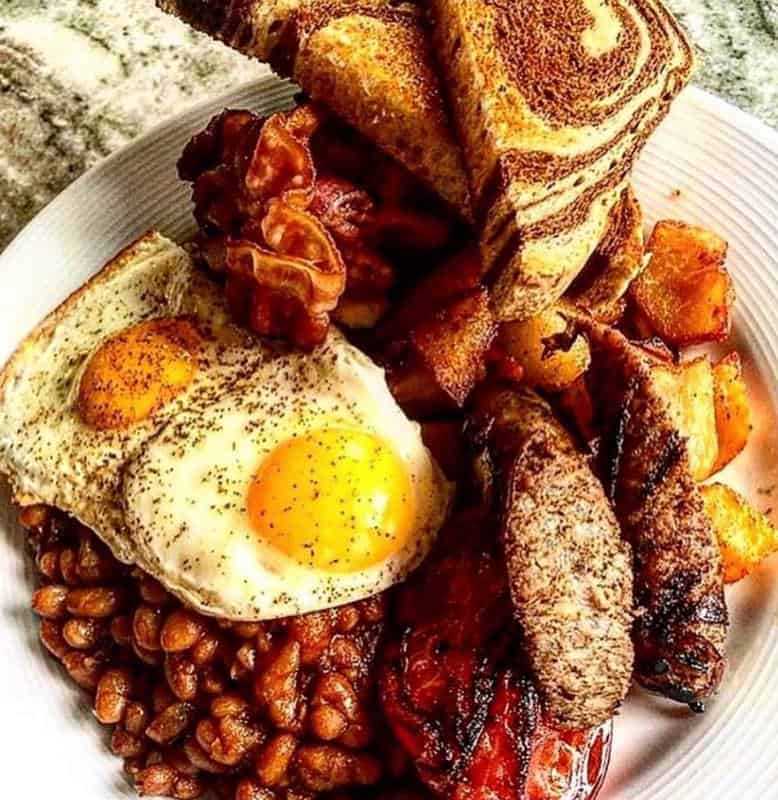 Address: 739 S Clinton Ave, Rochester, NY 14620
Known for: Creatively crafted brunch by Chef Greg Johnson and vodka Bloody Mary
Welcome to the mother of all brunches at the hot and happening The Cub Room. The rotating seasonal menu keeps you on your toes with traditional brunch every weekend featuring seasonal delights and fresh locally-sourced fare.
A carefully crafted menu by Chef Greg Johnson features classic American delights with a signature flair that sets it apart. From hearty House Corned Beef to decadent Waffles and Duck Egg Spaghetti Carbonara, there is a lot to indulge in with a side of their famous Vodka Bloody Mary.
Some classic morning favorites on the brunch menu include Pancakes, Burgers, Biscuits and Gravy, and a delicious Iron Smokey Whiskey Brunch and Prohibited Platter that has a bit of everything. Whether you choose a boozy brunch drink or freshly squeezed fruit juice, you will love the choices and flavors here.
The Owl House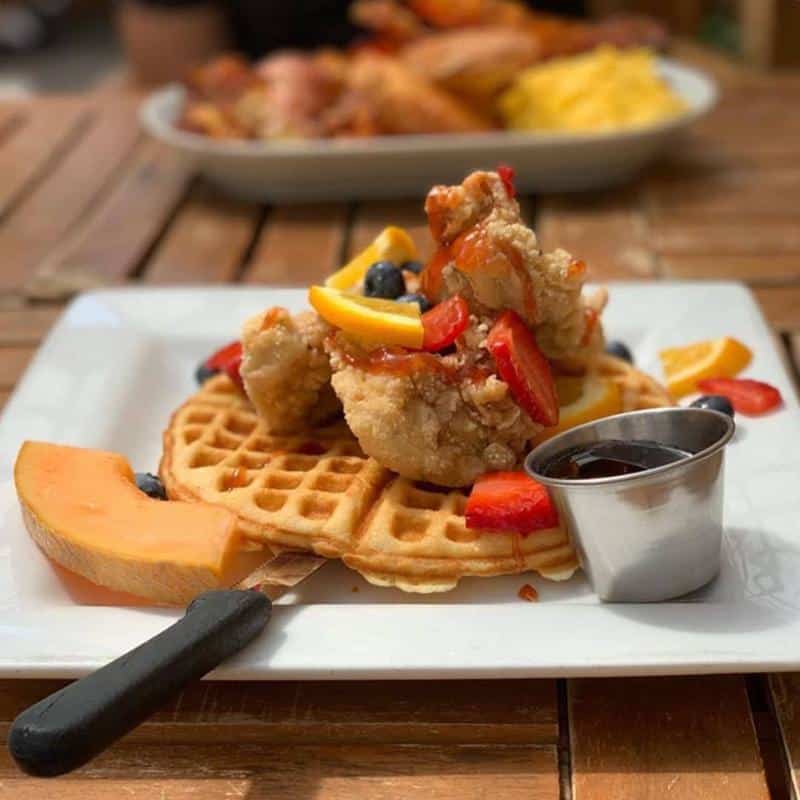 Address: 75 Marshall St, Rochester, NY 14607
Known for: Healthy brunch choices with vegetarian, vegan, and gluten-free options for health-conscious individuals
With healthy portions and locally-sourced and organic ingredients, The Owl House is a guilt-free brunch option for health-conscious individuals. Creative homemade sandwiches, and vegan, vegetarian, and gluten-free choices are available without compromising on taste.
The exterior is minimalistic with neutral hues making the space look airy and comfortable. The dining room has tasteful art displayed on the walls with posh and neat interiors.
Whether you are craving Chicken and Waffles or Tofu and Waffles, you will find it all here. They also have beautifully seasoned Buffalo Cauli Wings, Braised Pork in a Grain Bowl, and a variety of salads and soups as well as artisanal wine, inventive cocktails, and craft beer.
The Mad Hatter Restaurant and Bakery
Address: 176 S Goodman St, Rochester, NY 14607
Known for: Quirky and fun-filled ambiance, delicious brunch treats, and a bottomless pot of tea
The Mad Hatter welcomes you to an exquisite tea party with lip-smacking café fare for breakfast and brunch. The charming and quirky spot is inspired by the infamous Alice in Wonderland character, and delicious brunch dishes are paired with a bottomless pot of tea to perfectly fit the theme.
The café has award-winning breakfast and brunch dishes including the famous Frittatas, signature Egg Benedicts, the fluffiest stacks of butter House-made Pancakes, Vegetarian Biscuits and Gravy, and much more!
Try their hearty and heavenly rich Stuffed French Toast with a generous topping of jam and seasonal berries with a hot cuppa. The lunch menu covers sandwiches, salads, paninis, and house-made soups.
High tea is also available by reservation.
Brown Hound Downtown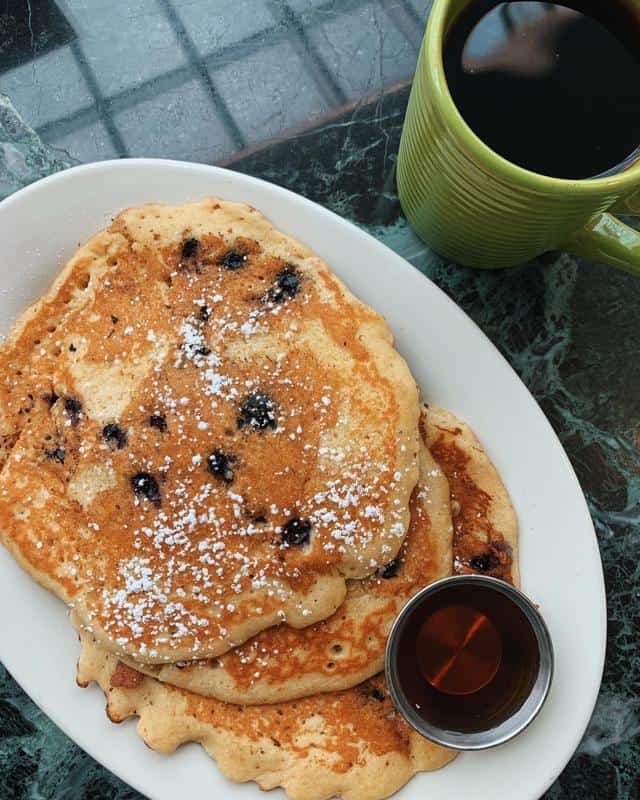 Address: 500 University Ave, Rochester, NY 14607
Known for: Locally-sourced, seasonal, and fresh ingredients with light bites and homemade baked goods
Tucked along the Memorial Art Gallery in a busy spot of Downtown Rochester, the Brown Hound opens its doors for delicious brunch delights every weekend. The laidback ambiance makes one feel right at home, allowing you to enjoy your weekend in full swing with comfort meals in a cozy atmosphere.
Voted the best Saturday brunch in Rochester, the restaurant makes use of seasonal and fresh ingredients along with locally-sourced fare. the light bites, homemade baked items, and specialty drinks set their brunch menu apart from others.
The gourmet dishes go well with the rustic-chic layout, making it a good spot for romantic brunch dates with your beau. Some of the famous brunch items on the menu include a fancy Soup du Jour as a top-selling starter, and a variety of sandwiches served with home fries.
Delicious pancakes are stacked over in heaps with seasonal berries, powdered sugar, and syrup on the side. Pair your food with a hot cup of coffee and you are good to go!
Jines Restaurant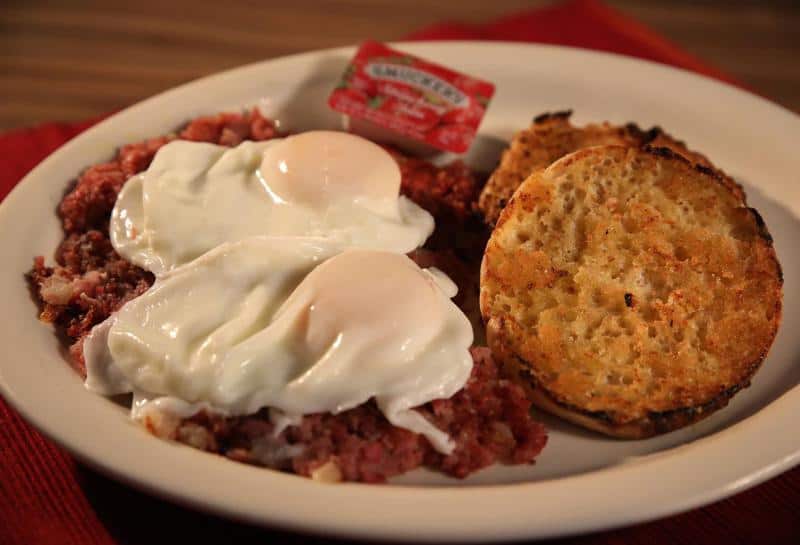 Address: 658 Park Ave, Rochester, NY 14607
Known for: House-made corned beef hash, apple cider mimosas, and beer-battered poutine
Changing its shades and welcoming all the wonderful seasons with unmatched service and high-end dishes, Jines Restaurant is a quaint little spot to enjoy a delicious brunch on the weekends. The café especially lights up during fall with ambitious inventions like the ingenious Apple Cider Mimosa and fall-themed brunch menu.
The Poached Eggs are quite famous here and taste exceptionally well with house-made hash. The Corned Beef Hash, in particular, is simply out of this world and makes a perfect side with Egg Benedict.
Another great item on their menu is Poutine. This Canadian specialty dish is made with beer-battered French fries and is a great brunch item to have with their famous Mochaccino.
The Revelry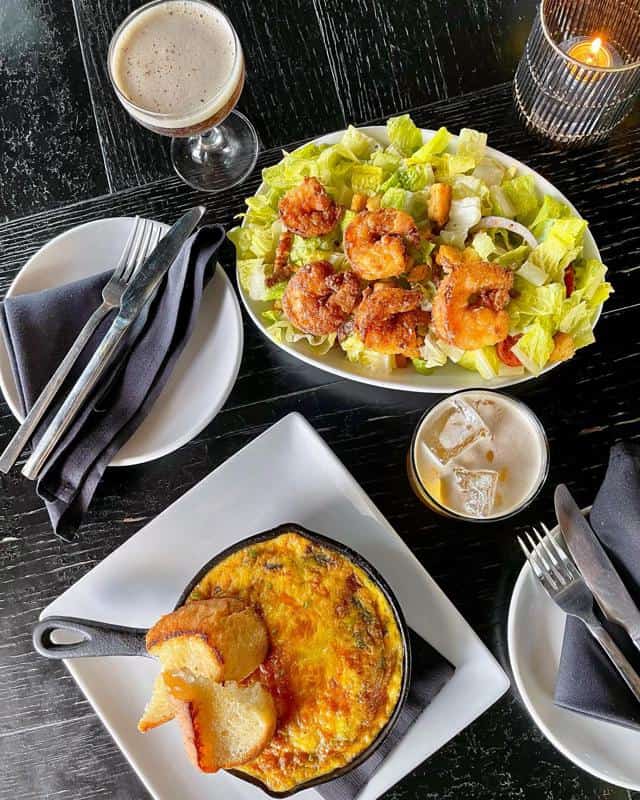 Address: 1290 University Ave, Rochester, NY 14607
Known for: Artistic setup with an impressive cocktails menu
Tucked in the neighborhood of the Arts, The Revelry has an artistic soul of its own with delicately prepared and beautifully presented brunch delights that make your soul sing. The restaurant first opened in 2013 and quickly became a local's favorite spot for weekend brunch and elegant dinners.
The brunch menu is quite extensive but the cocktail menu, in particular, stands out. The Rev Bloody Mary is a popular boozy drink on their brunch menu which goes well with every item and makes you just the right amount of tipsy to enjoy the weekend in all its glory.
A Caribbean theme on the brunch menu features Peel and Eat Shrimps with a pairing of Port Royal rum cocktail. Also, try their delicious Chicken and Waffles or Chicken and French Toast for a sweet and savory treat.
Topped with locally-sourced maple syrup and fermented strawberries, the sweet waffles and pancakes are simply irresistible.
ROAM Café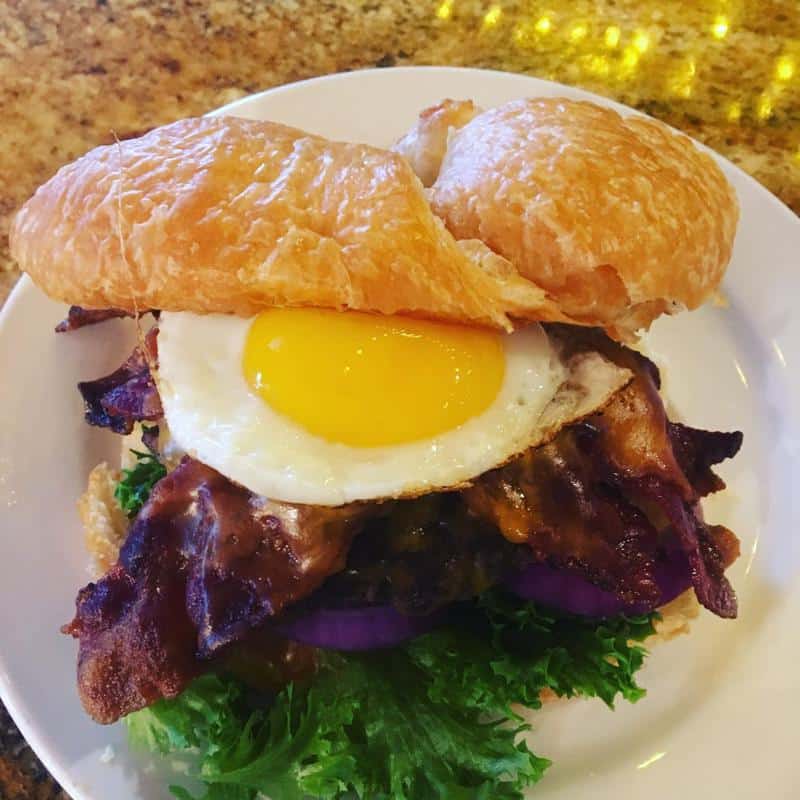 Address: 260 Park Ave, Rochester, NY 14607
Known for: Traditional Italian brunch and carafes of mimosas in a spacious dining area
The tasteful and quaint ROAM is a laidback Italian eatery serving traditional Italian delights, fresh salads, locally sourced and fresh meats, artisan pizzas, and classic brunch sides. The restaurant has a full bar and an impressive lineup of brunch dishes.
The dining space is quite airy and spacious, while the ambiance is light and casual so you can have an intimate and cozy brunch with your beau or family. There is also a TV screen with the bar offering unobstructed views of your favorite sports.
Start your brunch with a fresh serving of Fruit Salad Parfait with seasonal fruits, and move on to a hearty Breakfast Sandwich with Sunny Side Ups or a cheesy Hangover Pizza. The carafe of Mimosas is served on every table to enjoy with your brunch.
Roux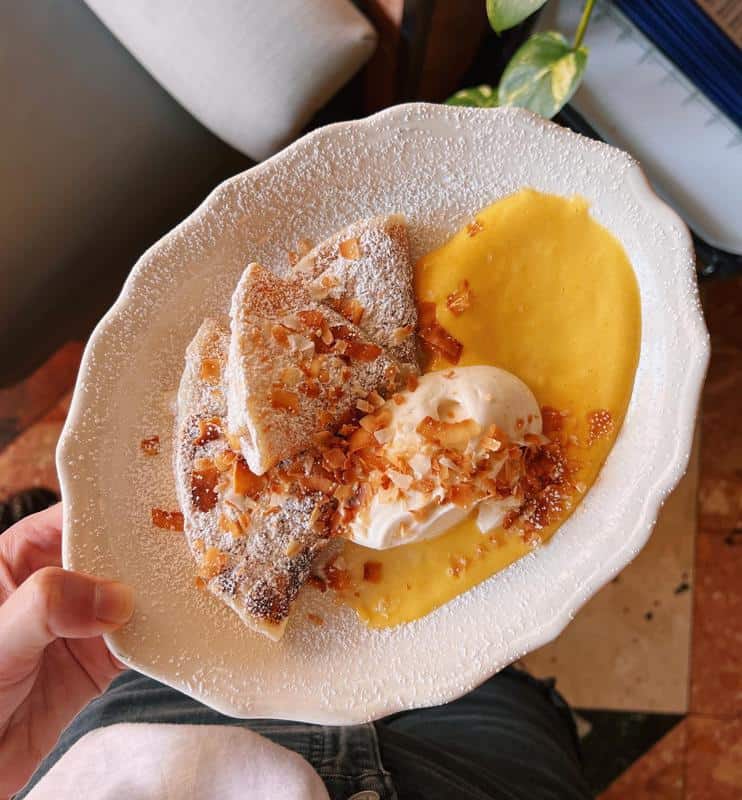 Address: 688 Park Ave, Rochester, NY 14607
Known for: Delightful French brunch with absinthe bar, natural wine, and craft cocktails
The upscale French eatery Roux is a family-owned and operated setup with timeless rustic vibes and traditional French delicacies. Open for brunch on weekends, you will find many unique dishes here along with craft cocktails, natural wine, and an absinthe bar serving several other boozy brunch drinks.
The luxe ambiance is worth a visit to treat yourself at the end of a rough week. The dining room has a chic and neat country-vintage layout that provides a cozy ambiance to enjoy the tasty bites with your favorite drinks.
As it is a French restaurant, we can't recommend their Cheese plates enough! Try them with Roux's famous Green Salad for starters, and move on to some sweet treats like a Sweet roti with Passionfruit Curd or a Cinnamon Bruleed half Grapefruit.
For a savory item, try their famous Shakshuka Baked Egg.
Jim's On Main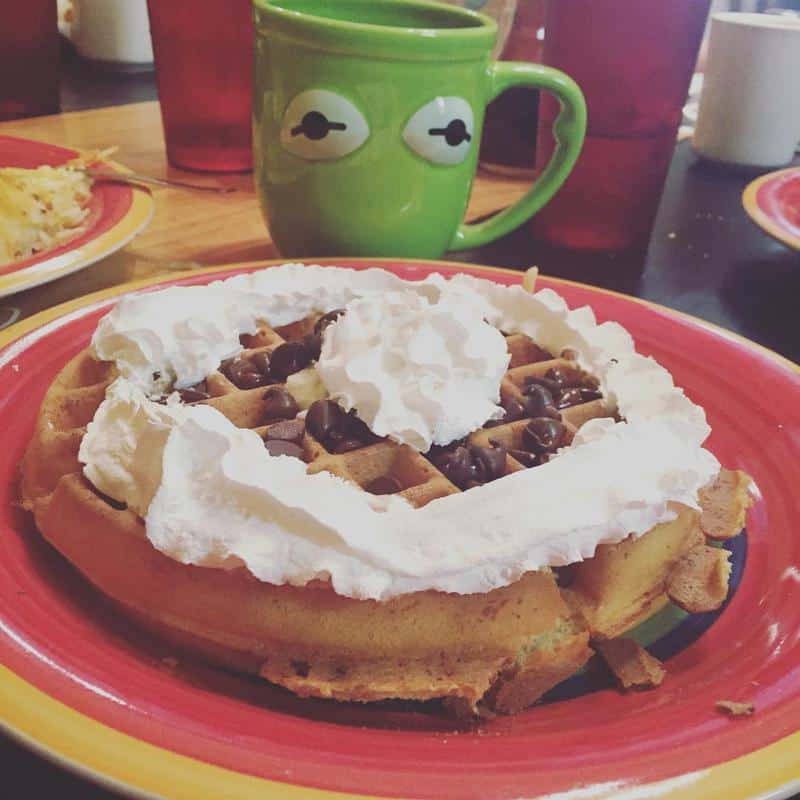 Address: 785 E Main St, Rochester, NY 14605
Known for: Traditional American fare with hot and cold beverages and deli sandwiches
The quaint and quirky Jim's On Main is a family-friendly eatery serving authentic American fare with traditional flavors and hot and cold beverages. The diner has daily specials and healthy cold choices as well as deli sandwiches as part of their brunch menu.
The rustic yet chic ambiance makes it a casual and comfortable spot for weekend brunches with contemporary accents in its interiors and a calming atmosphere in the dining area. The favorite American Brekkie Plates include stakes of heavenly rich and stuffed Raisin Bread French Toast doused in powdered sugar and syrup, as well as savory delights like a simple Eggs and Toast.
Sip your favorite beverages out of the fun-filled and eccentric froggy mugs. We recommend a refreshing glass of Freshly Brewed Ice Tea or a good old energizing coffee.
The Gate House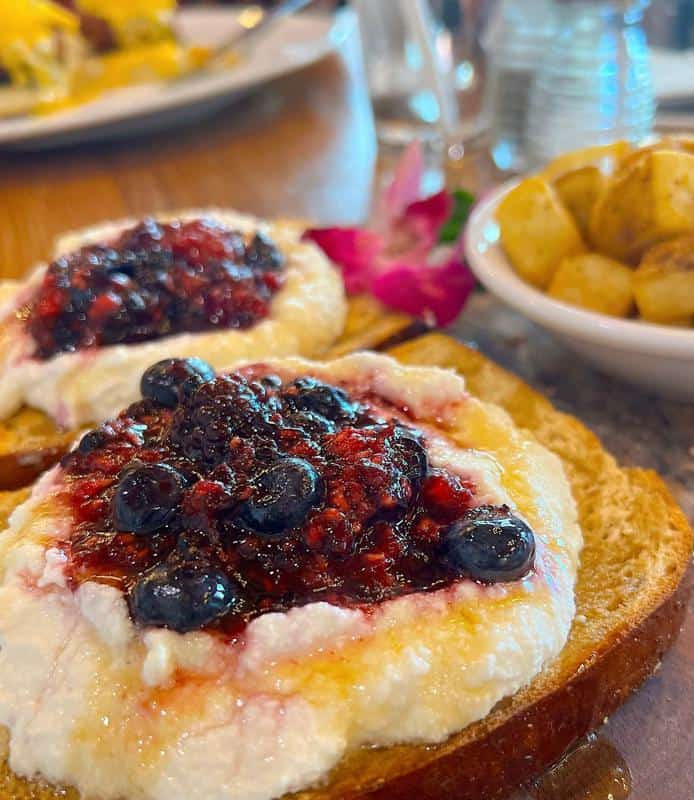 Address: 274 N Goodman St, Rochester, NY 14607
Known for: Traditional American brunch menu with Bloody Mary
Wildly famous for its pizzas and burgers, The Gate House also hosts one heck of a brunch on weekends. Whether you are looking to curb your sweet tooth or indulge in a savory delight with eggs and sandwiches, you've hit the jackpot with the Gate House.
A famous item on their menu is the decadent Lemon Ricotta Toast topped with delectable smashed berries and sweet lavender honey. To balance it with something savory, try the delicious Chilaquiles with a glass of boozy bloody Mary.
Other traditional comfort meals include Biscuits and Gravy and GateHouse Chicken, Sage Sausage Gravy, and Egg Benedict.
Highland Park Diner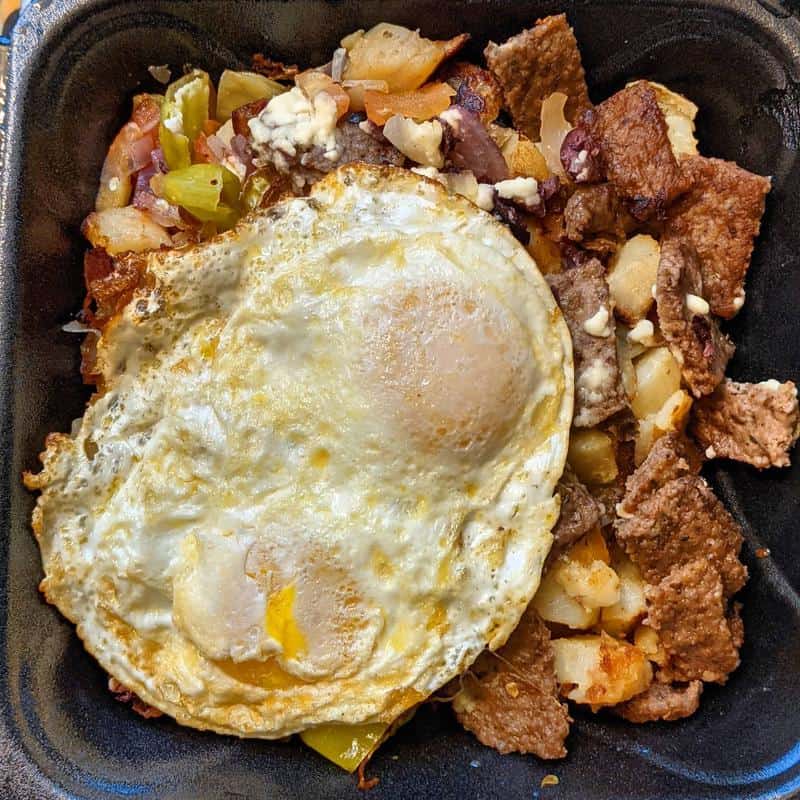 Address: 960 S Clinton Ave, Rochester, NY 14620
Known for: Vintage vibes with classic American brunch and Colombian Coffee
The upscale and retro Highland Park Diner is a perfect spot to enjoy some traditional American breakfast and brunch items with your favorite milkshakes and homemade desserts. The bustling ambiance is well balanced with its period-designed interiors to give it a vintage vibe.
The brunch items include standard morning fare along with sandwiches, wraps, hamburgers, and a variety of egg preparations. Enjoy late breakfast with Salmon Benedict and Grits, Waffles, Pancakes, and Banana Walnut Flapjacks.
The energizing and revitalizing Colombian Coffee will warm you up from inside and get you ready for the day in full gusto.
The Original Charbroil House and Catering
Address: 1395 Island Cottage Rd, Rochester, NY 14612
Known for: Homemade brunch delights and hot and cold beverages
Relish in homemade burgers, soups, fresh seafood, signature sandwiches, prime steaks, and local drafts and beers at The Original Charbroil House and Catering along with a lip-smacking brunch menu. The unpretentious dining experience makes you a taste of local charm and hospitality.
The dining area is spacious and beautifully decorated with neutral hues and a simplistic tone. The star dish of their menu is a divinely rich and delicious stack of Chocolate Chip Pancakes. The Breakfast Special items include Home Fries, Bacon, Eggs, and Toast.
Enjoy your meals with a cup of Hot Coco or a Sweet Raspberry Iced Tea.
Blu Wolf Bistro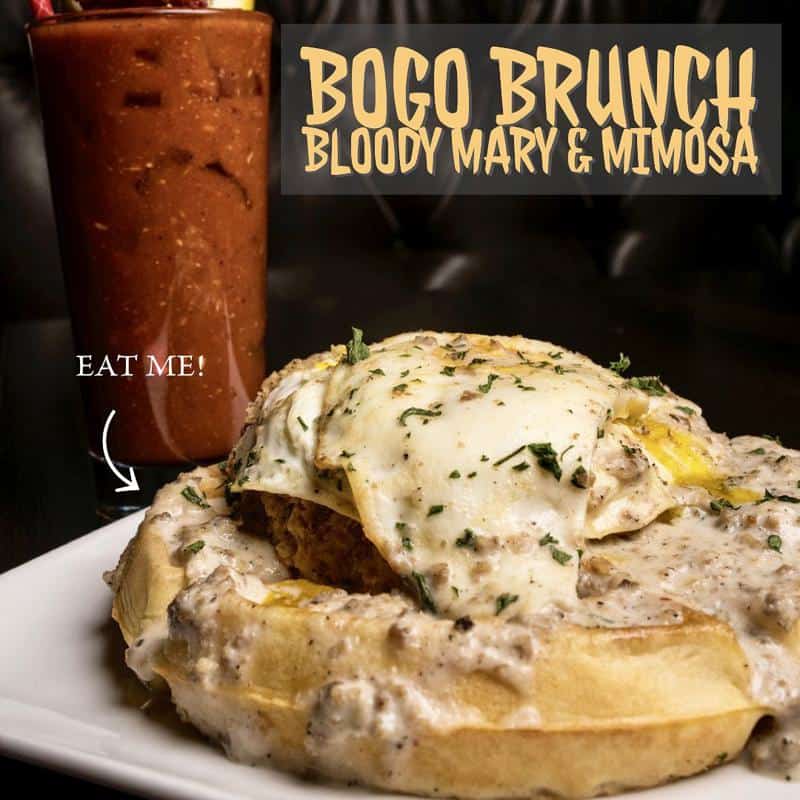 Address: 657 Park Ave, Rochester, NY 14607
Known for: An extensive brunch menu with a lot of variety, bloody Mary, mimosas, and milkshakes
The soothing and relaxing vibes of Blu Wolf Bistro may seem appropriate for after-work drinks and burgers, but you will be surprised at their selection of brunch and boozy drinks on the weekends. With a name inspired by folklore, the bistro is family-owned and operated with amazing brunch.
The menu is quite extensive and includes both traditional and hearty breakfast and brunch meals and vegan, vegetarian, and gluten-free delights. Meatless varieties include Quinoa Patty, while meaty options have a range and flavors like Duck Bacon.
The BOGO Brunch drinks include mimosas and Bloody Mary, as well as a delicious and rich Blu Cheesecake Milkshake and hot beverages.
Read More:
Conclusion
Rochester has a lot of variety in its brunch spots. While most eateries serve traditional American dishes, you will find choices on the menu with creative twists and house-made creations that set the menu apart.
From boozy drinks in a full bar to light bites with milkshakes, energizing coffees, and iced tea, there is a lot to choose from in terms of menu and general ambiance.