Savannah, Georgia, is an excellent place to visit historic sites dating back more than 200 years.
The best part about visiting this town is that the majority of restaurants are located in the Historic District, so you won't have to walk or drive for miles to find delicious southern cuisine.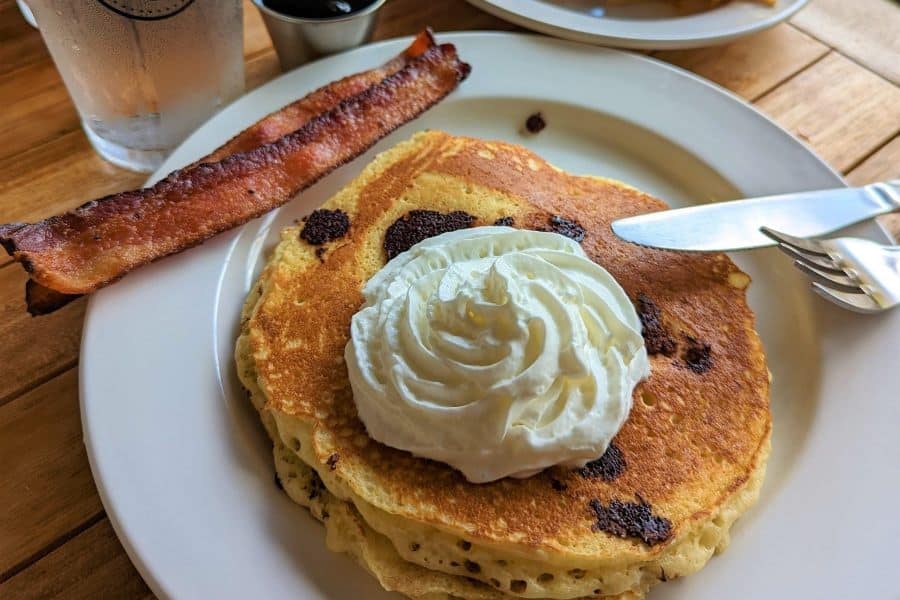 This is an article about breakfast and brunch in Savannah. We share the best places to find flavorful delicacies first thing in the morning. So prepare to go hungry! They'll be waiting to serve you.
Let's go find out.
Best B
reakfast in Savannah, GA
1. Goose Feathers Express Cafe & Bakery
Address: 39 Barnard St, Savannah, GA 31401-2519
Known for: Eggs Benedict Savannah style
The aroma of sweet, freshly baked pastries and soft bread invites you to this wonderful café and bakery, which is located near the historic district. Since 1986, Goose Feathers Cafe has consistently served goodies and all things breakfast and has never disappointed guests who come in all seasons.
The bustling café serves charming southern breakfast items such as organic coffee, organic tea, croissants, chocolate, cheese, or buttered croissants; you will almost certainly order more than one.
Everything on the breakfast menu is sweet and fresh. Try the Warm bagels, huge portions of sweetened oatmeal-wholesome and savory; Eggs Benedict Savannah style, and Breakfast Panini – the House specialty, among other menu items.
You can also order dessert or take home delicious pastries like whoopie pies. The restaurant is spotless, well-staffed, and friendly, and the menu includes a variety of brunch items and pastries.
2. Huey's On the River
Address: 115 E River St Frnt, Savannah, GA 31401-1247
Known for: Ambience, river view, gluten-free options, seafood omelet
Huey's on the river is one of the best places for a romantic breakfast with a view of the water. Sip your morning coffee while being kissed by the sun. While you wait for your order, watch the boats pass by.
They serve excellent brunch, and the menu includes some exciting delicacies to try, such as the Crab Cake Benedict with cheese grits, seafood omelet, fresh beignets, and plenty of Gluten Free options.
Visit this fantastic restaurant with a river view, excellent service, and charming breakfast treats and meals at an affordable price.
Totally worthwhile!
3. b. Matthew's Eatery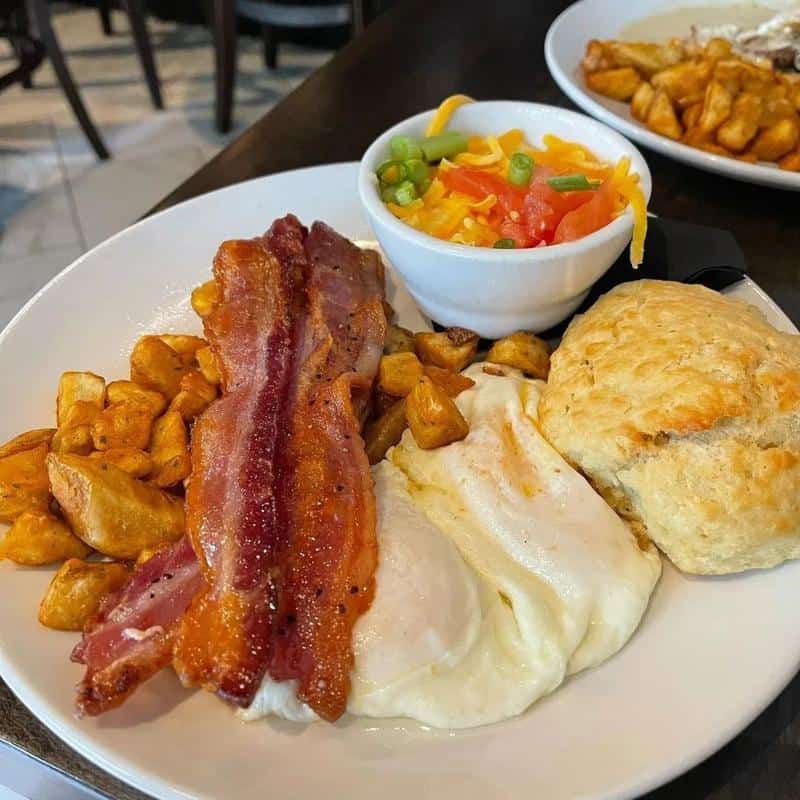 Address: 325 E Bay St, Savannah, GA 31401-1205
Known for: award-winning Brunch restaurant in the US, signature dish – shrimp and grits
b. Matthew's Eatery is THE place to go for Brunch in Savannah, Georgia. This well-known restaurant has been named one of the best Brunch foodies in the United States.
In a prime location in downtown Savannah, surrounded by numerous hotels. The building was once a tavern in the 1700s and has since been restored into a lovely restaurant serving Southern cuisine in a welcoming, charming, family atmosphere.
They have outdoor street seating, which is ideal for Brunch in the spring and summer. The extensive menu includes a lovely backstory—a printed history of the building that is quite interesting to read.
The best part? Brunch is available all day! Try their delicious bacon, eggs, sausage curry, and sandwiches.
Lunch and dinner are also available. Try the signature shrimp and grits, tasty biscuits and gravy, omelets, scrambled eggs with veggies, and grits loaded with fresh fruit.
If dining in large groups, you can try their grandma's burger, smothered chicken, and fried green tomatoes with biscuits, among other delectable options.
4. J. Christopher's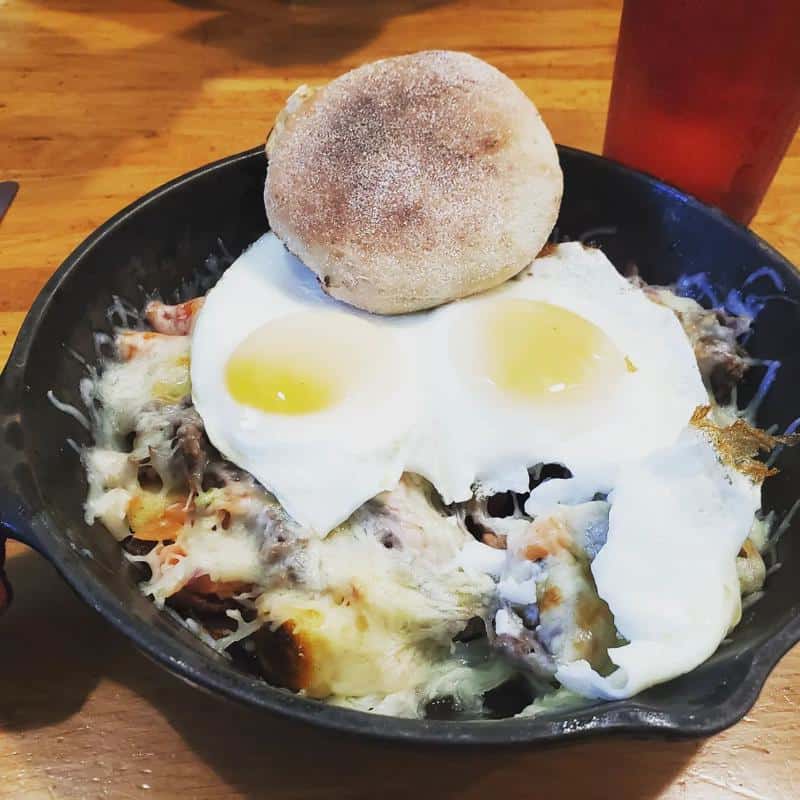 Address: 122 East Liberty, Savannah, GA 31401
Known for: Eggs Benedict with crab cake, cinnamon rolls
J. Christopher's is regarded as the best place in Savannah to have Brunch, and the space is large enough for parties.
Their menu is extensive, with delicious options for toddlers as young as two. As soon as you walk in, the service staff will direct you to an available table.
The outdoor seating is great for getting some fresh air in the morning, or if you're visiting with pets/dogs, it's a great place to sit and enjoy a hearty meal.
Brunch menu items are fantastic and creative. Everything from the luscious sausage gravy, omelet, and turkey sandwiches to the delectable cinnamon rolls and the signature Eggs Benedict with crab cake is delicious.
You'll be spoiled for options. Another great food idea is blueberry pancakes with granola crust, which is a healthier alternative to yogurt with blueberries dipped in it. So yummy!
5. Savannah Coffee Roasters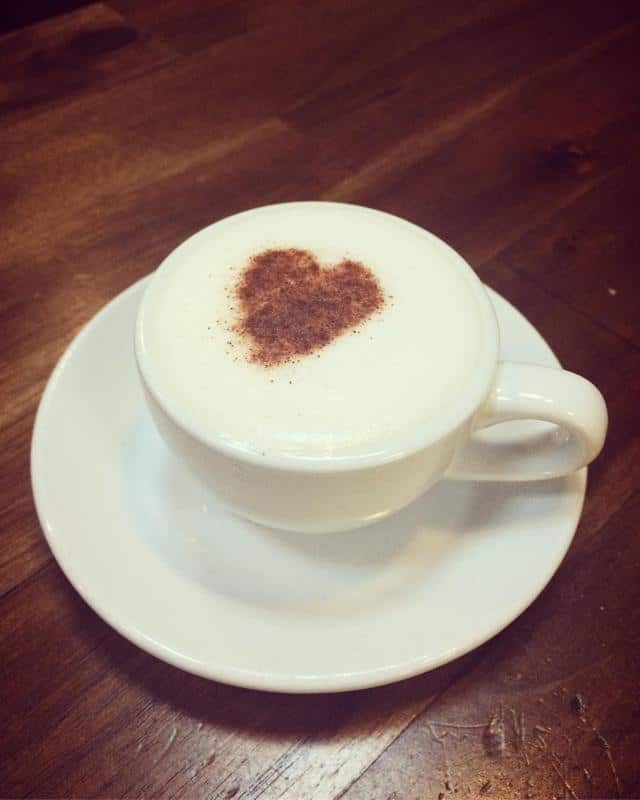 Address: 215 W. Liberty St., Savannah, GA 31401-3909
Known for: Latte, high tea, Espresso, cheese dishes
This coffee shop is located in downtown Savannah. On weekdays, it is less crowded, but on Sundays, it fills up quickly.
If you're not a morning person, you're most likely going to find a long queue, but the staff works quickly, so this shouldn't be an issue. Outside, there are cute seats and tables lined up in front.
Visit this lovely spot for morning drinks and food while in Savannah for the day. They serve delicious Lattes, smoothies, and fresh juice.
Try the Honey Bee Almond Latte, the smooth vanilla latte, and incredible smoothies like the Georgia peach smoothie with yogurt are all available. They sell cold drinks in store-branded cups.
They also have a wide selection of teas, coffees, and hot chocolate. Breakfast favorites include eggs with roasted potatoes, freshly baked biscuits with cheese, and perfectly fried chicken breast.
If your morning cravings call for luscious meaty treats, try the finger-licking grilled cheese with bacon or ham, and finish with a fat cheesecake with strawberry glaze – so delicious!
Wash it down with a few espresso shots or a glass of cold orange juice.
6. Henry's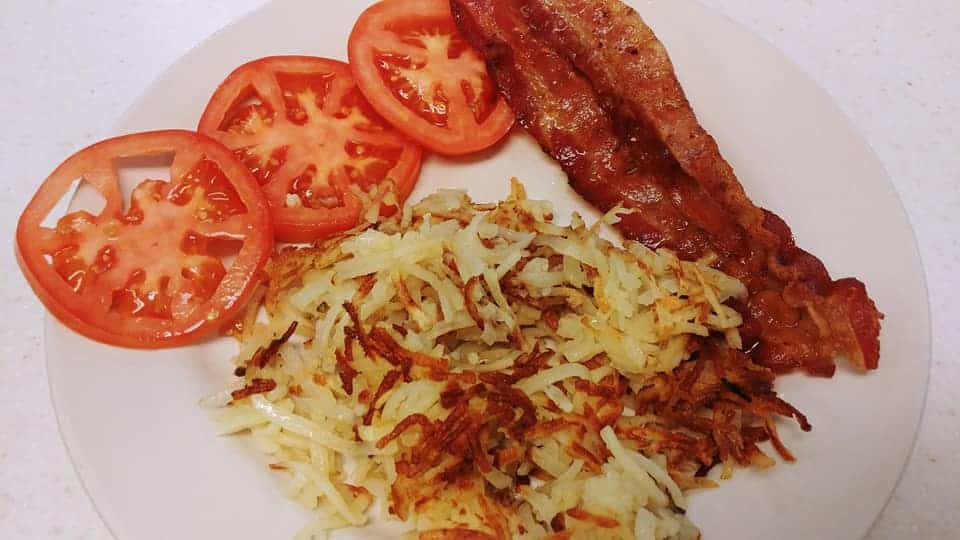 Address: 28 Drayton St, Savannah, GA 31401-2722
Known for: "Henry's combo" breakfast
Henry's is a fantastic restaurant in Savannah's historic district. They serve hearty breakfast and lunch meals, as well as a large menu with dozens of fantastic food combinations.
They also serve large portions that can be shared with family and friends. Try delicious combos like the two eggs and meat, cheese and ham omelet with veggies on the side, Henry's Combo; chicken breast layered with a thick mound of cheese, and so much more.
They also do plate refills, so you must notify them when you want them to stop. The service team works efficiently and assists guests with their extensive menu.
Overall, this is a fantastic breakfast buffet with most dishes costing less than $10 per plate.
Caution: The place fills up quickly, so come early for breakfast or late for Brunch to avoid queuing – the kitchen staff is lightning fast; you'll have a great time.
7. Clary's Café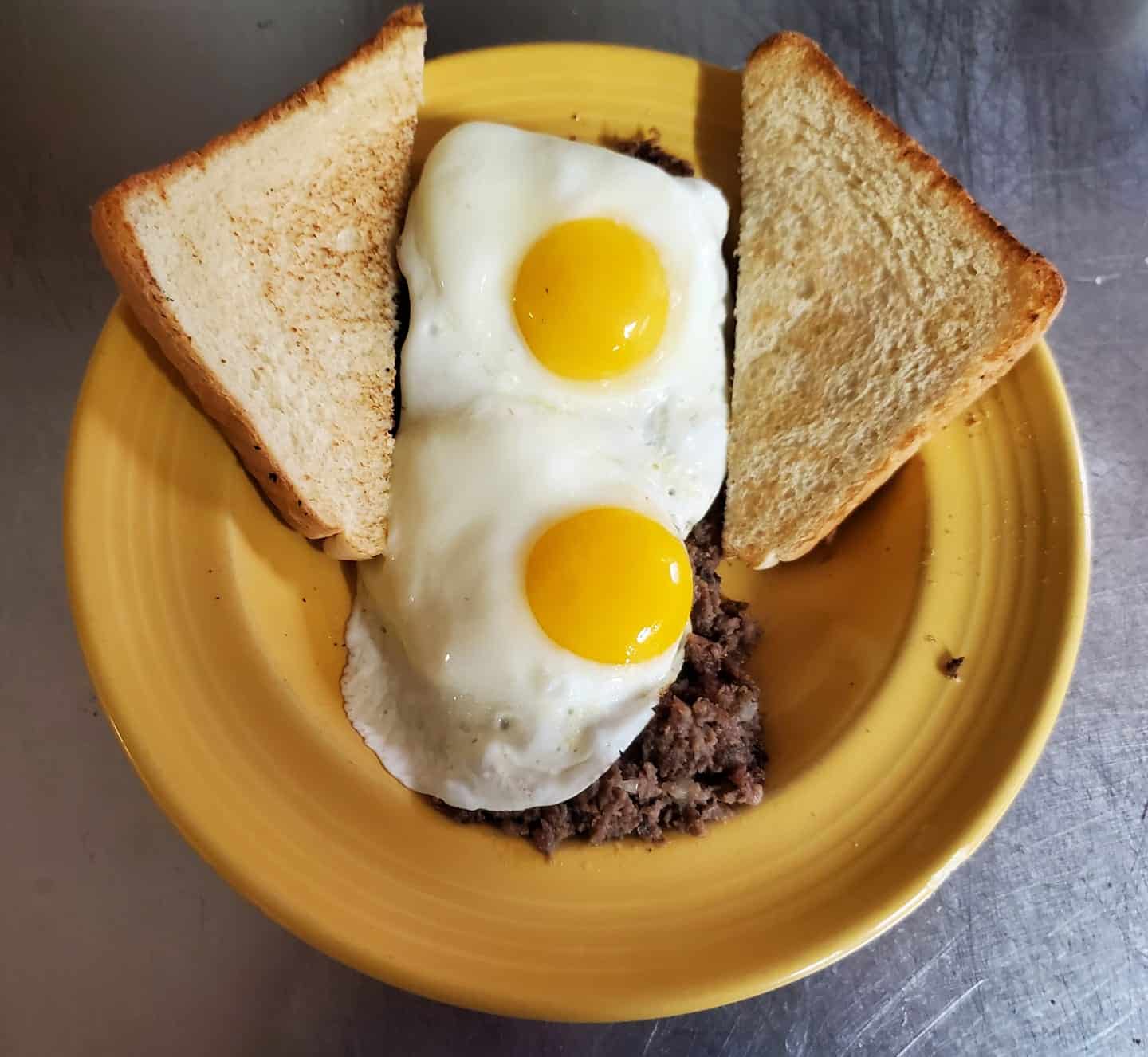 Address: 404 Abercorn St, Savannah, GA 31401-4713
Known for: Blueberry pancakes, French toast
Clary's has been serving old-fashioned breakfast meals to visiting families in the small neighborhood of Savannah since 1903. It's a quaint, nostalgic place downtown near St John's the Baptist Cathedral with a diverse menu and every dish on the menu is homemade.
The best dish so far, according to reviews, is the corned beef hash topped with a delectable Eggs Benedict made to perfection! And the red velvet pancakes are out of this world! So light and fluffy with sausage or bacon.
Try their stuffed French toast with salad on the side, which is made with large chunks of chicken and shrimp/tuna!
To have an unforgettable experience, go in groups of 4-6 or more and order the specials that way, you get a taste of everything on the menu.
8. Little Duck Diner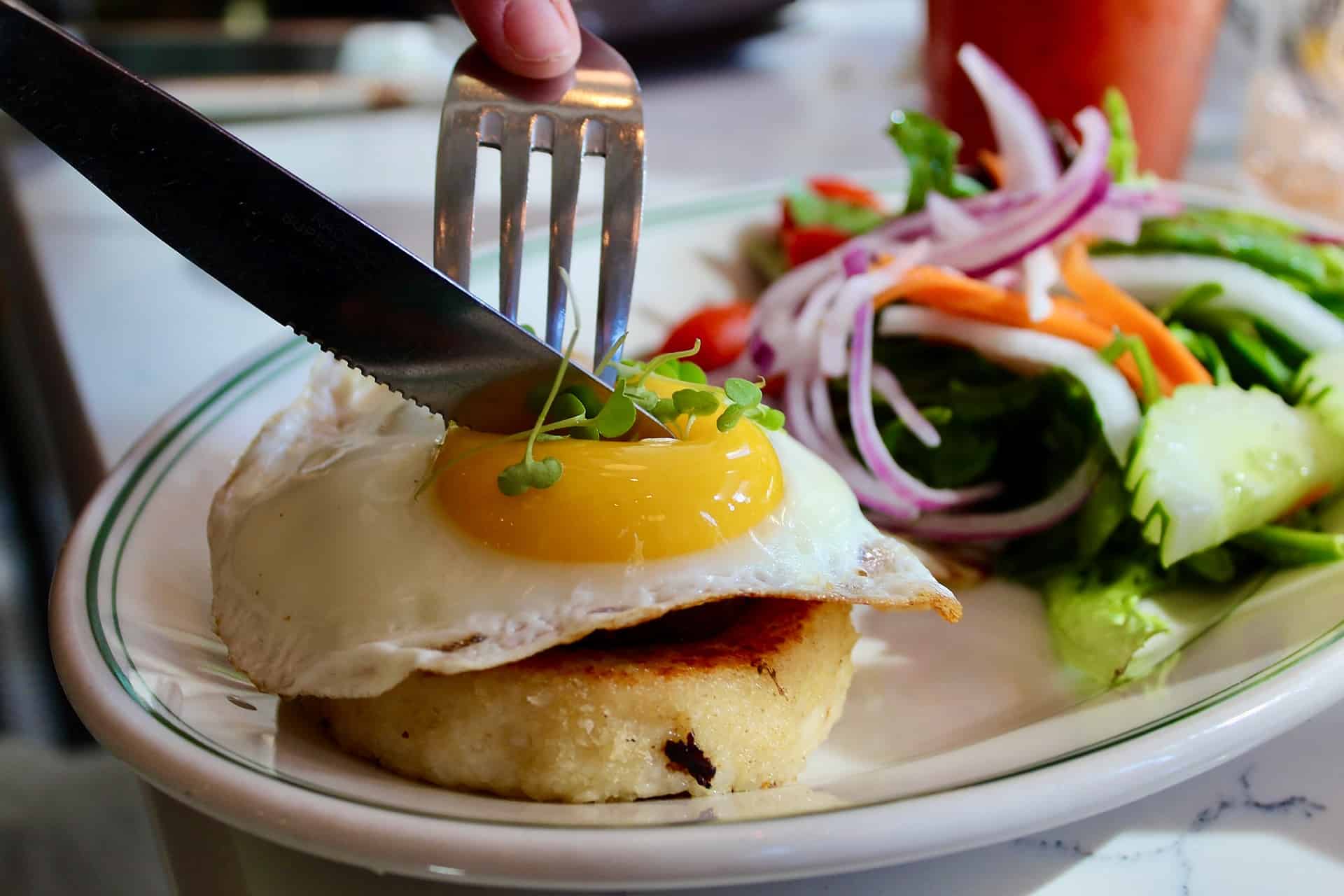 Address: 50 W Saint Julian St, Savannah, GA 31401-2537 – near the Savannah Historic District
Known for: Huge scrambled eggs, sandwiches, tacos
This hidden gem in Savannah is located about a half mile from the main road in the historic district. Inside, white marble and patches of black and white gold gold accents adorn the interior design.
On beautiful sunny mornings, the outdoor patios provide a stunning view. Perfect for a romantic breakfast with your loved one(s).
The ideal location for brunch. The overall atmosphere is welcoming and inviting. Try their scrambled eggs if you're hungry. This isn't your typical breakfast of one or two eggs.
They come on triplets! Sometimes there are four eggs on a plate! Gourmet grilled cheese rolls with tasty tomato soup, Maxwell sandwiches, tacos, fried cage-free eggs, and other creative dishes are available.
Go for their terrific food, and the excellent wait staff, for the best brunch experience in savannah.
9. The Funky Brunch Cafe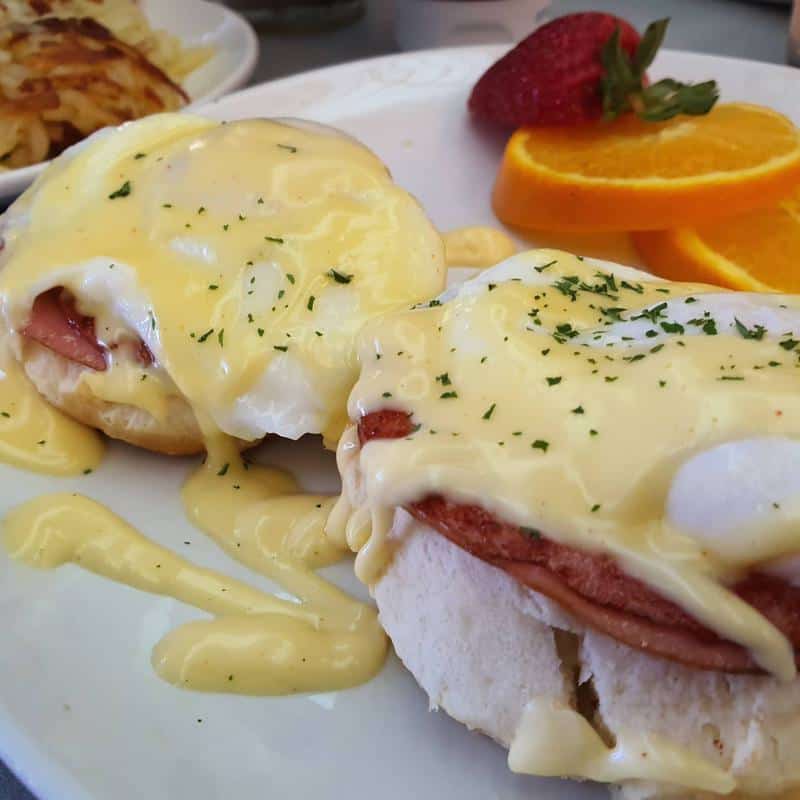 Address: 304 E Broughton St, Savannah, GA 31401-3404
Known for: Funky Grits, incredible pancakes, creative menu choices
As the name implies, the Funky Brunch Cafe in Savannah offers everything funky. Every dish is delicious, and the lively atmosphere is ideal for younger people. Every day, it's crowded, and the lines to get in can be long. But for the early birds, it's worth the wait.
The food is out of this world. Try the stylish Southern Benedict, which is the best you'll find anywhere in the South. Poached eggs on crunchy bacon, collard greens, baked biscuit, and hollandaise sauce round out the fantastic combination.
To get your morning started, try their famous Bloody Mary. They are so inventive with their menu options that every bite of bacon dishes tastes incredibly fresh, juicy, and crunchy, collard greens, baked biscuits, and hollandaise sauce.
To get your morning started, try their famous Bloody Mary. They are so inventive with their menu options that every bite of bacon dishes tastes incredibly fresh, juicy, and crunchy.
Furthermore, they prepare pancakes right in front of your eyes, from your table to your mouth. That's fantastic!
This breakfast spot serves delicious comfort brunch as well as a variety of healthy options to get your morning started right. From service delivery to delicious culinary options, you'll never get tired of eating at this place.
10. The 5 Spot Midtown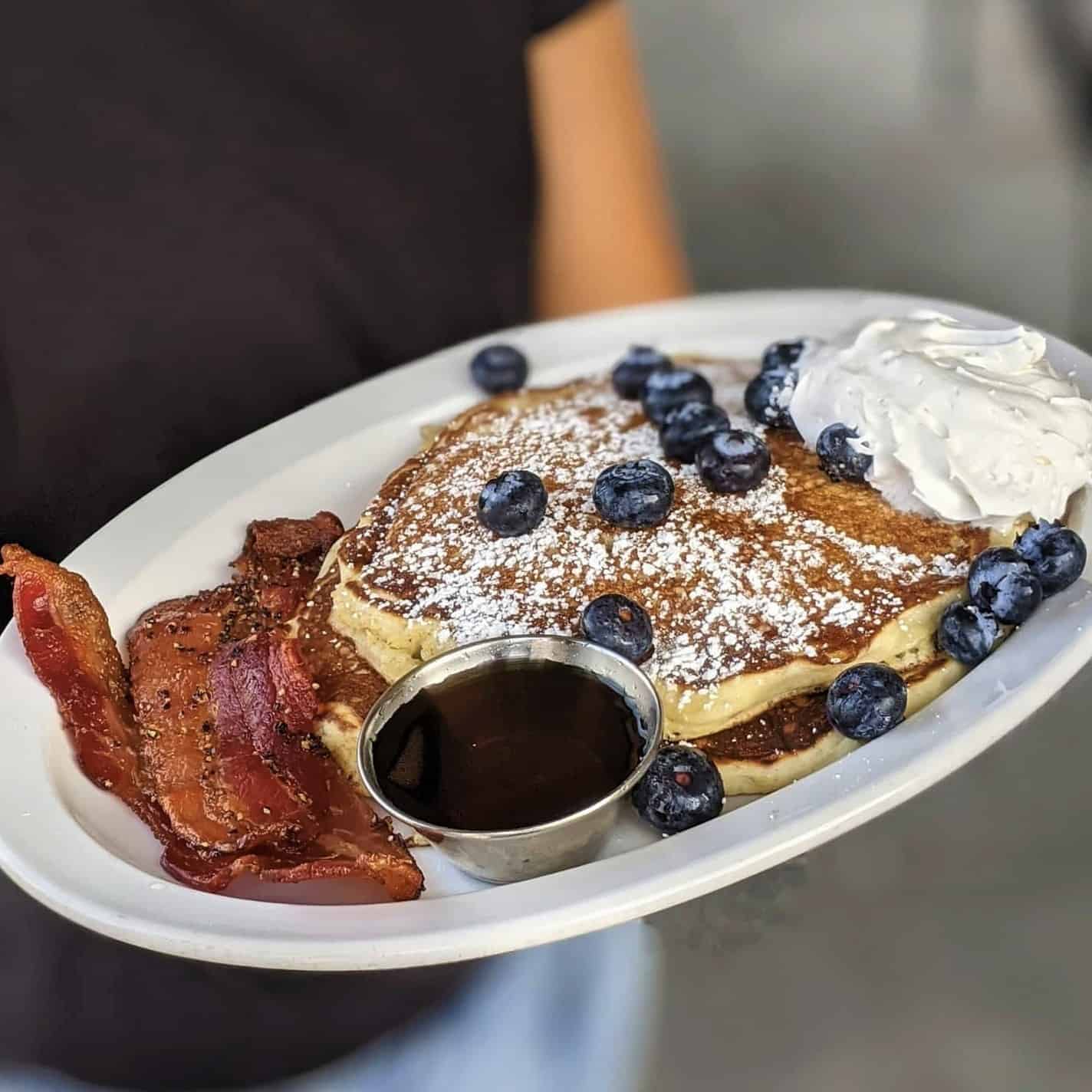 Address: 4430 Habersham St, Savannah, GA 31405-4209
Known for: Tasty Shrimp grits; pancakes
The 5 Spot is a fantastic restaurant located in a downtown Savannah strip shopping center. The interior décor is uninspiring, but don't let that dampen your Brunch appetite.
They serve spicy shrimp and grits with a flavorful sauce. The blueberry pancakes are also delicious, as are the biscuits, gravy, and eggs.
Other fantastic food options include fried eggs, Brussel sprouts, bacon hash, and goat cheesecake for dessert. The food is a little pricey for the portions, but it's well worth it, as is the dessert.
It's a little off the road, but it's a lovely spot for a lazy brunch all day with unique cocktails and fresh juice.
11. Loc's Chicken and Waffles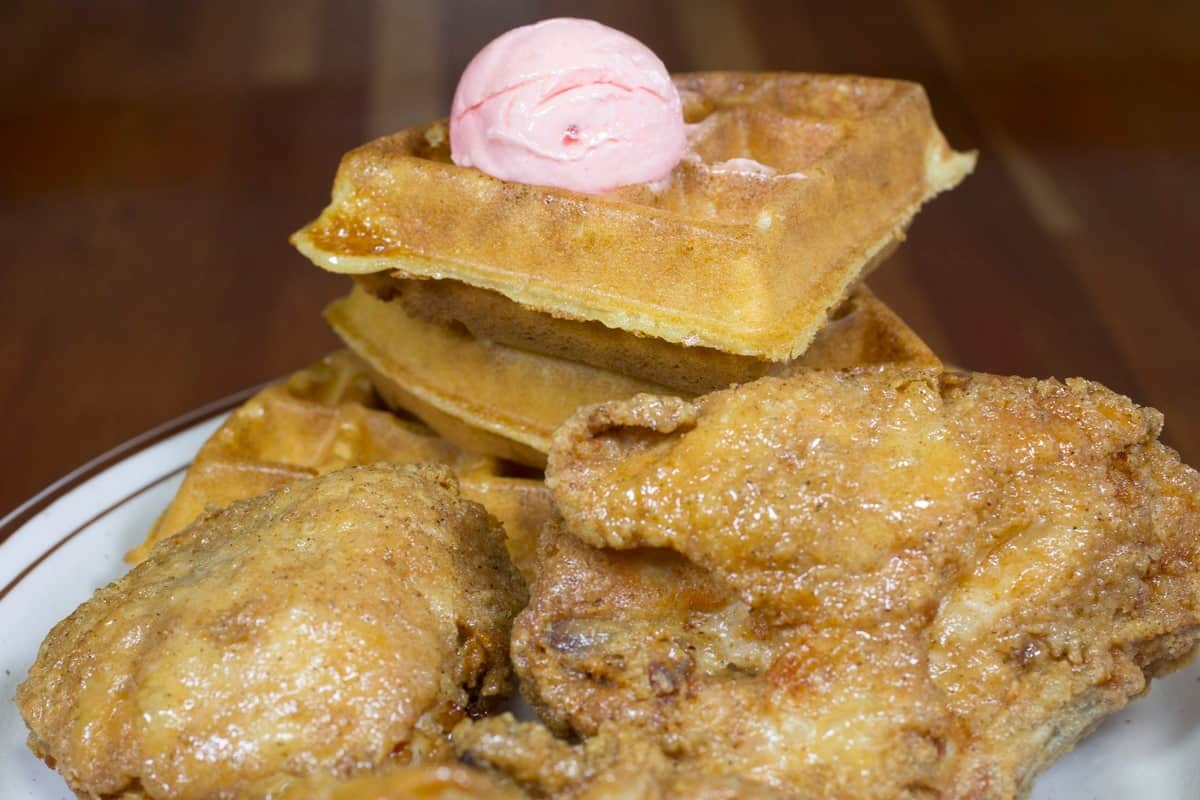 Address: 7360 Skidaway Rd, Savannah, GA 31406-4265
Known for: chicken & waffles, best grits
Loc's a well-known breakfast establishment in Savannah. It's difficult to find seating space on the weekends but is famous for its real, fresh food. The place gets really busy during peak hours, so you might find a queue, but the service is efficient and the queue moves fast.
The interior design includes a moving map of Savannah on the wall. It's a tiny place, but everyone in town loves it. They never run out of cold drinks while you're eating, and your morning coffee is always hot!
The menu features typical Southern fare like the seafood omelet with creamy grits (full of shrimp scallops, etc.). Avoid this omelet if you don't like fish in large quantities; alternative options include the cheese range delicacies, such as the cheese/steak omelet, fried mushrooms, eggs Florentine, and many others.
If you don't fancy eggs or cheese, go for the waffles, pancakes, and sausage links with corned beef hash on the side. You can choose different flavors for the waffles and pancakes.
One of the best choices for breakfast in Savannah. Their menu offers varied options with lots of unique combos. You'll love it! The service is impressive, and all the meals are super yummy!
12. Parker's Market – Urban Gourmet
Address: 222 Drayton St, Savannah, GA 31401-4022
Known for: pulled pork, fried chicken
Parker's is more than a convenience store, located a few minutes from the Cathedral of St. John the Baptist. The interior décor makes you feel nostalgic for an old country store if you've lived in the countryside before.
Parker's Market is a relaxed place with both outdoor and indoor seating. The outdoor sitting space has lovely picnic-style tables and chairs.
There's plenty of food and beverage choices, and the place is super clean, with friendly wait staff. They offer tasty Southern comfort food in large portions.
The menu consists of exciting dishes ranging from the Great fried chicken, catfish, burgers, mac and cheese, pulled pork, and various salad options.
Parker's Market Urban Gourmet is an excellent option for visitors who like to eat fast foods. The small self-service convenience store/restaurant is flexible and welcoming.
You can order to go or wait to be served in a relaxing atmosphere. They also have lovely baked treats and a selection of wine and beer.
Simplicity defined – forget ambiance and go eat original Southern flavors. You'll come back for more.
Read More: Fancy & Upscale Restaurants in Atlanta
Final Words
Most restaurants are concentrated in the Historic District and shouldn't be hard to find. The hidden ones are often Downtown, not bad choices. On the contrary, the food there is equally exceptional, plus lots of free parking spaces.
Enjoy your stay in Savannah and Bon Appetit!