Block Island is a picturesque and idyllic summer destination that plays a host to droves of tourists yearly scrambling to soak up the sun on the crisp white beaches. The community is small but has dramatically impacted those around them, keeping the droves flocking to their shores year after year.
We'd like to say it's for the beaches on their own, but the reality is they have so much to offer for such a small town! They are patriots of good cuisine and have the restaurants to prove it, from beautifully situated beachfront dining to small neighborhood locals.
The local scenery provides perfectly fresh daily ingredients, and their seafood options are to die for. In addition, they have thrown together a mesh of global cuisines and built up some fantastic venues for their community that you'll be itching to visit.
So without further adieu.
Best Block Island Restaurants
Block Island Oyster Bar and Grill
Location: 251 Spring St, New Shoreham, RI 02807
Seasonal: No
Price: $$$
Block Island Oyster Bar and Grill is the epitome of community and is the sister restaurant to Kimberley's. It has four passionate owners, each with their own niche and over 30 years of experience between them in the service industry. They serve seafood predominantly, all locally caught and freshly shucked daily.
The menu is a kaleidoscope of sea-faring flavors, with an array of inspiration giving you a hint at a global taste experience. Oysters can be found in variations tucked alongside freshly grilled fish and refreshingly tender cuts of steak and lamb. Diners can enjoy a panoramic view of the water on the overhanging deck outside. You can even find local legends strumming the night away on instruments on special occasions.
Persephone's Kitchen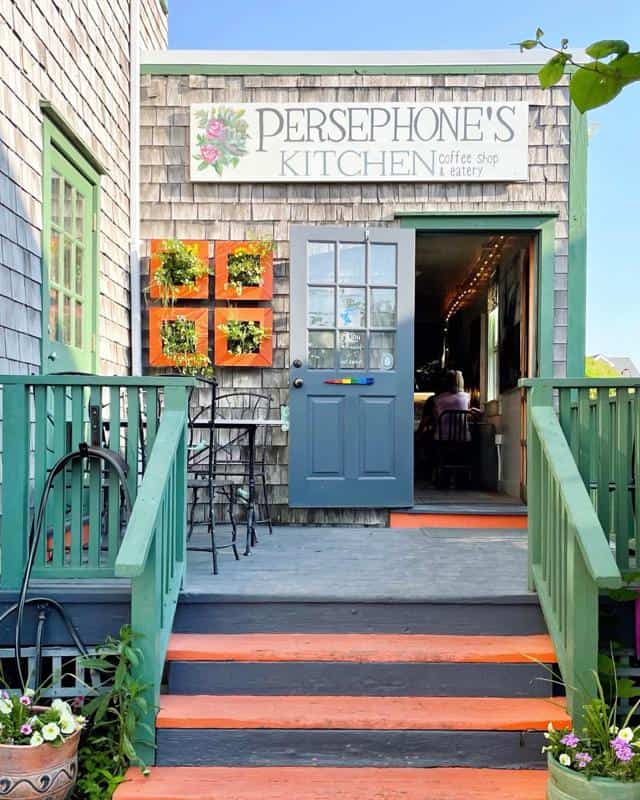 Location: 235 Dodge St, New Shoreham, RI 02807
Seasonal: Yes. Closed in Winter (Dates change annually)
Price: $
There's a power in something small. Persephone's Kitchen is a hole-in-the-wall built into the streets of Block Island. It doesn't boast the typical traits of classic dining. Still, despite everything, they have managed to create something undeniably incredible, and they have done it exceptionally well.
The menu is picturesque for this little cafe, serving delicious coffees and smoothies, breakfast bowls and some of the most divine melts you'll ever try, and plenty of vegan options too! They are a friendly neighborhood spot that provides an excellent, comfortable environment to enjoy a meal with friends.
They are seasonal, closing during colder months. The minute venue offers limited seating indoors and a few scattered tables outdoors, with the option for takeaway, meaning you can take a little piece of Persephone's with you.
Kimberly's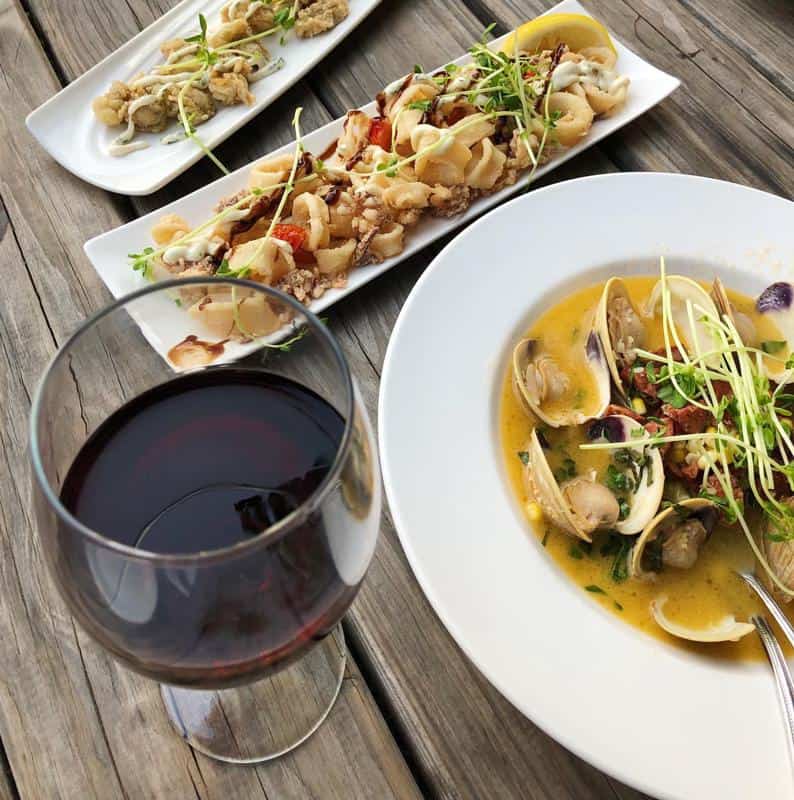 Location: 238 Ocean Ave, New Shoreham, RI 02807
Seasonal: Yes. Closed in Winter (Dates change annually)
Price: $$$
Kimberly's has been around since 2014, with Kimberly Ward playing face to the business alongside 3 other co-owners. Each restaurant member has had an intrinsic history in their community and accumulated years of hospitality experience.
They have created a brilliant concept that often allows patrons to fully immerse themselves into the experience, working together with diners to bring them delicious food specific to their liking. Their menu is global, featuring dishes from different cuisine styles, including Thai Coconut Curry, Miso Glazed Cod, and more, served alongside New American dishes and a Lobster Roll so tasty it has locals going crazy for it.
Winfield's Restaurant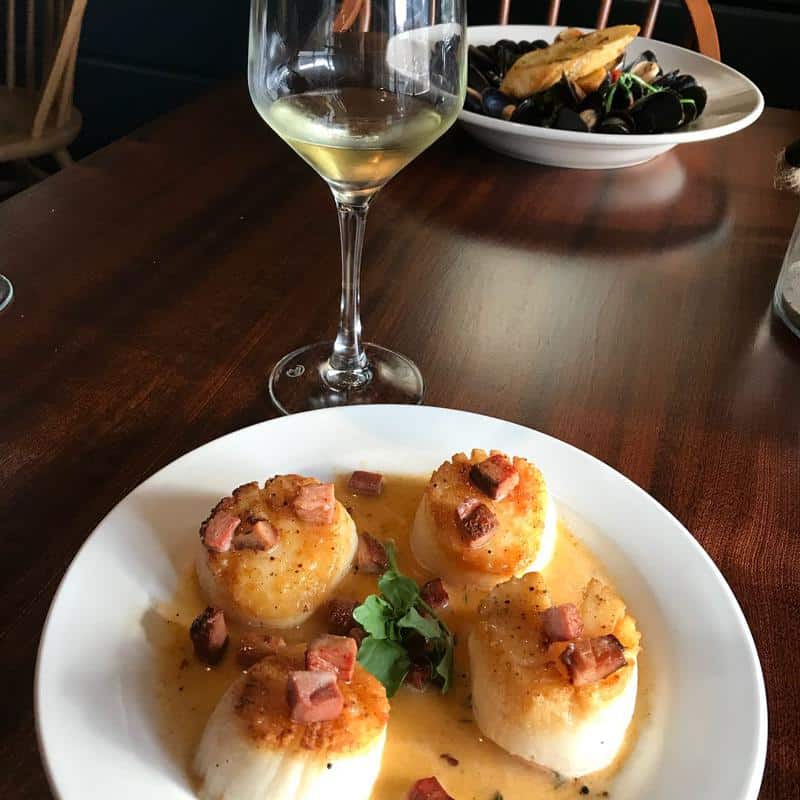 Location: Corn Neck Road New Shoreham, Rhode Island 02807
Seasonal: No
Price: $$$
Winfield's restaurant takes inspiration from an array of cuisine, creating impactful and powerfully flavored dishes that perfectly suit their fine-dining persona. Chef Berke Mayre is a highly skilled and passionate chef that has taken Winfield's to soar heights.
The menu is small and concise featuring a mixture of pan-European, Asian, and New American dishes. French cuisine, seafood, and a great view of the Atlantic Ocean. They are open year-round! There are many outdoor seating options and indoor dining options, which are perfect for a nice dinner in the warm weather.
And suppose the food from Chef Mayre wasn't enough. In that case, you can enjoy some subtle Jazz on Monday evenings played by the multi-faceted man himself.
Club Soda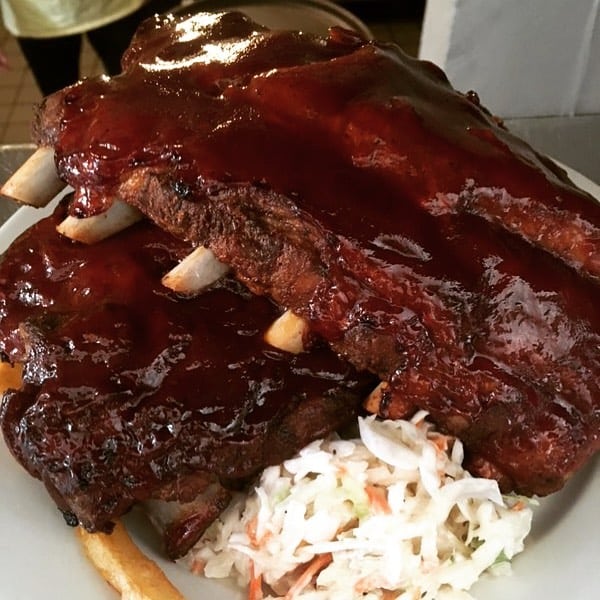 Location: 35 Connecticut Ave, New Shoreham, RI 02807
Seasonal: No
Price: $$$
Club Soda is somewhat unassuming. It lacks the frills of competitors on the island but has made up for it through its appealing personality. They are a lively venue that always has something happening to get the community excited about and share a love and passion for great food and excellent company.
This influential little bar may not seem like much, but it always has something on. From Trivia nights to Acoustic sessions, any given day of the week is an experience.
The menu specializes in pub grub, good, tasty, and wholesome. A delicious array of dishes awaits you, from the appetizers to the entrees. They find new and exciting ways to blend flavors and bring a little Club Soda flair to all-American favorites. And their tagline, "We're all here because we're not all there," is just a tribute to the kind of fun-loving environment they create!
Beachead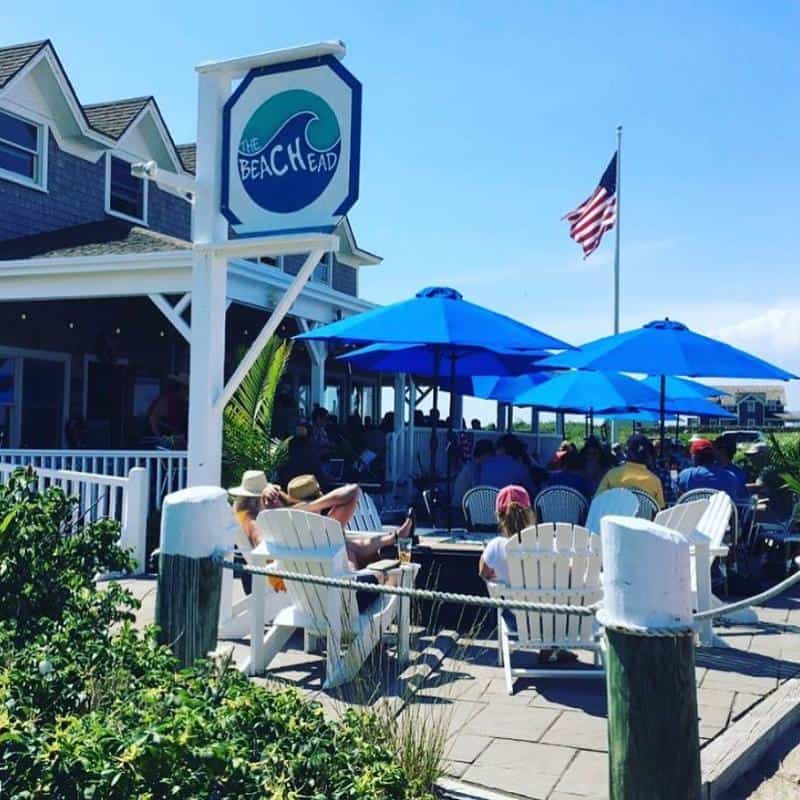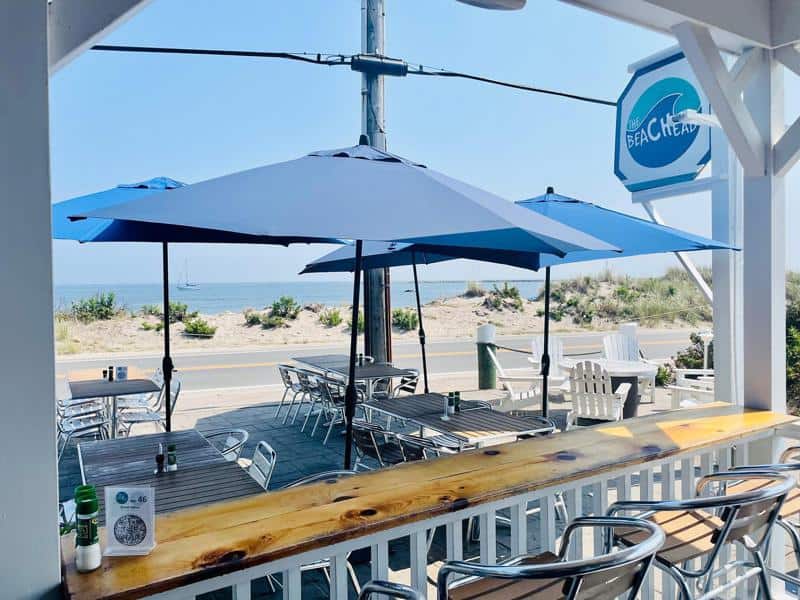 Location: 598 Corn Neck Rd, New Shoreham, RI 02807
Seasonal: Yes (Closed Winter; Dates vary annually)
Price: $$$
Beachead restaurant has been around for decades, and it hardly begs the question as to why. The beautiful sand-filled beach views and dining have been a drawing card for locals and tourists alike. We're sad to see them close each winter, but the nippy weather certainly puts a damper on beachfront dining.
They specialize in old and new, putting twists on classic dishes and ensnaring the senses with delectable seafood. You can over indulge in "buck-a-shuck" oysters for $1 an oyster between 3 and 4 pm, Monday to Friday.
But their menu is far broader and serves delicious entrees and appetizers using fresh, sustainable local ingredients. In addition, the chefs can be applauded for building masterful twists on American and New England classics, like cheese fries, with truffle oil. Still, it is their lobster variations that steal the show!
The Surf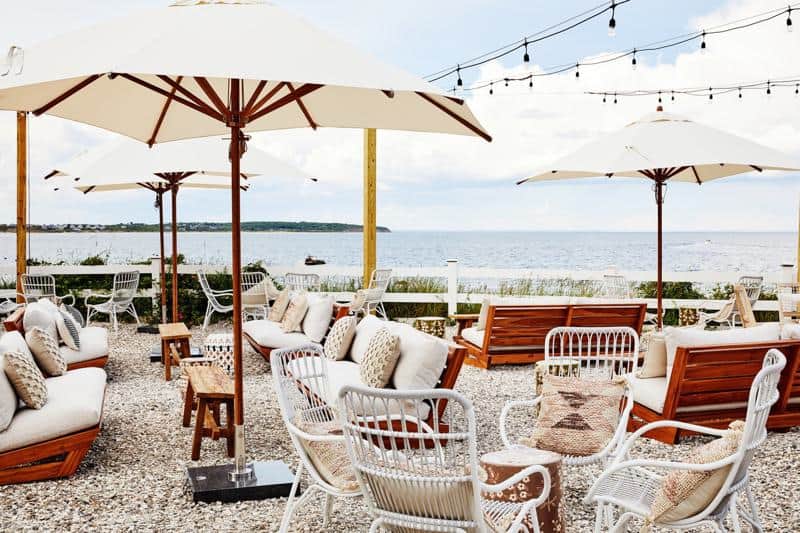 Location: 32 Dodge St, New Shoreham, RI 02807
Seasonal: Yes
Price: $$$
When it comes to beachfront eateries, you won't find an experience quite as picturesque as The Surf. Located in Block Island Beach House resort, this sprawling restaurant leads out into crisp white sands with the fresh sea breeze pouring into the open venue. It's another beautiful location selected by Lark Hotels and adds incredibly to the dining experience.
The kitchen serves up a mean array of foods that not only look good but taste better! Ingredients are refreshing, with a high standard of quality that can only mean they were freshly sourced for the day. The menu hosts a small variety of eats, but each meal packs a powerful and tasty punch. They approach meals in a nouveau style, using quality and skill to create their masterpiece.
TigerFish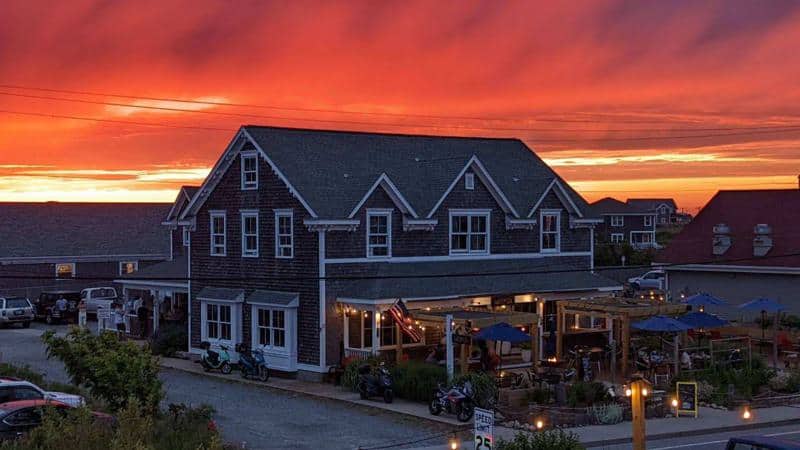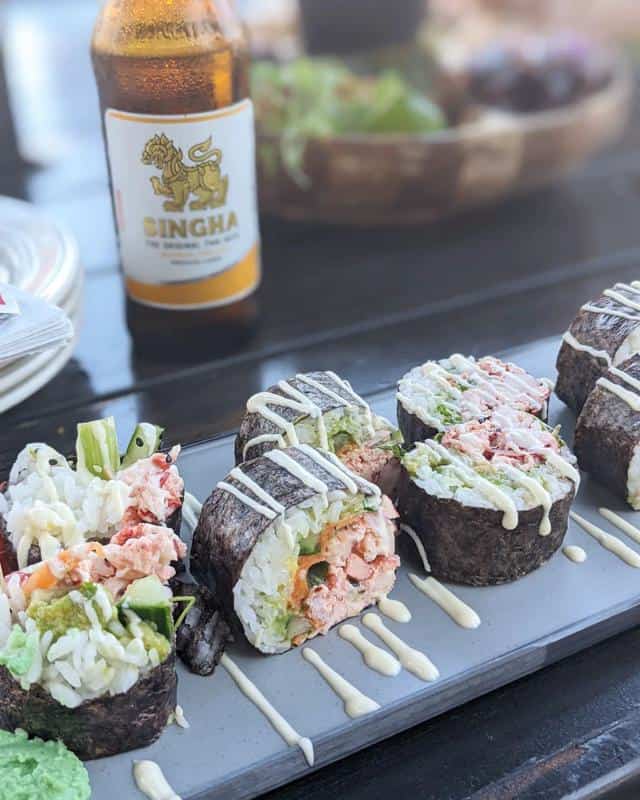 Location: 126 Corn Neck Road, Block Island, RI 02807
Seasonal: Yes (Closed Winter, dates vary annually)
Price: $$
TigerFish is an excellent pace change from the usual finds on Block Island. They serve a pan-Asian menu, particularly inspired by Asian street food, and add some unique twists to their menu along the way. This perfectly situated spot is a short distance from the white sandy beach and provides both indoor and open-air dining for patrons.
Their expert chefs are ingenious and prepare a variety of incredible dishes that parallel everything you've had before. Over and above this, they acknowledge their picturesque location and serve up some mean Tiki Bar cocktails too!
They are a family-friendly establishment and even make accommodations for your furry friends. The welcoming atmosphere is vibrant and lively, hosting DJs on Thursday and Friday evenings in the Summer.
Poor People's Pub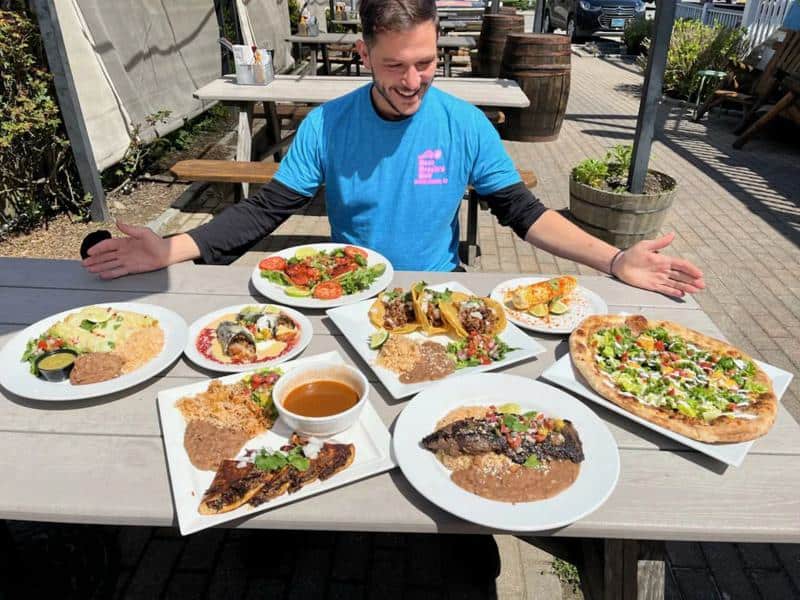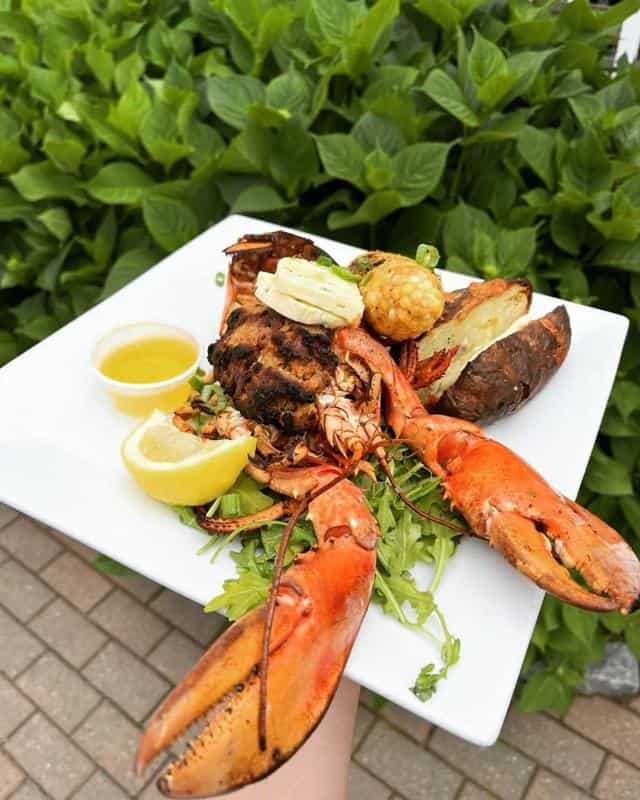 Location: 33 Ocean Ave, New Shoreham, RI 02807
Seasonal: No
Price: $$$
Despite what the name might suggest, this is no run-of-the-mill pub, and you'll be pleasantly surprised to see them serving up some of the best New American-style cuisines on Block Island. They are definitely nothing fancy.
They have instead traded white table luxury for a more casual approach that eases holiday-goers in and welcomes locals back with open arms. Poor People's Pub has been around for decades!
They serve an arrangement of pub grub and American classics. They are certainly adding a flair of quirkiness to every dish. This establishment prides itself on sticky, messy, wholesome food provided through local sources.
The quality is phenomenal, and the talented chefs are by no means wasting their passion when they put a pristinely stacked Lobster Roll or Shrimp Po Boy on the plate. They attract a lively crowd all year round, and we highly recommend it for a casual and relaxed dining experience.
Old Post Office Bagel Shop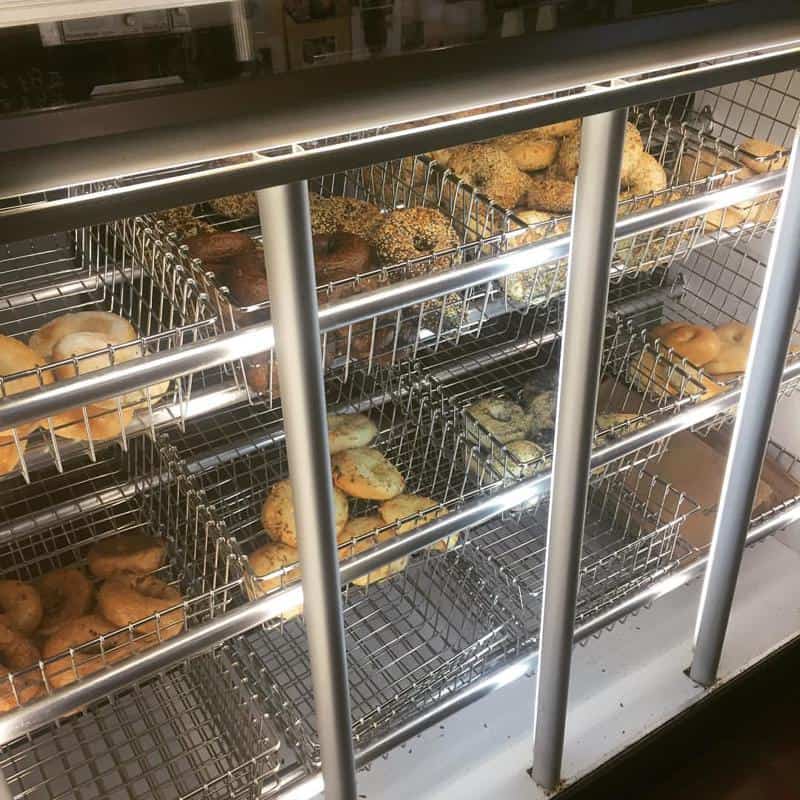 Location: 123 Corn Neck Rd, New Shoreham, RI 02807
Seasonal: No
Price: $
If it's a sweet little breakfast nook you prefer to start your day with, the Old Post Office Bagel Shop might be a hit for you. This little crowd-pleasing spot has bagels that rival New York, and the crowds of avid coffee drinkers are just about as obsessed as we are. In addition, they are a quaint venue that provides modest seating for on-the-go dining.
Everything is prepared fresh daily, with puffy and gorgeous bagels being slathered with fillings of the patron's choice and accentuated by a cup of piping hot java. They have a few menu options, but for the most part, it is completely up to you how you would like your bagel to be filled.
Their ingredients are fresh and delicious and their baked goods even more so, making them an honorable mention for our list.
Read More:
Map of Best Block Island Restaurants
Why Do Some Block Island Restaurants Open Seasonally?
Block Island might be a summer paradise but can get extremely cold during winter. With the snow falling, the tourist season ends. It became more viable for restaurants to close during the seasons to cut costs, as they weren't receiving enough revenue from locals alone to keep them afloat. That, and going to a Tiki Bar on the beach in a snow storm, just seems crazy!
Conclusion
From picturesque scenery, quaint streets, and a robust and local community. Block Island offers a perfectly vibrant destination for anybody interested.
You'll be welcomed with open arms in all directions and fed some of the most fragrantly tasty delicacies this island can conjure up. Their size counts for nothing when the truth is they are full of incredible restaurants just waiting to usher hungry patrons to their seats for the dining experience of a lifetime!