Contrary to popular belief, Dunkin' isn't well-known or adored for its donuts. The truth is that Dunkin' is all about the coffee, as everyone familiar with the East Coast brand knows.
Since opening a single storefront in Quincy, Massachusetts, in 1950, Dunkin' has grown tremendously in recognition. The pink and orange brand—which previously only offered regular and decaf coffee and basic donuts—now provides a wide variety of tasty coffee drinks that may be consumed hot, iced, or frozen.
Dunkin's extensive selection might make it challenging to choose whatever taste and temperature experience you want to enjoy. Still, the good side is that Dunkin' Donuts has a coffee alternative for you, whether you prefer a sweet, delicate, and tasty iced coffee or a more unique and bitter iced coffee.
It doesn't end there; Dunkin' Donuts allows you to customize your coffee by adding ingredients like whole milk, almond milk, and sugar, along with flavors like hazelnut and french vanilla.
There are two options for flavoring your coffee on a Dunkin' menu: a shot or a swirl. The firm claims that the swirl flavors are creamier and prepared with sweetened condensed milk and other flavors to achieve diversity, while the flavor shots are unsweetened and sugar-free.
Top 10 Dunkin' Donuts Iced Coffees
The famous Dunkin' iced coffee is enjoyed by both TikTok and Hollywood celebs. The United States depends on it if the advertising is to be believed. For many, it's their favored morning fuel.
Dunkin' offers pre-designed iced coffee masterpieces in addition to the option to customize your coffee as you desire, and they're sure to satisfy you.
Whatever your state of mind, Dunkin' provides the solutions to satisfy your coffee demands.
The following paragraphs look into the top 10 Dunkin' Donuts iced coffees.
1. Caramel Swirl Iced Coffee
One of the timeless iced drinks that won't go out of style anytime soon is the Dunkin' caramel swirl iced coffee.
Freshly ground espresso beans combined with a thick caramel flavor result in a delicatessen that's difficult to drink because the alluring taste tempts you to order another cup as soon as you finish the first.
Despite the sweetness of the caramel, you could still taste the coffee, but it tastes more like chocolate.
Even if it's Monday morning and you're running late for work, this chilled, creamy, caramel swirl iced coffee keeps you going and puts you in the mood for Friday. Sauce and seasoning for caramel elevate the already bitter espresso. Add some whipped cream if you want to transform your iced coffee into a liquid dessert.
2. Mocha Iced Coffee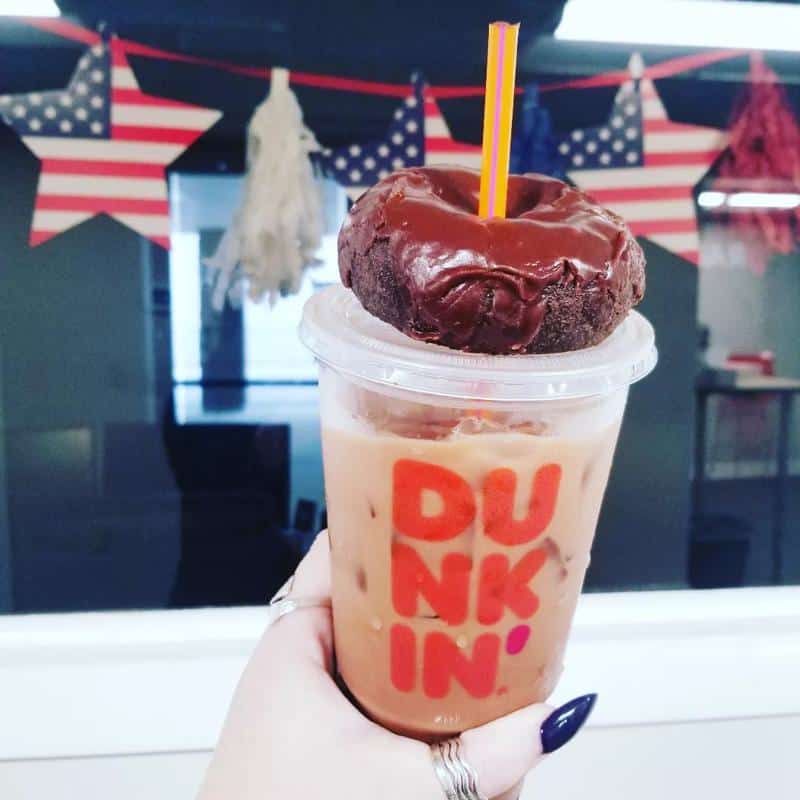 The most delicate part of waking up is having a cup of coffee. But you sometimes need an extra kick to get going, and a simple black cup won't do.
In such a case, the Mocha Swirl Iced Coffee fills that need. It has all the richness and coffee flavor of Dunkin's famous arabica roast with the additional benefit of sweet, chocolatey mocha flavor.
When coupled with your choice of milk, the mocha flavoring syrup creates a rich, creamy mocha iced coffee ideal for meeting your caffeine craving without going overboard with sweetness. This syrup helps to cut through the strong flavor of the coffee.
Even while mocha has a distinct flavor on its own, you might be tempted to add a shot of sugar to take the drink to a brand-new level. No matter what time of day, iced coffee with mocha flavoring is a pleasant way to savor intense flavors.
3. Cold Brew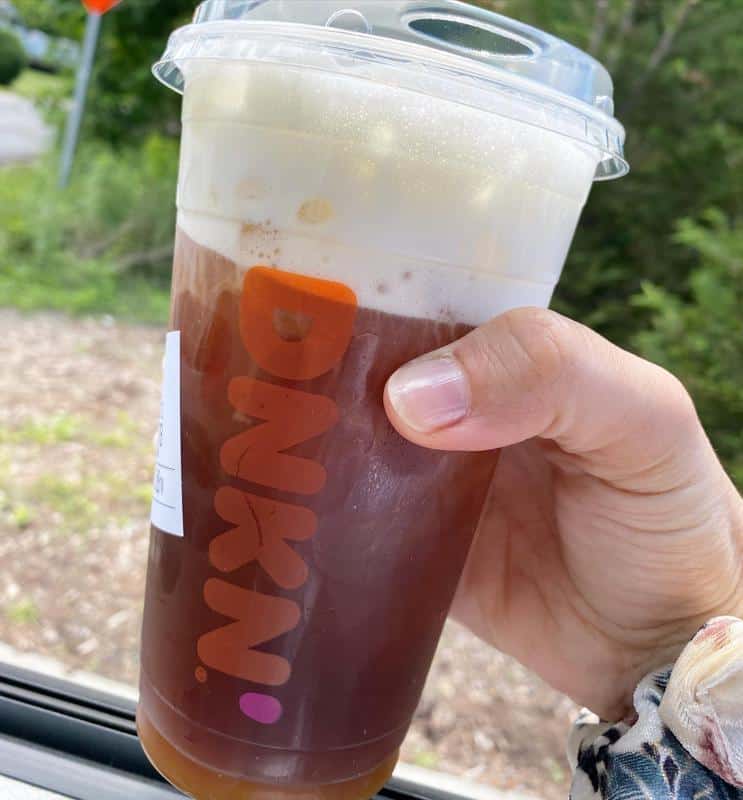 The Dunkin' Donuts cold brew coffee results from soaking 100% Arabica coffee beans in cold water for 12 hours. To many people's surprise, The Daily Meal ranked Dunkin's cold brew as the third best cold brew coffee, ranking it miles ahead of Starbucks. Dunkin's cold brew is rich in caffeine but moderate in acidity, making it highly drinkable even for those who aren't fans of cold brew.
Cold brew coffee isn't complete without two shots of hazelnut flavor and one shot of almond milk. While almond milk has a creamy texture and enriches the taste, the hazelnut flavor gives a sweet, nutty flavor.
What's particularly intriguing is that the cold brew appears to have maintained its status as a sacred cow, untouched by whipped toppings or flavor swirls. This stands despite all the diversity and liberties Dunkin' takes with other coffee choices.
Here is a review of Dunkin' Cold Brew and a video on homemade Dunkin' Cold Brew.
4. French Vanilla Swirl/Iced Coffee
While coffee with French vanilla flavoring is a classic beverage, Dunkin' Donuts claims to execute it better than any other coffee business.
To produce an unbeatable masterpiece, Dunkin' adds just the correct quantity of the French vanilla swirl to the cup filled with the iced treat we know as iced coffee.
Dunkin' Donuts is a master of the classic iced coffee flavor, which combines the familiar taste of French vanilla with the robust flavor of the coffee.
5. Hazelnut Iced Coffee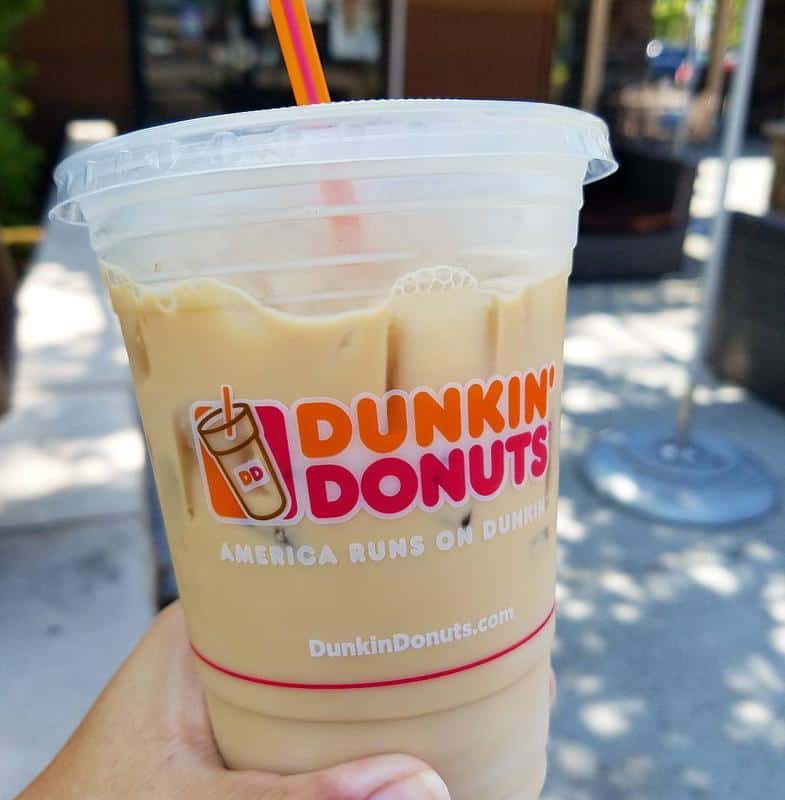 Many coffee buffs know that hazelnuts are the most popular flavor offered by Dunkin' Donuts. A tasty, nutty substitute for standard iced coffee is hazelnut iced coffee.
As was already noted, Dunkin' offers coffee drinkers the chance to tailor any coffee to their preferred flavor.
Almond milk and sugar make hazelnut iced coffee more flavorful to consume. The almond milk enhances the hazelnut's nutty flavor, and the sweetness from the sugar makes it difficult to resist.
Suppose you don't feel like having something sweet. In that case, to produce a creamy delight that won't make you feel bad for consuming a liquid dessert, omit the sugar and use whole milk instead of almond milk.
6. Butter Pecan Swirl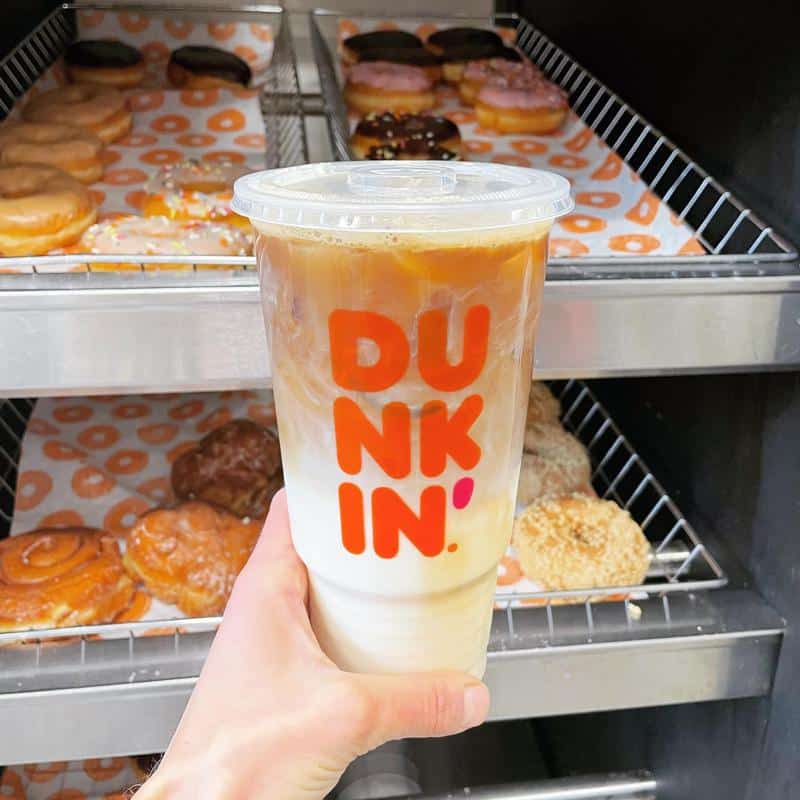 The only time you can have the seasonal favorite, butter pecan swirl iced coffee, is in the autumn months.
Rich butter pecan syrup is used to make this tasty seasonal coffee beverage, which is then perfectly chilled. For those seeking a little something different during fall, it's the ideal treat.
Better still, Dunkin's butter pecan swirl iced coffee can be the ideal beverage for you if you enjoy the effects of caffeine and have an insatiable sweet appetite but detest the flavor of coffee.
The flavor delivers on its promises of smooth nuttiness and creamy butteriness. It's so effective that you can't taste any coffee since it entirely overpowers the flavor.
For an extra kick, consider ordering this iced coffee with an additional shot of espresso.
7. Pumpkin Swirl Iced Coffee
Pumpkin gives Dunkin' pumpkin swirl iced coffee a burst of flavor, and the seasoning also adds a sweet touch that keeps you coming back for more. Similarly, the inclusion of vanilla and spice flavors gives it richness, while the powerful, distinctive Dunkin' espresso blend balances it.
While pumpkin spice lattes are standard in all coffee shops during the autumn, Dunkin's pumpkin iced lattes strike a particular chord since the flavoring's sweetness doesn't overpower the coffee's bitterness.
For best results, add a little milk to give your pumpkin iced coffee smoothness and a delectable flavor that will have you coming back for more.
8. Caramel Mocha Iced Coffee
Like many other beverages Dunkin' Donuts offers, you can enjoy the caramel mocha coffee, either hot or iced. This delicious, freshly brewed iced coffee will wake you up and prepare you for the day.
Suffice to say, this iced coffee option will become a go-to for you since it combines the bitter, chocolatey mocha with the sweet tones of the caramel flavoring and sauce. Consider attempting a caramel mocha iced coffee if you're seeking a solid yet sweet iced coffee choice.
Pairing these two unique flavors gives you the boost in vigor you need to face the day ahead.
9. Coconut Caramel Iced Coffee
Over the past few years, the demand for coconut flavor has increased. The creamy, sweet taste of coconut is the ideal complement to the savory coffee flavor we all adore in Dunkin's coconut caramel iced coffee.
Whether you love coconut milk or would instead stick with the more well-known dairy milk, you should try Dunkin's coconut iced coffee.
Unlike other drinks with coconut flavoring, this coconut coffee doesn't have a strong coconut flavor that overpowers the coffee.
Since coffee and coconut go well together and coffee and chocolate have a lot in common in terms of flavor, the coconut iced coffee hit many of the same notes while being considerably less sweet.
Ultimately, the coconut syrup balances the feeling between being overbearing and allowing the flavor of the coffee to come through.
10. Bottled Iced Coffee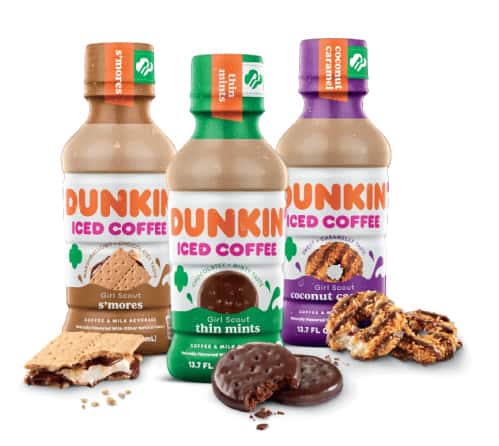 For any occasion, Dunkin's bottled iced coffee is the ideal grab-and-go iced coffee.
French vanilla, mocha, original, and the new Girl Scout flavors of thin mints, s'mores, and coconut caramel are all available in these 13.7 fl. oz. bottles of coffee.
For those times when you have a craving for Dunkin' iced coffee but can't visit the nearby Dunkin' Donuts, this bottled iced coffee is also available in 48 oz. bottles to keep on hand in your home refrigerator.
Although the flavor is impressive, it isn't easy to make this drink last longer than a few minutes because the plastic bottle ensures that the coffee will warm up rapidly. Additionally, consuming coffee from a bottle without ice has the same effect as taking a 5-hour energy shot.
Also Read:
FAQs
Are Dunkin' Donuts Lattes Sweet?
The answer to this question varies with how you prefer your latte. Only one gram of sugar, without flavoring syrup or additional sweeteners, is present in a medium latte. But you can also include a bit of the Cake Batter Swirl syrup.
You can alter the sweetness of your Dunkin' lattes like most beverages on their menu. To acquire the ideal level of sweetness, ask for more or fewer pumps of liquid sugar or flavor syrup.
What's the Strongest Iced Coffee at Dunkin' Donuts?
A traditional Dunkin' iced coffee has a whooping 297 mg of caffeine in a medium-sized cup if you're looking at the caffeine levels. You'll be motivated to finish your busy morning with that!
Still, you can add an extra shot of bold espresso to your chosen iced coffee drink for an additional charge to experience a significant caffeine boost from your Dunkin' coffee.
What's the Most Popular Dunkin' Donuts Coffee?
According to the coffee experts at BaristaHQ, the Dunkin' Donuts' iced beverage is by far the most popular on the menu. Due to its delicious flavor that entices you to want more.
It's a terrific choice for any coffee lover at any time because iced coffee is simple to personalize to achieve the sweetness and flavors you desire.
Conclusion
At this point, you've been apprised of the top ten Dunkin' Donuts iced beverages. The options are almost infinite, whether you're in the mood for a decadent chocolate dessert or a cool summer treat.
The next time you visit a Dunkin' store, we advise you to try one (or two, or three); you won't be let down. Besides, Dunkin' Donuts has a verified page on Instagram where you can easily see images and videos of their coffee beverages and the new flavors they've been testing out.