If you look at a top list of best restaurants in Memphis, you are unlikely to find anything that screams seafood. The people here do love their barbeque and the local comforting specialties, but if you know where to look, you'll also find some amazingly good seafood options.
Here is a list of the best restaurants to get seafood in Memphis, TN, for casual diners to fine dining experiences:
Best Seafood Restaurants in Memphis
Flying Fish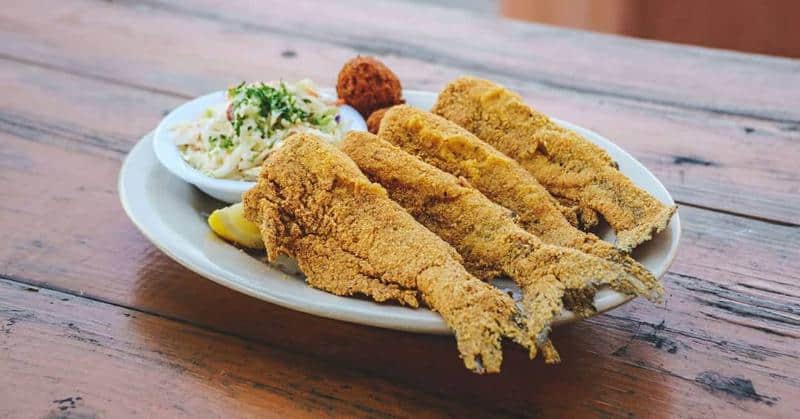 If you are feeling ready for a fried fish bonanza in a relaxed diner-like atmosphere, head over to the Flying Fish. You definitely won't regret it. This is by no means some fancy restaurant where you go to get an elaborate 8-course meal, but it is a place where you can always count on good seafood and a nice, upbeat atmosphere.
The Flying Fish does not offer table service. Instead, you get your order from the counter, just like in a fastfood restaurant. The orders do arrive fast, fresh and hot, and then you can grab a seat and help yourself to the drinks which are self-serve too.
Even if this is not your kind of restaurant, you won't regret it once you try the food. Fried dishes and/or shrimp baskets are the local favorites, but the grilled plates at Flying FIsh are not bad either.
The unique atmosphere is enhanced with the huge collection of Billy Bass fishes on the wall. This is definitely a fun spot for the whole family!
Soul Fish Cafe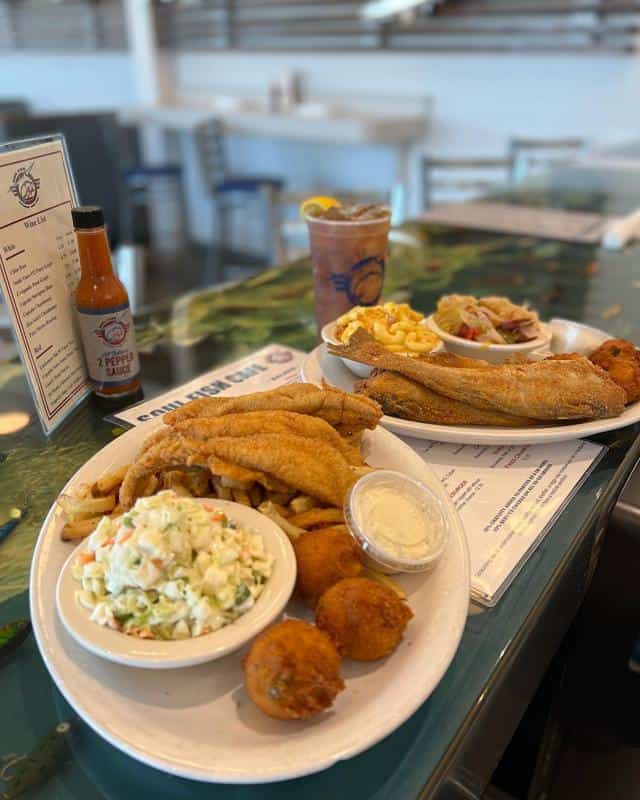 Hours: 11 am – 9 pm
Address: 3 locations in Memphis
Website: soulfishcafe.com
Price: $$
Catfish, anyone? What else would you expect from a seafood joint in Memphis, and from one whose owners and concept come from the Delta? Yes, fried catfish galore is what you can expect here. If you like fried food at all, you're surely gonna have fun here. Catfish nuggets, hush puppies, fried pickles, chicken or shrimp, on a plate or in a taco – it's all up for grabs.
But in all seriousness, the Soul Fish Cafe menu offers much more than that. The concept is simple: filling, comforting, honest seafood kitchen. Whether you want a grilled fish, a po'boy or a fish taco, the Soul Fish Cafe has got you covered. And there are some nice non-seafood options too.
Overall, it's a great and comfortable place to grab a quick bite. The Soul Fish Cafe has two locations in Memphis – one on Poplar Avenue and one on South Cooper Street. Two more locations are just outside of the city, one in Germantown and the other one in Wolfchase. If you are ever in the area they are certainly worth a stop.
Half Shell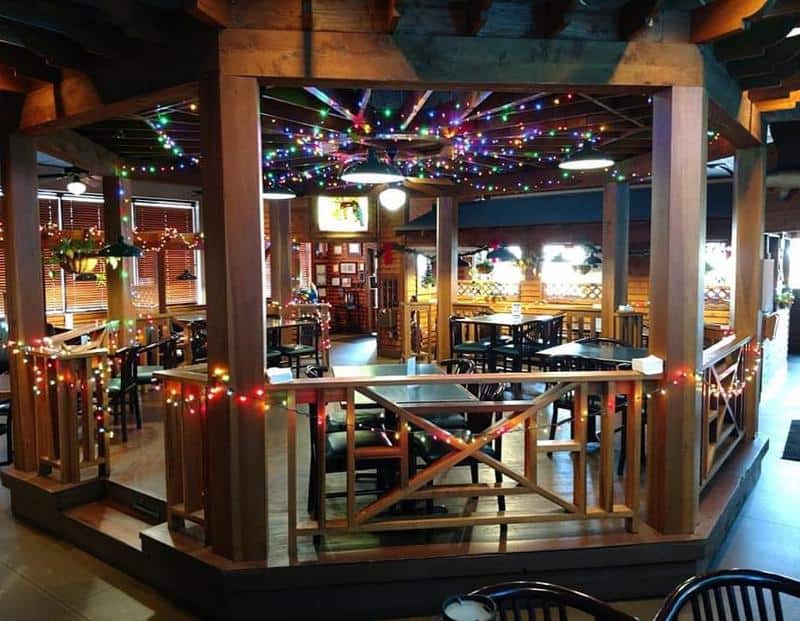 The Half Shell Restaurant is one of the must visit places while you are in Memphis, if you like seafood at all. The Half Shell is somewhat of a cultural institution – the first restaurant was opened as far back as 1973 and has been maintaining a local fan base ever since.
Since their opening, the Half Shell has been located on the corner of Poplar Avenue and Mendenhall, although they did change the location once by moving across the street to gain more space as their customer base kept growing. The business was going so well that in 2003 they opened a second location at Southwind.
As for the menu, the name Half Shell might be a bit misleading. Yes, you will find a variety of oysters here, grilled, baked, or breaded and with a variety of nice garnishes. But they don't take up such a big part of the menu which instead features all of the staples of southern-style seafood.
Coastal Fish Company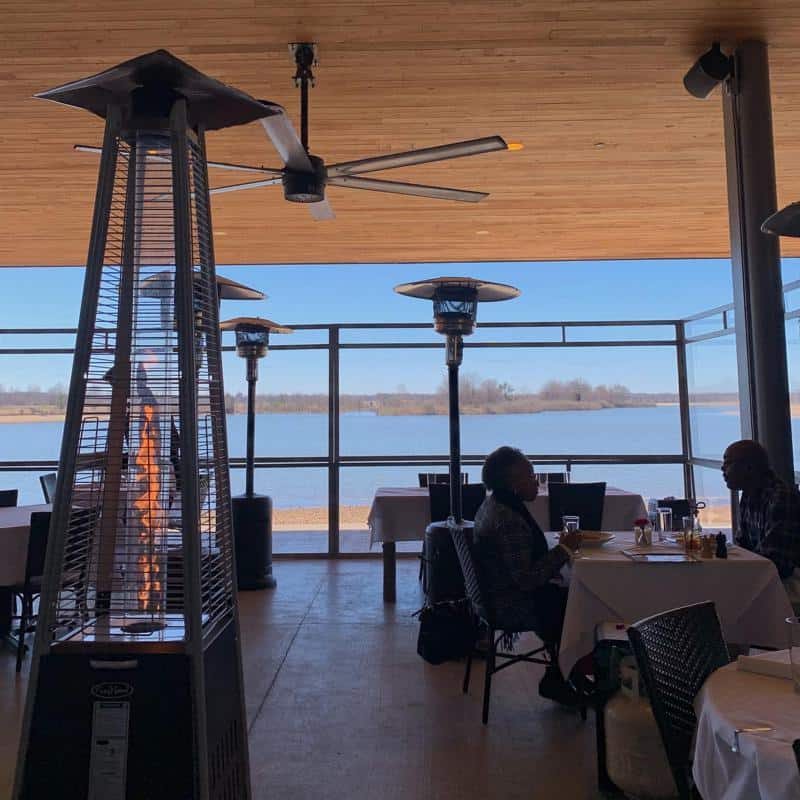 Hours: Monday – Thursday 3 pm – 9 pm;  Fridays 11 am – 9 pm; Saturdays and SUndays 10:30 am – 9 pm
Address: 415 Great View Dr E, Memphis, TN 38134
Website: www.coastalfishcompany.com
Price: $$$
Seafood dinner with a view, anyone? And in a calm secluded location near East Memphis? Yes, that's possible, and you'll find it on the edge of Patriot Lake in the Shelby Farms Parks.
You can't go wrong with this place if you are looking for a fine dining experience. The menu is outstanding, but the experience starts with the location and the atmosphere.
The elegantly decorated indoor area with lots of wood and interesting details opens up to a covered patio right about the light which has a direct view of the sunset. The patio is surprisingly cozy even on a chilly day. It's pretty much the perfect spot for a romantic date.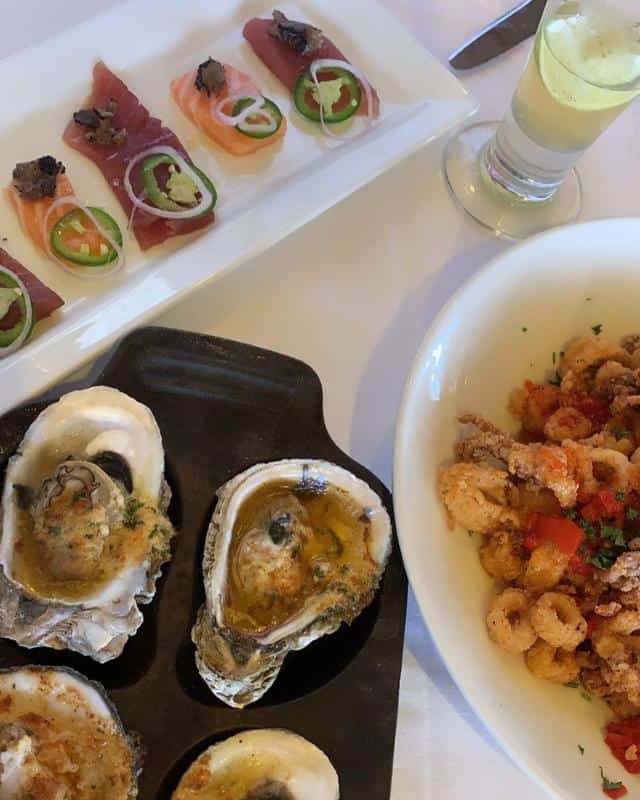 Seafood lovers will be pleasantly surprised by the raw bar at Coastal Fish Company. An impressive selection of raw oysters will leave even the most picky oyster lovers satisfied.
Our recommendation is to try some of their Composed Oysters plates which showcase oysters combined with the most outstanding dressings and garnishes (like the Hong Kong where the oysters are wrapped in Ahi Tuna and combined with Wasabi Tobiko Truffle and Yuzu Ponzu Sauce).
Flight Restaurant and Wine Bar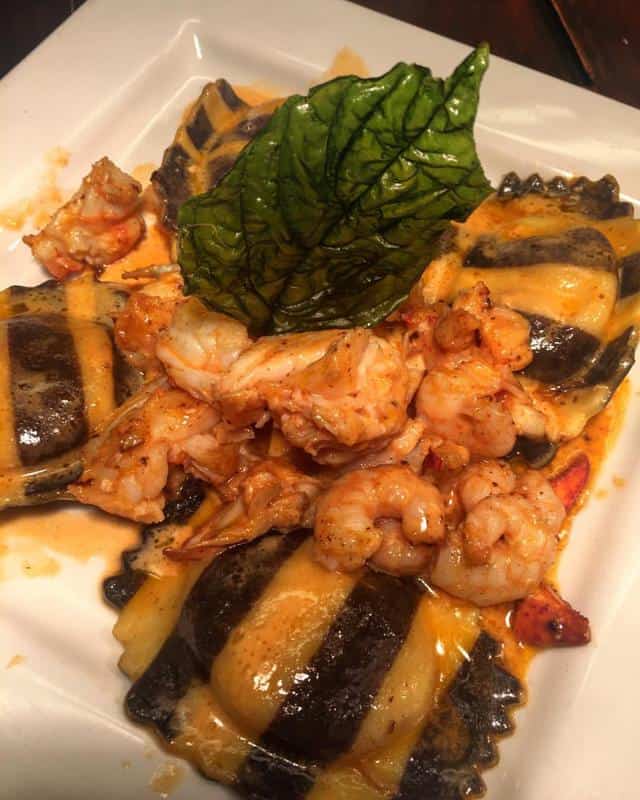 Hours: 4:30 pm – 10 pm
Address: 39 S. Main St., Memphis, TN 38103
Website: flightmemphis.com
Price: $$$$
Located right in the center of downtown Memphis, this concept restaurant & bar is the perfect place for a special night out. As soon as you enter this place, you will feel well taken care of – provided that you've booked a table beforehand, as it does get busy. They offer a complimentary valet parking service which is always a relief, and you can choose between different seating options – whether at the lively bar or the calmer area upstairs.
The unique nature of the Flight really starts to show when you check out the menu. The concept of the restaurant is centered around 'flights' – combinations of smaller dishes that let you sample pretty much everything. No need to settle for just one option! And the flight can be accompanied by wine pairings if that's what you'd like.
For example, you can order the Ocean Flight for the appetizer which brings you a combination of New Orleans BBQ shrimp, jumbo lump crab cake, and lobster ravioli. Then there's the flight of salad and the flight of soup… By the time you reach the main course the game changes a bit: now everything is available as a small plate or as a full-size plate. If you stick with the small plates you can mix and match everything for an amazingly fun experience.
Owen Brennan's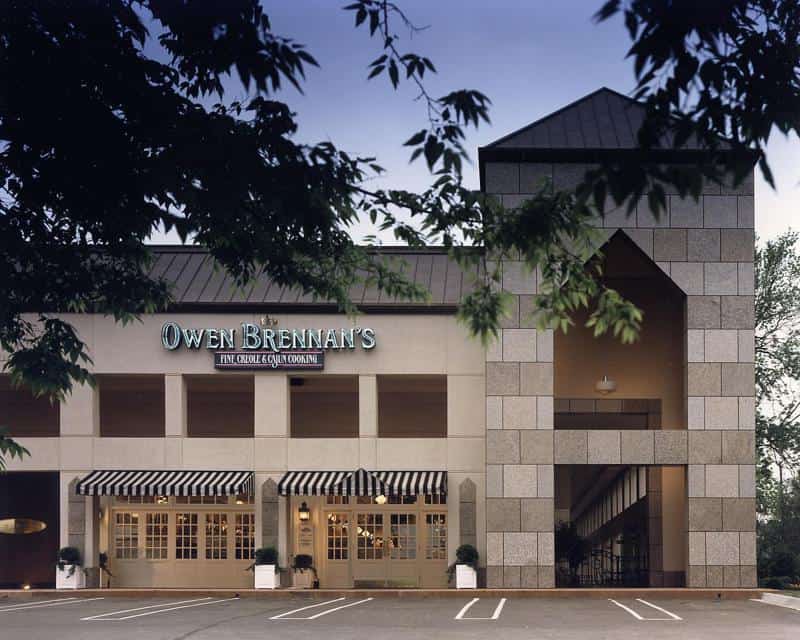 Hours: Monday – Saturday 11 am – 8 / 9 pm; Sunday brunch 9 am – 2:30 pm
Address: 6150 Poplar Avenue, Suite 150, Memphis, TN 38119
Website: www.brennansmemphis.com
Price: $$$
Owen Brennan's is a restaurant with a reputation to maintain. They have been voted the best brunch spot in Memphis Flyer's Best of Memphis competition since forever. Yes, literally since the Memphis Flyer started making the best restaurant competition 27 years ago.
Just like most restaurants, Owen Brennan's seems to have had a bit of a hard time through the pandemic with service not being up to their usually very high standards, but they seem to be getting back to their old self these days.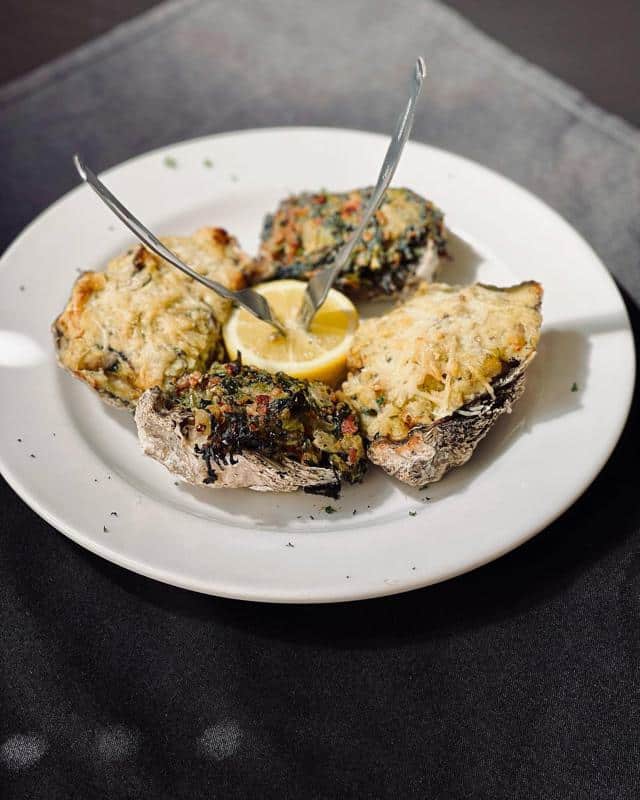 The idea behind Owen Brennan's menu is to bring the New Orleans tradition of flavorful cooking to Memphis, so expect lots of staples of Cajun & Creole cuisine. Dishes like Pasta Jambalaya, Creole Classic Crawfish Étouffée or Catfish Boudreaux are an indispensable part of dinner here.
But, what people usually come here for (and sometimes from quite far) is the Sunday brunch. Served from 9 am till 2:30 pm with a side of live jazz music, the brunch menu features a dedicated seafood station as well as a selection of seafood entrees.
Humdingers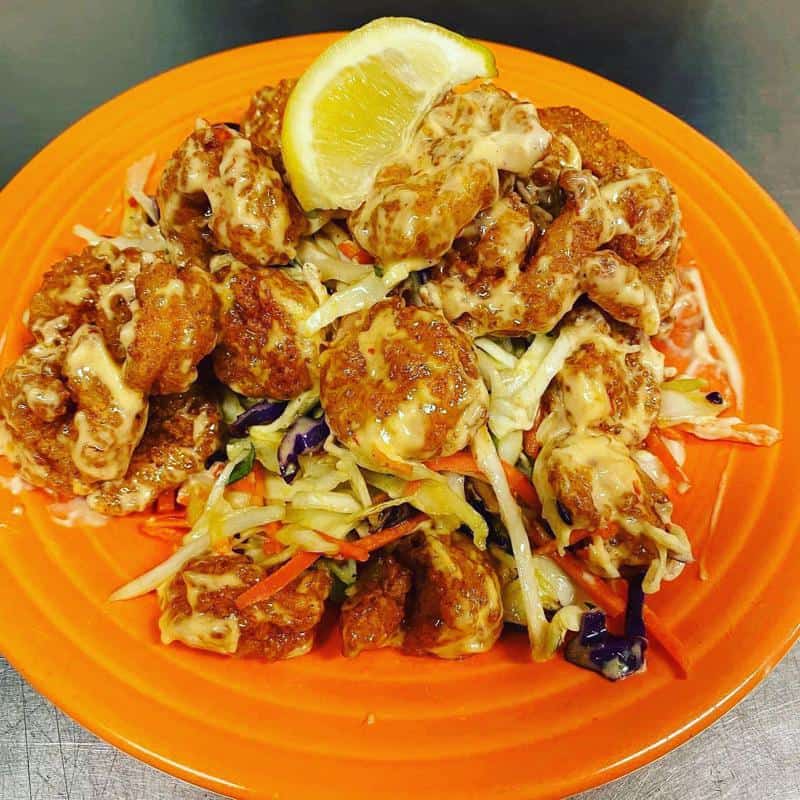 Hours: 11 am – 9:30 pm
Address: 6300 Poplar Ave Ste 101, Memphis, TN 38119-4711
Website: humdingersrestaurant.com
Price: $$
Humdingers is another local seafood favorite in Memphis. The laid-back eatery offers a delightful array of grilled seafood and veggies combined with interesting spices.
The guiding idea behind the unique menu at Humdingers was to create meals that were healthy, wholesome, and at the same time mouthwatering. That's why the entree section is mainly focused on grilled fish, which is always seasoned with Humdingers' unique spice mixture.
You'll immediately grasp the character of the restaurant when you look at the toppings you can choose from for your grilled fish: pineapple salsa, sauteed piri-piri mushrooms, or black bean corn salsa. Combine this with sides like asian slaw, grilled sweet potato slices, or grilled brussels sprouts and you will have a fresh, nutritious meal that tastes heavenly!
That is not to say you will be disappointed if you are craving something more crispy this time. Humdingers also make great fish & chips as well as shrimp baskets.
Tsunami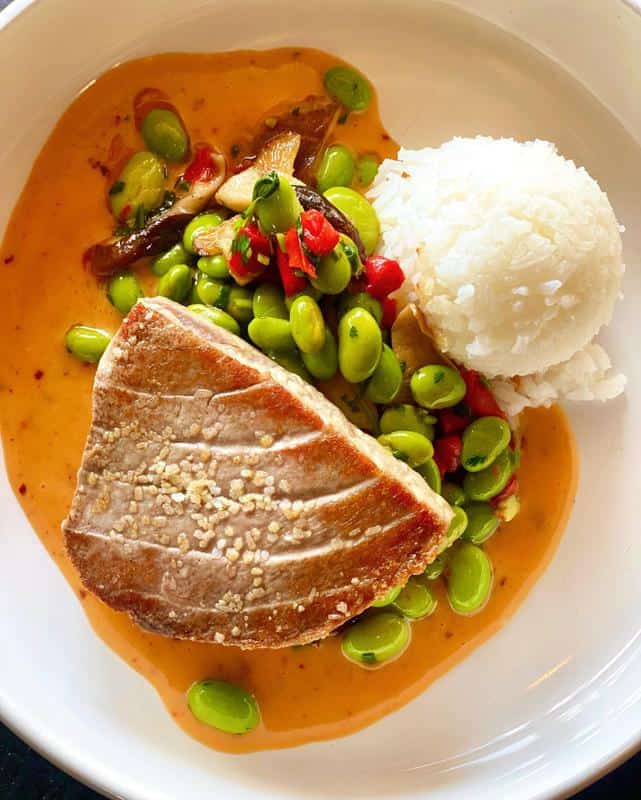 Hours: Tuesday – Saturday 5 pm – 9 pm
Address: 928 Cooper St, Memphis, TN
Website:  tsunamimemphis.com
Price: $$$
Located right in the middle of the artsy Cooper-Young neighborhood in Midtown Memphis, Tsunami might not stand out much as you walk down Cooper street. Simply yet tastefully decorated, the streetfront and patio of the Tsunami restaurant blend into the background as you walk by. But if you give it a bit of attention you'll quickly notice the inviting vibe of this place.
Tsunami has been running for more than 20 years at the location. When it opened in 1998 it brought a new concept of serving seafood to Memphis and has remained in vogue ever since. The trick is in their daily-changing Small Plate menu. The menu never ceases to entertain with refreshing options made from the freshest seafood possible (much of it comes directly from the Mississippi Delta), no matter how many times you go back to this restaurant.
But besides the daily specials (which include drinks too), Tsunami is quite known for some of their entrees that are always on offer: fish tacos, spice-crusted tuna or roasted sea bass – no matter which one you choose, you really can't go wrong.
Ellis Seafood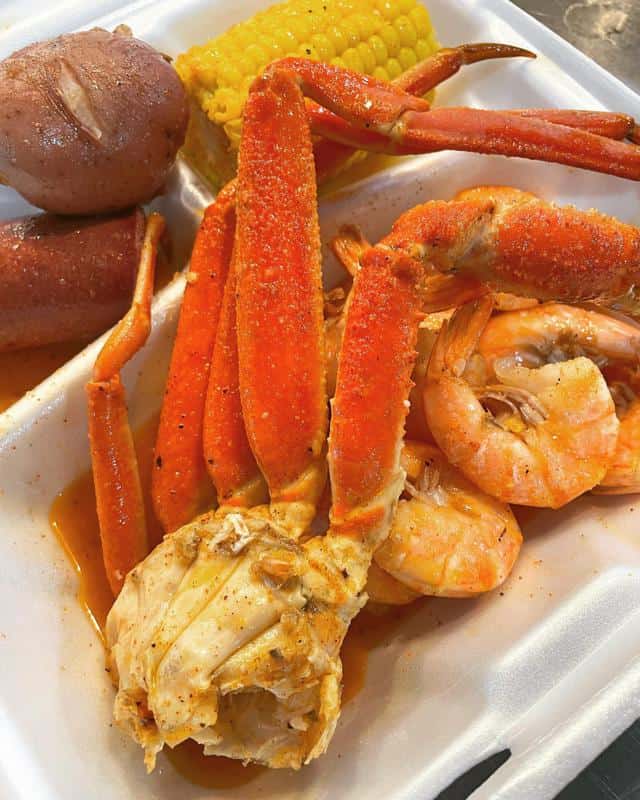 Hours: 11 am – 10:30 pm, closed on Sundays
Address: 1379 Getwell Rd., Memphis, TN 38111
Price: $$
Ellis Seafood has unofficially been proclaimed the best place in Memphis for a seafood boil. The seafood boil bags are the reason most people come here: buttery and delightfully seasoned, they are really to die for.
However, you won't be wrong if you decide to try their fried catfish instead. Actually, most of the items on the menu are pretty good and fairly priced. The only downside? Well, this is a fastfood place, so although there is a dine-in area, don't expect fancy service. They also have a drive-through, though, if you'd rather just grab the awesome food and eat it at home.
Saltwater Crab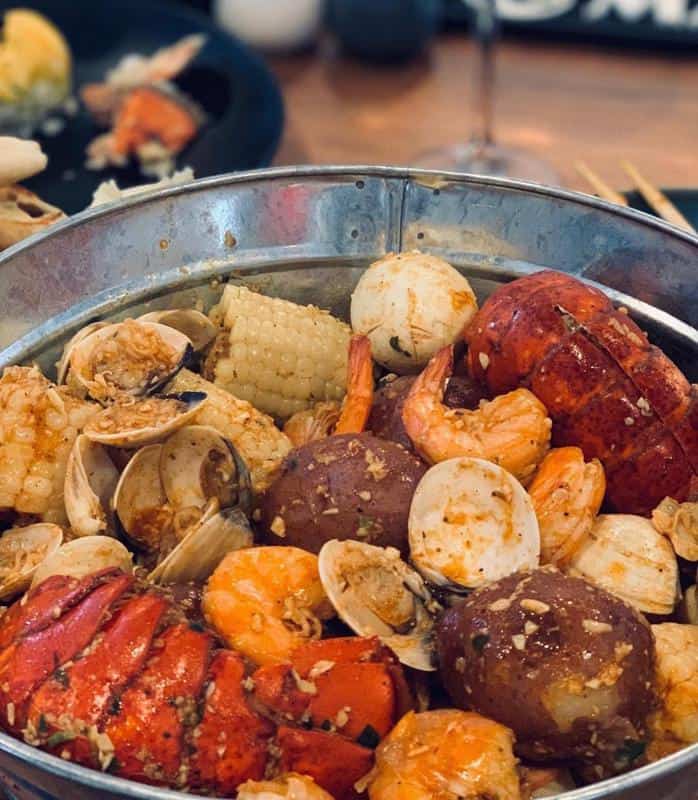 Hours: 11 am – 9 / 10 pm; closed on Tuesdays; on weekdays closed between 2:30 pm and 4:30 pm
Address: 2059 Madison Ave, Memphis, TN 38104-2750
Website: www.saltwatercrab.com
Price: $$
Saltwater Crab might not be the most famous nor the oldest seafood spot in Memphis, but it's been getting a lot of good reviews lately. And it does not surprise us, considering the diverse seafood menu they offer. There is truly something for everyone's taste!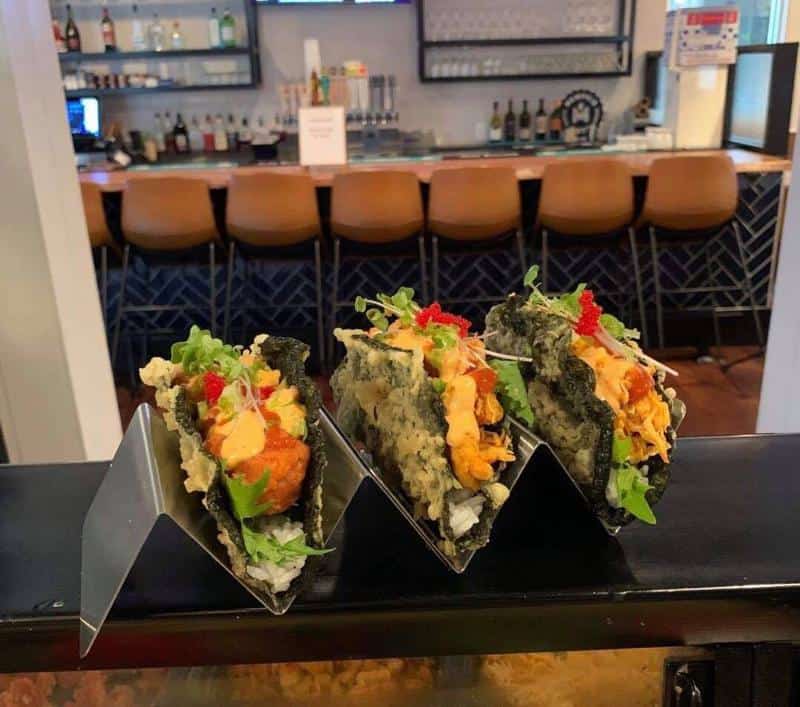 For starters, they have a regular maki lunch special with some of the best sushi in town. But then, you get to look at their full menu and get bedazzled with the variety of options. From daily offerings of fresh raw oysters and delicious appetizers like spicy crawfish nacho or tuna tataki, to awesome sandwiches, fried fish baskets and inventive main courses, one can really never get bored. Oh wait, but they also make awesome seafood boils!
The hardest thing about visiting the Saltwater Crab is deciding what to get.
Read More: Best Brunch Places in Memphis, TN
Seafood Restaurants in Memphis:

FAQs
Is Memphis known for seafood?
No, Memphis is not particularly known for seafood. Things like BBQ, burgers, and fried chicken are much more prominent here. However, Memphis is the home to the largest FedEx hum which means there are good shipping connections to pretty much everywhere. This also results in a lot of fresh seafood being available in the city.
What foods are famous in Memphis?
If we were to choose the number one favorite food in Memphis, then it would certainly be barbecue. Dubbed by some as the BBQ capital of the world, Memphis prides itself on its delicious ribs and BBQ delicacies in every form. While that doesn't sound promising to seafood lovers, the Memphis restaurant scene has become quite a melting pot of cultures in recent years, which means you'll be able to find a wide variety of delicacies.
What is the most famous seafood dish in Memphis?
There is no seafood more popular in Tennessee than catfish. Though the local catfish comes mostly from rivers and lakes if wild-caught, or from farms, it still counts as seafood, and it is delicious. Fried catfish is a staple you'll often find in Memphis, and there are quite a few restaurants that do it really good, so it's definitely a must-try while you are there.