The best pizza toppings vary from person to person, one pizza variety to another, and whether you are making the pizza at home or going for takeout.
It also depends on the region. Pepperoni is one of the most famous toppings in the UK and USA, but in Japan, the most popular toppings are squid and Mayo Jaga (made from bacon, potato, and mayonnaise).
Many pizzerias and restaurants offer limited choices regarding toppings, but you may expand that horizon by opting for homemade pizzas.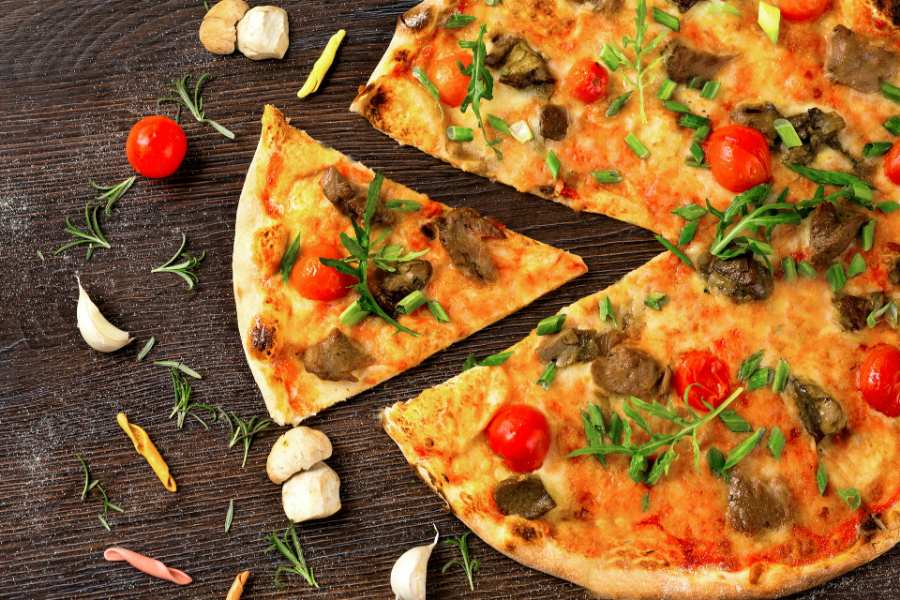 Knowing which toppings make for the most flavorful pizza will help you get the most out of your money and quench those hungry taste buds.
Generally, the best topping ideas include traditionally generous cheese, protein add-ons like chicken and sausage, vegetable staples like broccoli & basil, as well as sauces from barbecue sauce to peri peri and chili oil.
We have you covered whether you want a meat lover's toppings or the best pizza toppings for vegetarians. You may want to start by trying the Italian pizza topping classics like pepperoni, Margherita, or mushrooms and work your way to exclusive options like truffles and shrimp.
Most Popular Toppings According to Diners
Did you know more than 252 million pounds of pepperonis are consumed each year? Most of the pepperonis are in, you guessed it, pizzas!
The pineapple debate is still unsettled since some people don't like it while others are avid fans. Like most toppings, their popularity depends on the age and location of diners.
According to a 2019 study from YouGov, surveyors noted that the most popular pizza toppings in America were pepperoni, sausage, mushrooms, and bacon, all in that order. Least favorites included pineapple and anchovies.
In another customer study, Pequod's Pizza in Chicago did a short survey of 500 pizza lovers in 2020 to see which toppings were popular at their branches. As expected, pepperoni took the win in their analysis, followed by sausages and other meats like beef, bacon, and ham.
Mushrooms appear to be a preferable topping despite the popularity of meat items. Many diners order extra cheese instead of meat toppings like bacon, chicken, or ham. Vegetables are more popular than you may expect, with mushrooms being the most popular vegetable topping in the USA.
17 Best Toppings on A Pizza
1. Pepperoni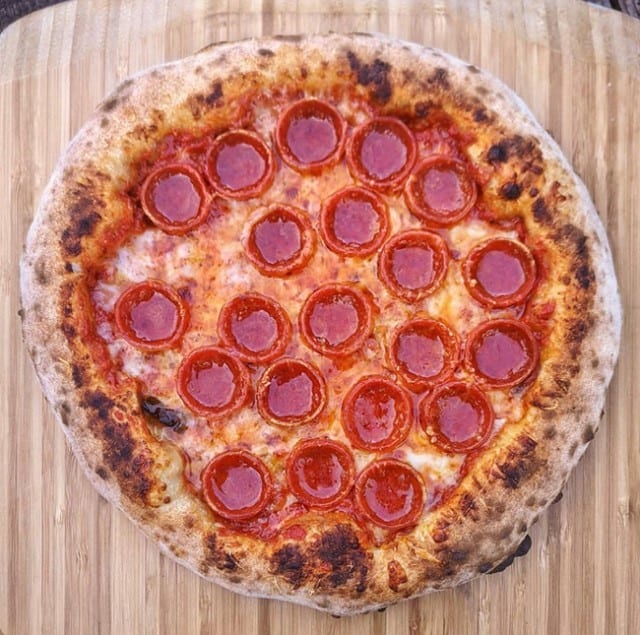 As the undisputed champ of all pizza topping wars, pepperoni takes center stage in this list of best pizza toppings in the world. Pepperoni is beloved in the same manner as the Margherita in second place; they are both traditional and classic.
Classics like pepperoni pizzas are easy to make since all you need for this type is a pizza crust, pizza sauce, cheese, and pepperoni. Use mozzarella cheese specifically for a more traditional pepperoni pizza.
It also helps that pepperoni is an American staple easily accessible and versatile. Its versatility is seen in how easily pepperoni pairs with other toppings to make a more flavorful dish. Endless options include pineapple, chicken, bacon, peppers, sausages, and olives.
2. Margherita – Mozzarella Cheese and Basil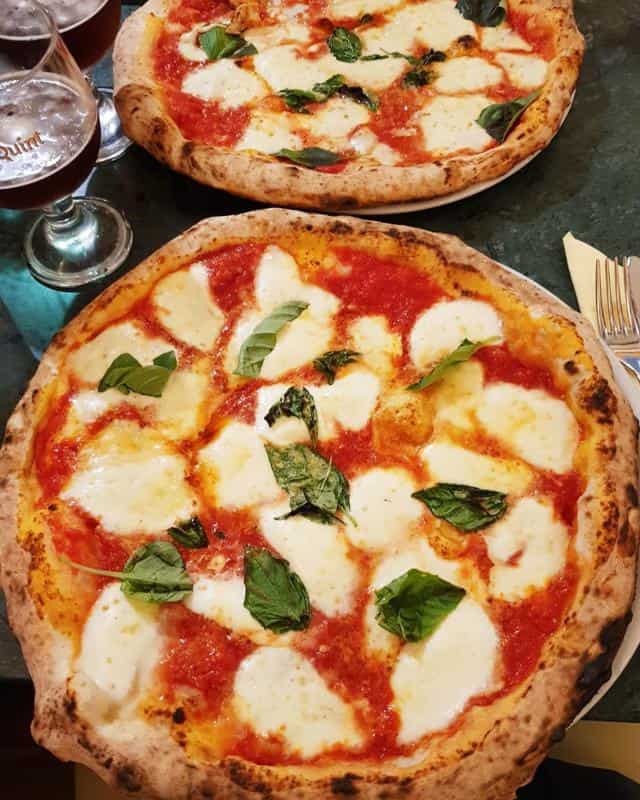 Margherita is another Italian classic and legendary favorite pizza all over the world. It originated in Naples and became popular due to its simplicity and fast preparation time. At its basics, the Margherita pizza combines two toppings: lots of mozzarella cheese and basil.
It is said to come from Italian flag colors with red, white, and green mixtures. The red tomato sauce paints its distinctive redness, white mozzarella makes most of the base and crust, and green basil is sprinkled above to make the creation adorable. It is a chewy pizza with a sweet and flavorful taste.
3. Mushrooms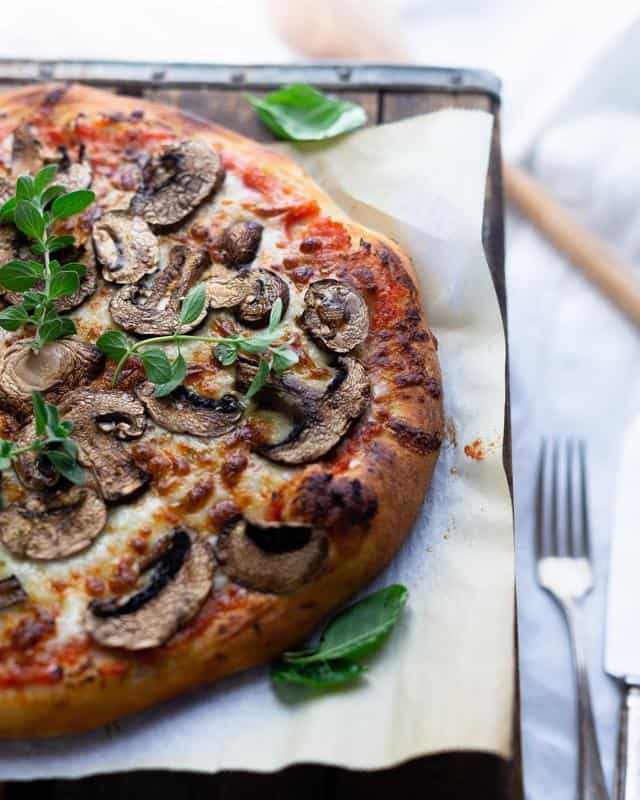 Mushrooms are popular toppings because of how well they blend with other toppings and the fact that there are many types of mushrooms, each with its unique flavors. This makes for a more versatile flavor portfolio and interesting pizza topping combos. A good example is the Capricciosa pizza made with ham, artichoke, mushrooms, and olives.
The earthy flavor in mushrooms makes them hard to beat due to their high levels of glutamate. Glutamate is a chemical substance in edible plants that greatly triggers our tasty buds with savory flavors. No wonder mushrooms are so delicious.
For the most delicious pizza, only use four of the many types of mushrooms: portobello, chanterelles, porcinis, and truffle. Another bonus for using mushroom toppings is that they come as high-quality sources of proteins and Vitamin C.
4. More Cheese as Toppings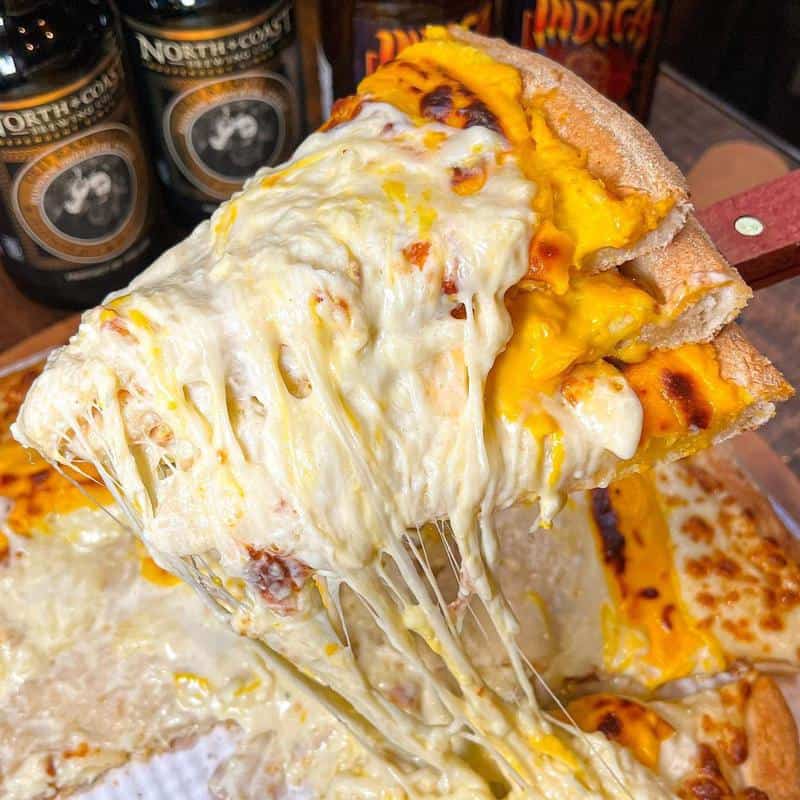 Extra cheese on top of cheese may not seem like the most desirable topping, but you may be surprised. In particular, Mozzarella cheese has distinctive savory and sweet flavors. If you find yourself lacking in other toppings, adding more cheese is a great option.
Moreover, a fuller flavor can be achieved by adding more cheese in case the pizza has a thin crust. More cheese makes pepperoni flavors more enticing and rich.
5. Sausages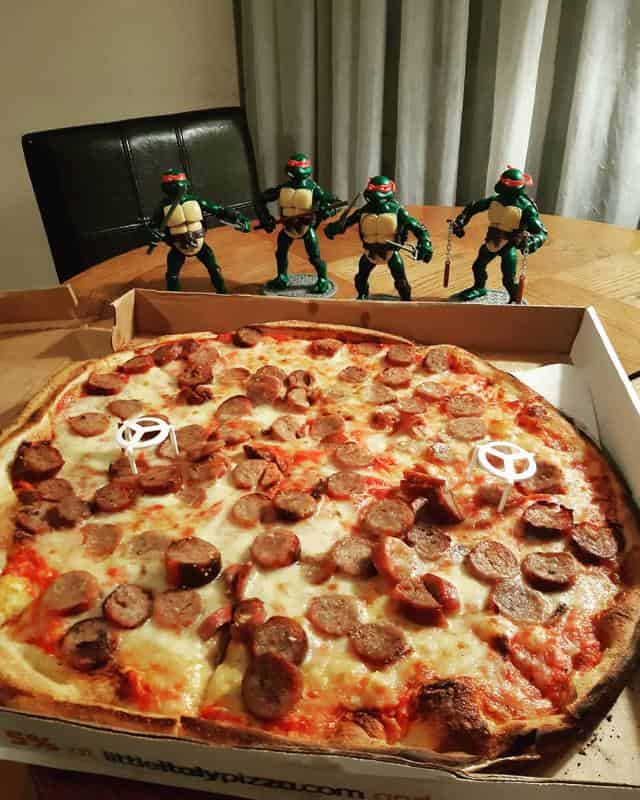 You won't go wrong with these meaty dishes ranked among the best toppings in multiple studies. Sausage toppings are a good way to mix vegetables onto pizzas without making your guests roll their eyes, especially when paired with kale.
There are multiple types of sausage pizzas with several other toppings, but the most popular recipe is the Italian sausage pizza. It is a sweet, spicy, grilled sausage pizza made with roasted red peppers, caramelized onions, and mozzarella.
6. Bacon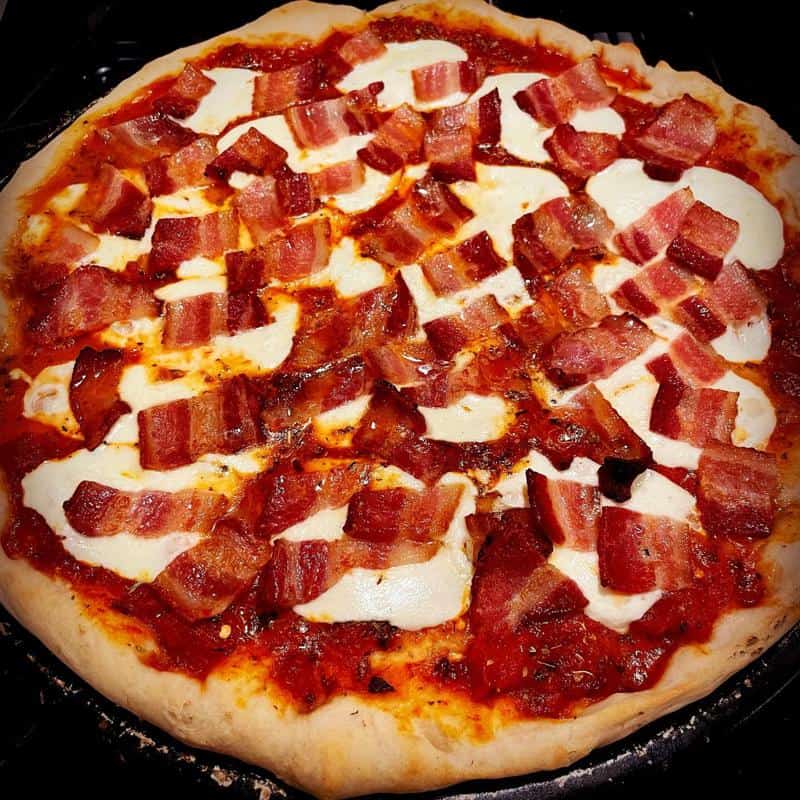 Bacon is a universal pizza topping that people love so much and do not mind putting in everything. A walk around your local market will show you how popular bacon is and how it easily blends with other ingredients. It is also a must for avid meat pizza lovers.
BBQ sauce on bacon makes for the best BBQ pizza, and peri-peri pizza is flavorful when paired with bacon and peri-peri sauce. All bacon recipes have captivating smells and do not need the chef to have a bacon preference: be it crumbles, pancetta, or a fresh batch from the store.
7. Beef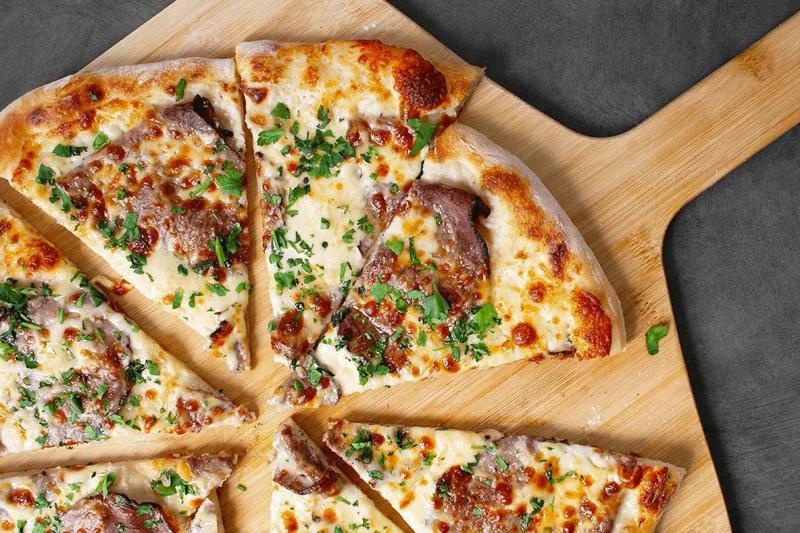 Beef on pizza comes in various shapes. There are meatball pizzas, ground beef pizzas, roast beef pizzas, and many more. Roast and meatball portions of beef are more prominent in comparison due to their crunchiness and texture.
If you need a tastier pizza, then the meatball beef toppings are your best pick. You can make the meatballs as small as you want or even bigger if you have a wider and thicker crust. Deep-dish pizzas are more appropriate when you want to use large beef meatballs.
8. Ham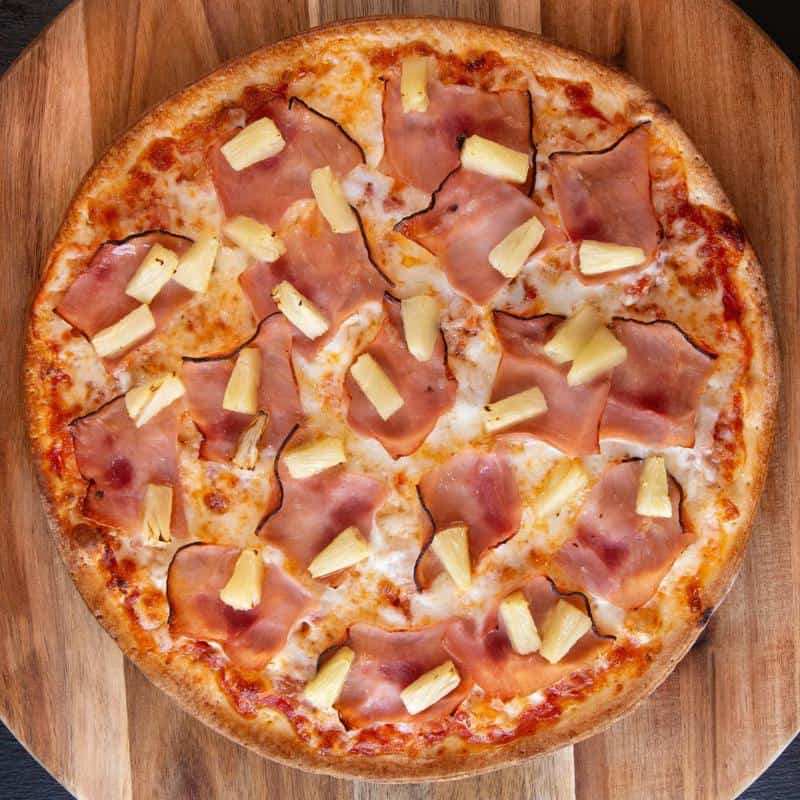 Ham is a good pizza topping alternative to bacon. They are both versatile in what you can pair them with, and they are baked into the pizza in a similar manner. They are also good accompaniments alongside pineapple if you are a fan.
Ham's flavor profile does not overwhelm the cheese or pizza sauce. It is a good topping if your aim is to use a huge combination of toppings but yet want to keep each flavor distinct from the rest without one overwhelming the other.
9. Chicken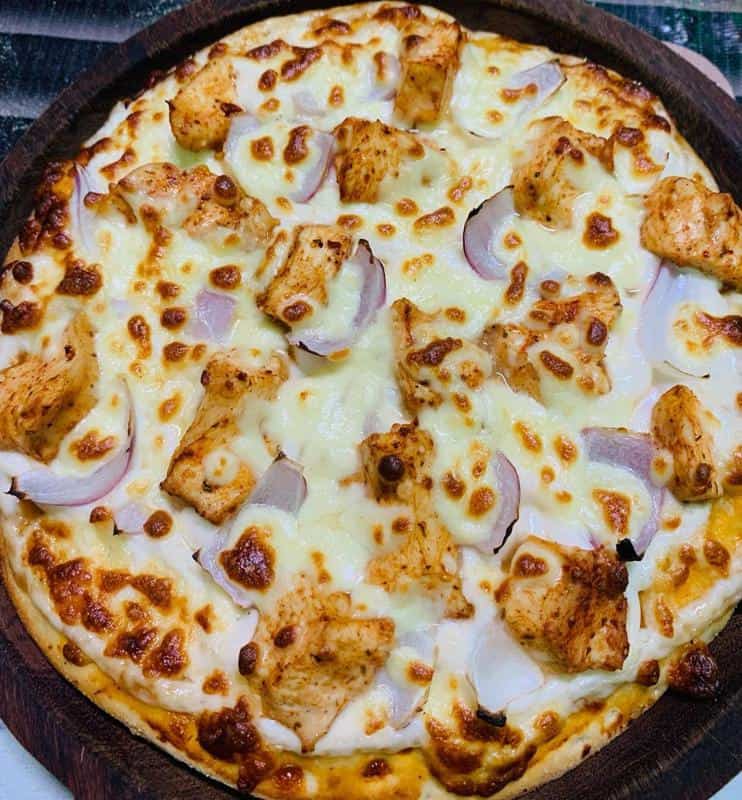 When you add chicken to your pizza, you have already stepped into less charted territories. The popularity of chicken pizza is because chicken almost always tastes good. It is a sure way to have a meaty pizza without risking the flavor and taste.
It is also great when you are using other toppings and sauces like BBQ sauce, paprika, and peri-peri and intend on making the chicken tikka pizza flavor. To make the takeaway favorite, chicken tikka, in less than 20 minutes, all you need is spiced chicken with coriander, yogurt, chutney, and green peppers.
10. Garlic Prawns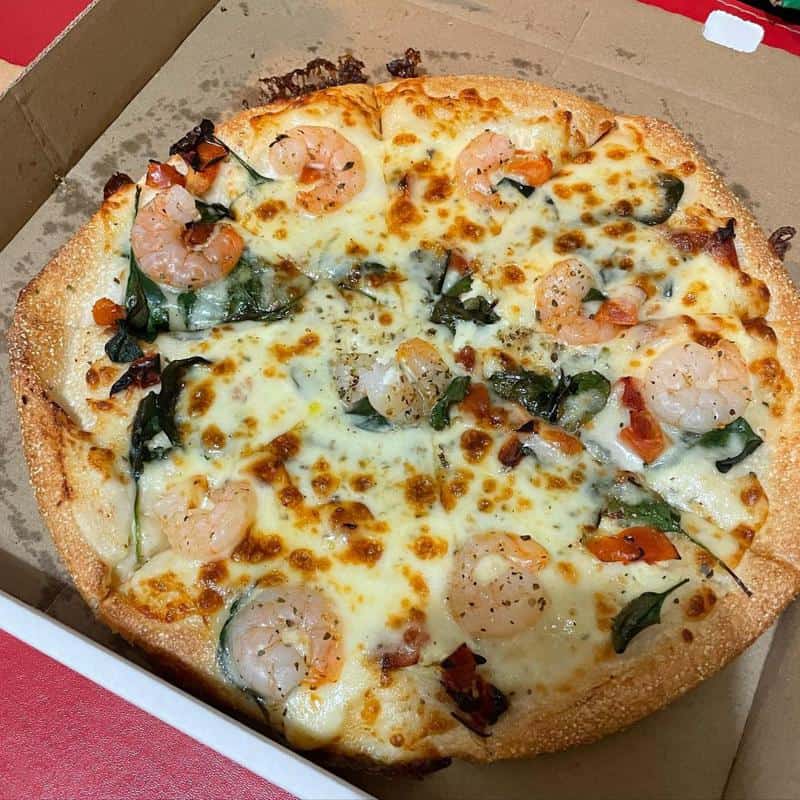 This is another adventurous pizza topping that is surprisingly easy to blend into your pizza crust. It is a great option for seafood lovers who want to have their cake and eat it too. Prawns are easy meats that are spiced up well with artichoke, olives, and tomatoes; garlic is the icing on the top.
Garlic in and of itself is a great topping. However, customers prefer garlic-spiced pizzas rather than garlic toppings which is why it is more of an add-on than an individual item. Garlic prawns are a great and exquisite way to go if you love garlic and want its distinct flavor in your pizza.
11. Pork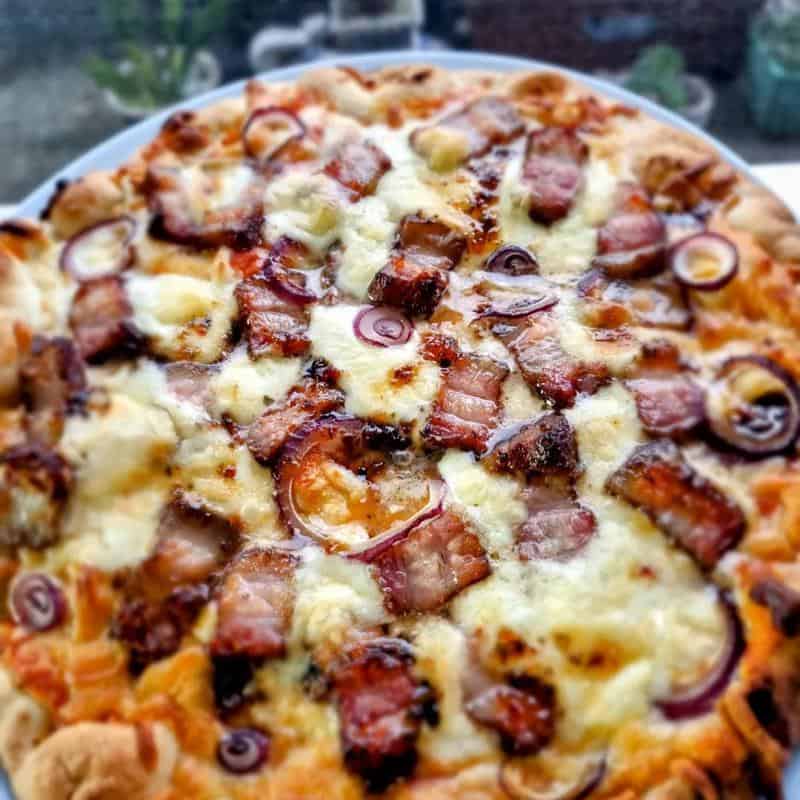 Pulled pork toppings mixed with hot peppers are great combos for the spiciest cross-cultural pizzas. Pulled pork is a good alternative to all meat lovers' pizza toppings like beef and sausages, especially when you want a sweet and savory taste.
Crispy chunks of pork belly are the way to go when you want more flavor and less moisture. In fact, most pork is used in pizzas because they neatly blend in the balance between flavor and moisture to make for a crunchier taste in the mouth.
12. Green Pepper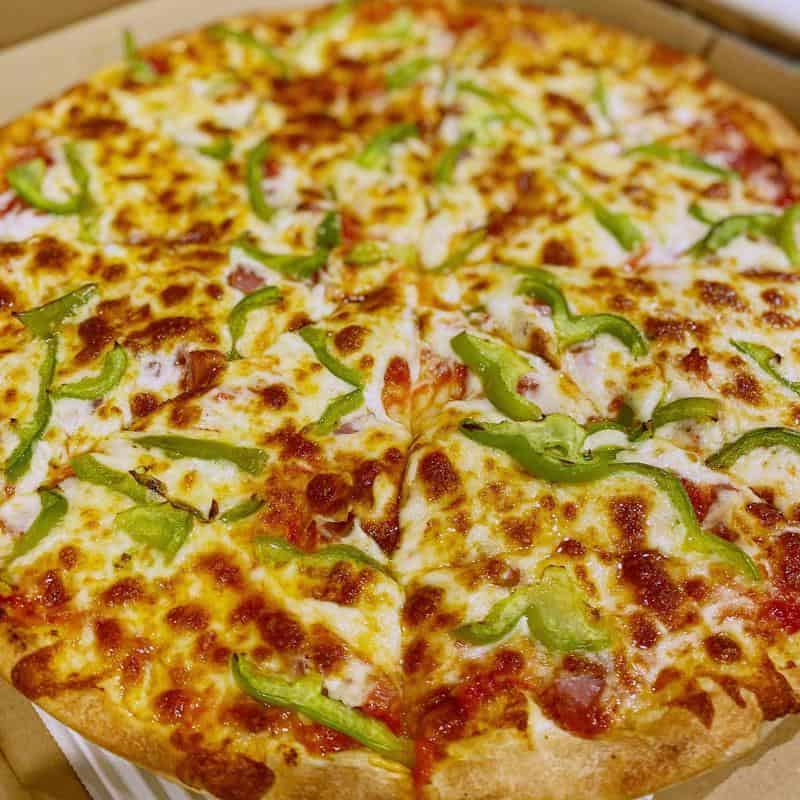 Hot pepper, red peppers, green peppers, you name it. Nothing is as spicy as pepper on pizza. The type of pepper you use may differ from the other toppings you choose to incorporate into your creation and how spicy you want it to be.
Green peppers are your pick when you want a mild spicy taste that does not overshadow the cheese or sauce. The dashing color green pepper adds to your pizza does not hurt either.
Peppers are also vegetables, fit for making vegan pizzas with other vegetables like spinach and kale. It also pays to have enticing crunchiness when biting into the crust.
13. Jalapenos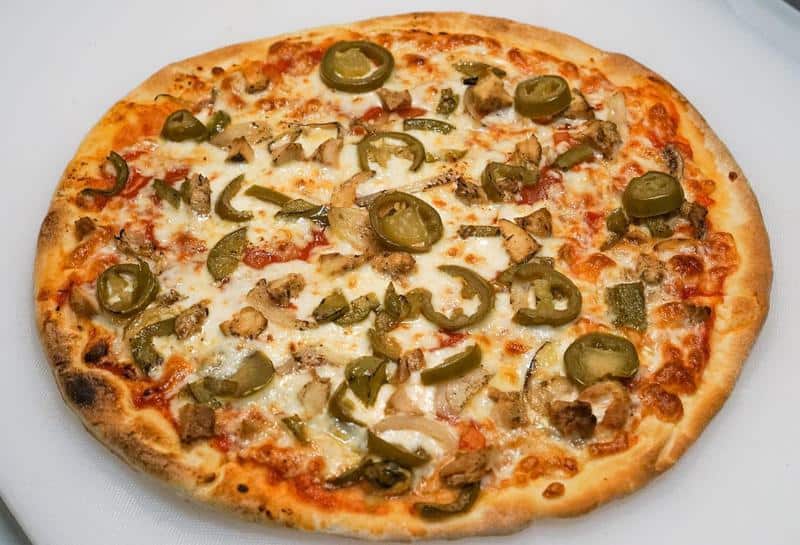 Did you know that the Honolulu Hawaiian pizza from Domino's uses jalapenos? Jalapenos are great pizza toppings regardless of their state: cooked, raw, or pickled. It is a great pairing when you want to add fried eggplant and spinach to your pizza.
Jalapenos are best when making vegetarian pizzas, but you can have something great even when mixing it with bacon and ham. A popular jalapeno toppings pizza you may know is the Jalapeno Pizza made with pineapple, jalapenos, and bacon, on top of some mozzarella cheese.
14. Black Olives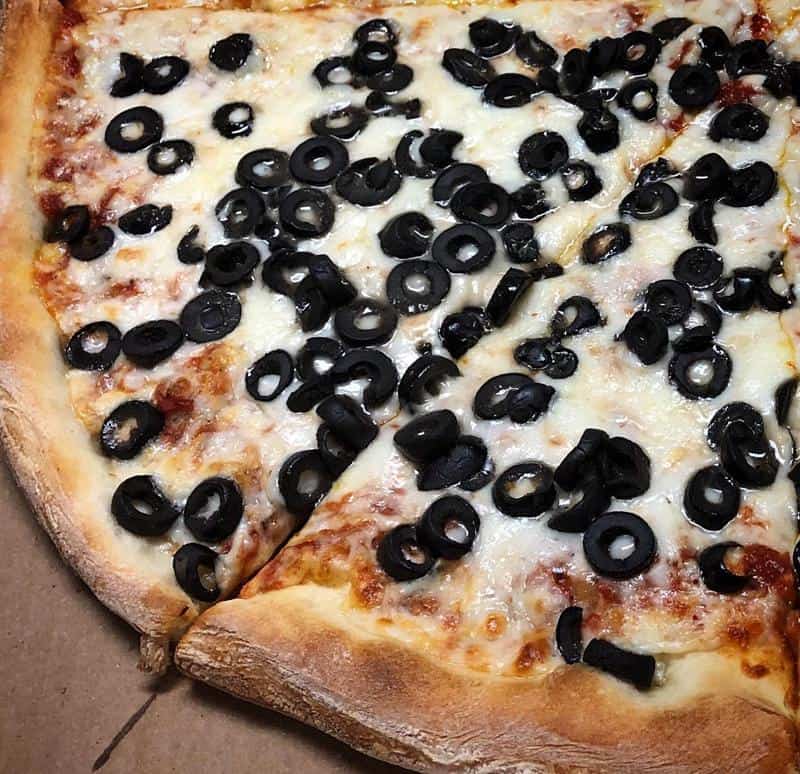 Black olives have earthy flavors that rival those of mushroom toppings. Olives' distinct flavors play a good part in spicing up the pizza and bringing out different savory tastes when biting into the crust base and crust.
The olives are also great at salting the pizza without covering up other flavors. Black olives are the most commonly used, but you can have a great dish with other types too.
15. Pineapple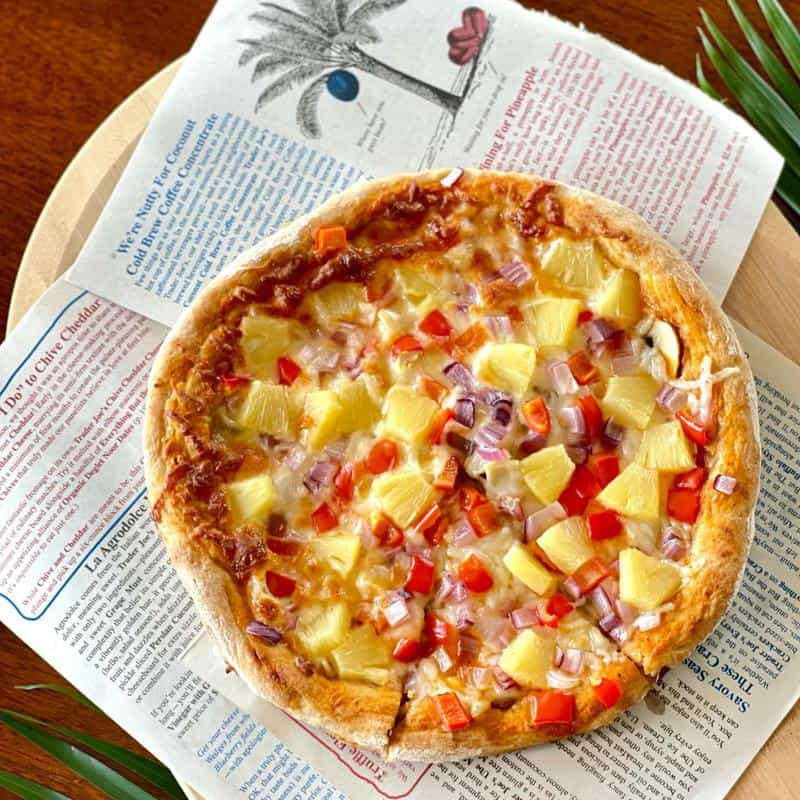 Despite the controversy of whether pineapple is a good topping, many people seem to like it. Moreover, it is mixed with ham to make the extremely popular Hawaiian pizza with pizza sauce and mozzarella.
Another popular pairing involving pineapples is the Canadian bacon pizza, known for its salty yet flavorfully sweet taste.
Pineapple toppings are more likely to appeal to vegetarian in you since they are not versatile or the crunchiest on pizza. It is a love-or-hate-it type of thing. Haters like Michelin Star Chef Gordon Ramsay swear against pineapple toppings, but over 44 percent of diners in an American survey were okay with it.
16. Artichoke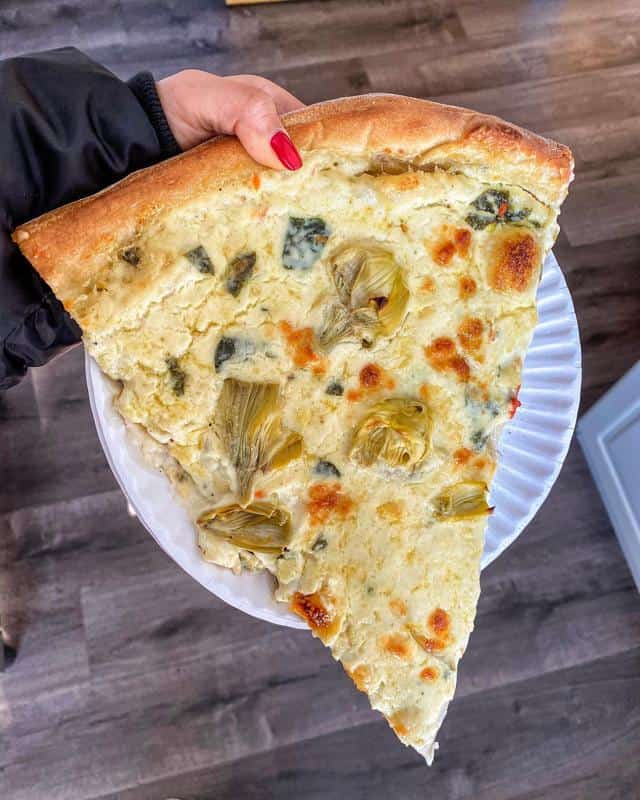 Many pizza lovers do not know this, but the artichoke is one of the most authentic Italian pizza topics. These vegetables are used in plenty to make dozens of pizza varieties in Italian households and diners. One of the most popular combinations is pairing artichokes with mushrooms, ham, and olives.
Use creamy mozzarella and marinated artichoke hearts to make the artichoke pizza tastier. It is also great when other herbs are added on top, including lemon and garlic.
17. Onions and Tomatoes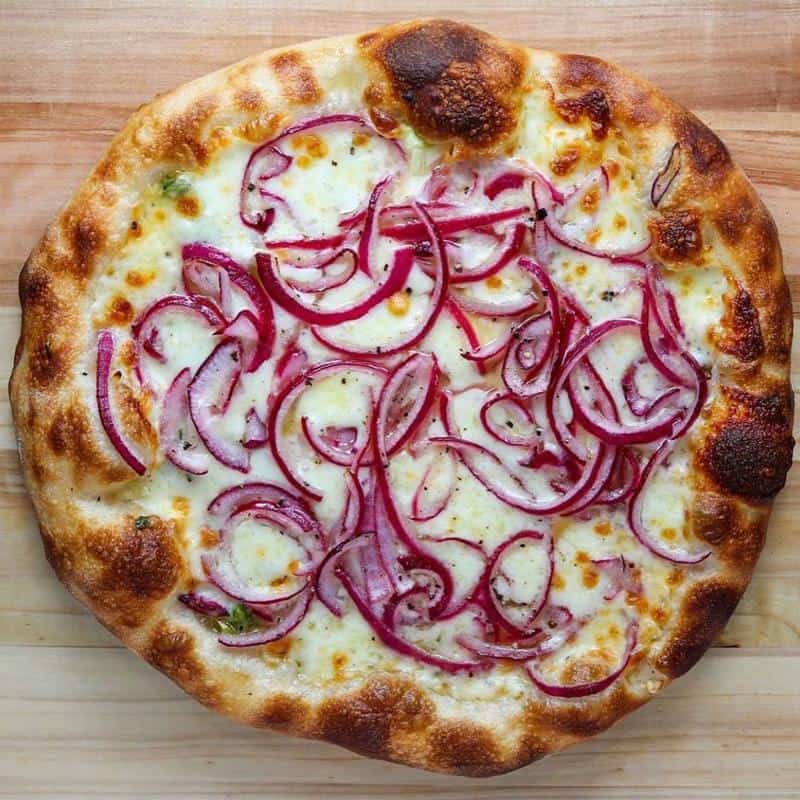 You will never go wrong adding vegetables to pizza. Not only are they healthier options to the already calorie-stuffed meal, but they also do not mask the flavors of other ingredients that much. Onions are also great since they can be put on the pizza raw or cooked, diced, or sliced.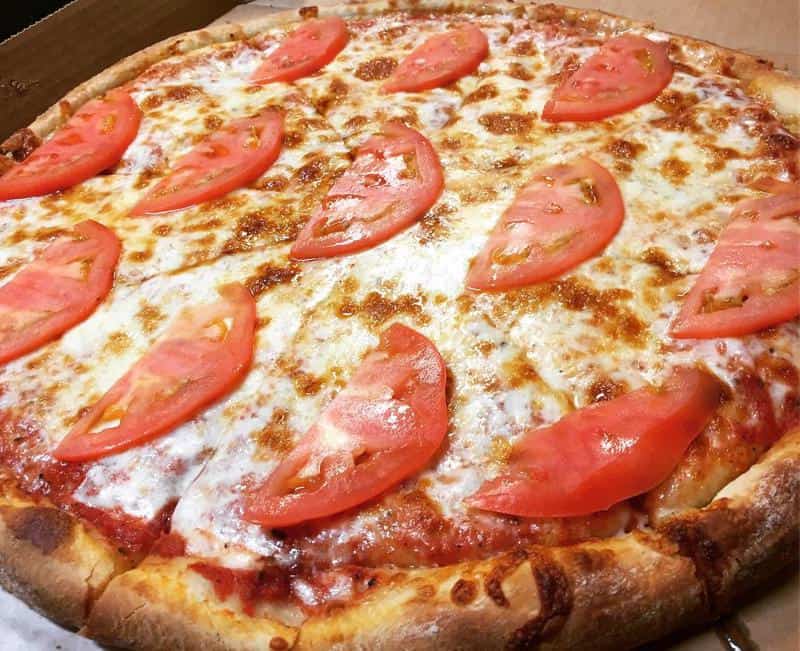 Tomato and basil are classically Italian pizza recipes you should try making at home. It is simple, requires few ingredients, and sticks to the beloved roots of the pizza culture.
Read More:
Final Thoughts
Pizza toppings are plenty; you can make your topping from whichever ingredient you like, be it a slice of meat or vegetable. Most enticing toppings will be traditional, but a few inventive/adventurous toppings are prevalent in most gourmet pizzas.
Shrimp pizzas are good examples of quirky yet tasty pizza toppings you must try. Buttery shrimp is an intriguing topping but not as high quality as the truffle toppings used in gourmet pizzas. Try avocado toppings with red onions, bell pepper, and lots of goat cheese for an inventive vegetarian dish.
Here is a list of other top-rated pizza topping ideas you may want to try:
Burrata cheese
Pickles
Arugula
Pesto
Scrambled eggs
Tacos
Squid and other seafood like clams, mussels, and prawns
Broccoli
Potato
Rocket
Ricotta