Well-known for its magnificent waterfalls, picturesque coastal towns, and wetlands teeming with wildlife, Venezuela is a geographically diverse country with beautiful landscapes.
This tropical country in South America also offers a vibrant and diverse cuisine with plenty of European and West African influence.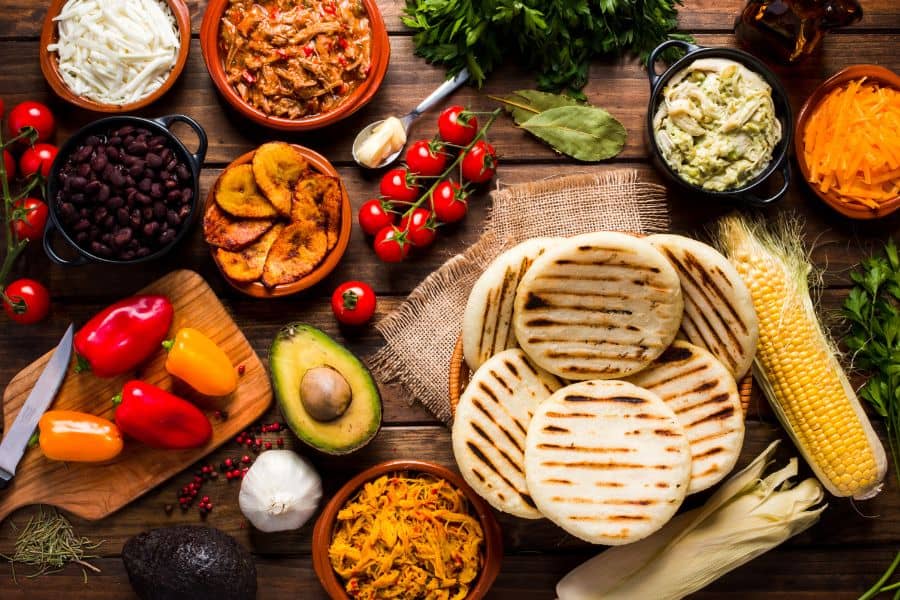 For those who don't know, Venezuela experienced hundreds of years of colonization. Therefore, it comes as no surprise that the country integrated multiple cuisines into its food culture.
Whether you wish to try the iconic Arepas (a type of cornmeal cake) or order a portion of Venezuela's national dish called Pabellón Criollo (pulled beef, spicy rice, and black beans), there are countless traditional Venezuelan dishes to get excited about.
Join us on this epic culinary journey through Venezuela and discover some of the best Venezuelan dishes beloved across the country.
Popular Venezuelan Food
1. Arepas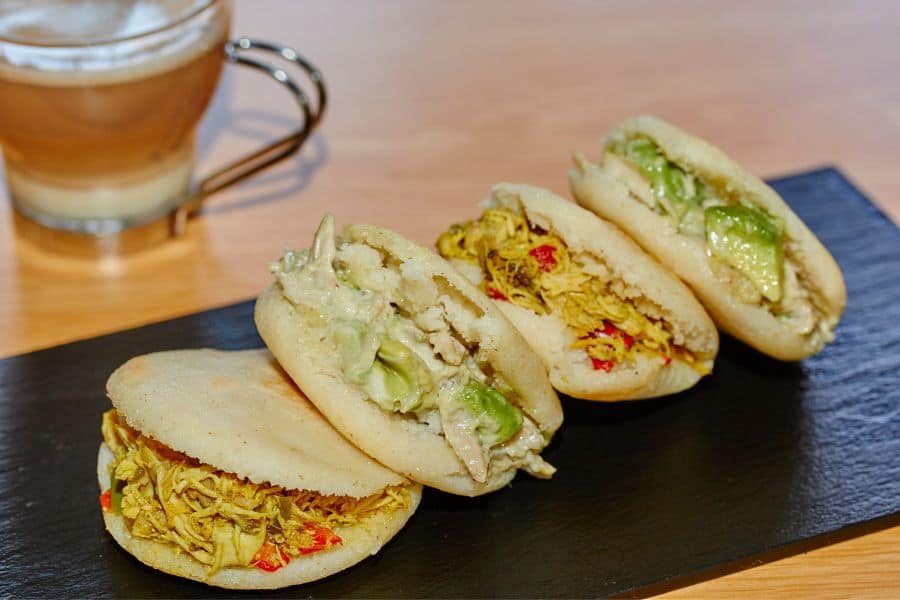 There's nothing more Venezuelan than an arepa. These small corn flour pitas stuffed with various ingredients are a staple in Venezuelan cuisine.
Venezuelan version of naan, Arepas are a type of cornmeal cake filled with ingredients such as cheese, rice, pork, beans, eggs, and much more.
Arepas are usually grilled or fried and can be served for breakfast, lunch, and dinner. The main ingredient here is unleavened corn flour or cornmeal.
The fillings for arepas vary per region or perhaps what is left in the refrigerator.
There are unlimited variations of arepas. For instance, there is Reina Pepiada (arepa filled with chicken, mayo salad, and avocado.
Some of the other options include arepa con carne mechada (shredded beef) and arepa de choclo (sweet corn)
While arepas could also be found in other countries such as Colombia and Panama, the Venezuelan version of this popular dish is usually thicker.
2. Empanadas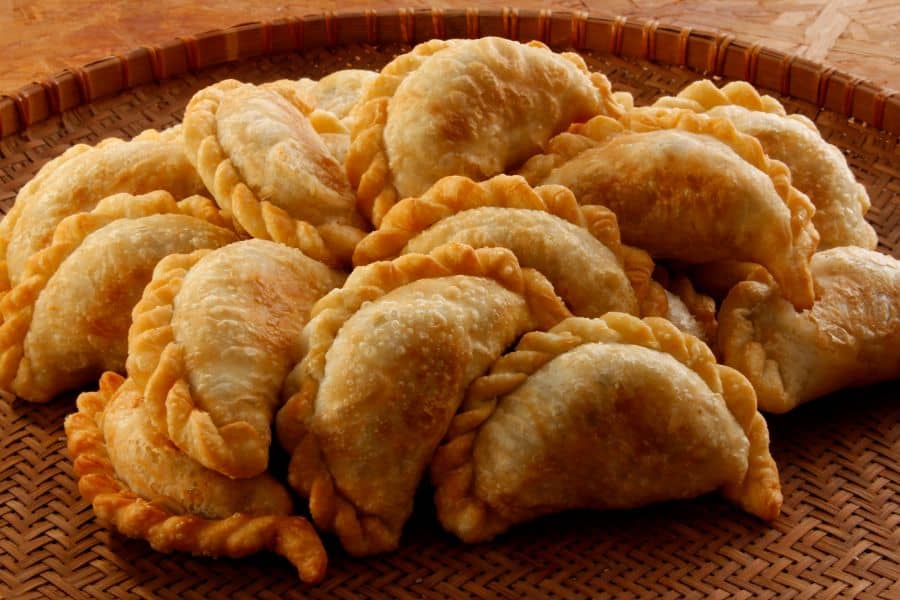 Empanadas are one of the most popular foods in Venezuela. These fried or baked pastries actually come from Spain's northwestern region of Galicia.
The traditional Venezuelan empanada is typically made with wheat flour, water, and salt and filled with meat, cheese, vegetables, or other ingredients. Once the pastry is filled, it is baked until golden brown or fried.
Empanadas translate to "wrapped in bread" and the fillings for the dish vary from region to region. You can stick to the classics and have empanadas de pollo filled with chicken or go wild and try seafood empanadas with shark and shrimp.
You can also try sweet empanadas with fruit-filling options such as pineapple or guava.
An interesting fact is that Empanadas are an import dish from the Spanish colonizers. It is believed that this delicious snack originally comes from Spain's northwestern region of Galicia.
3. Cachitos
Looking for breakfast foods in Venezuela? Try Cachito, a popular local dish similar to a croissant. These crescent-shaped bread rolls are simply amazing. Although ingredients vary, the dish is typically made of wheat flour, butter, milk, and eggs.
Crispy on the outside and fluffy on the inside, this staple dish in Venezuelan cuisine is filled with cheese and ham. After Cachitos are filled with ingredients, they are baked until golden and crispy. Cachitos are one of the most common bakery dishes in Venezuela.
It is unclear where this dish is originally from. Some believe that Cachitos date back to the early 20th century when Portuguese immigrants came to live in Venezuela, while others think that the dish is a version of pan de jamon (Venezuelan Christmas dish).
4. Pasticho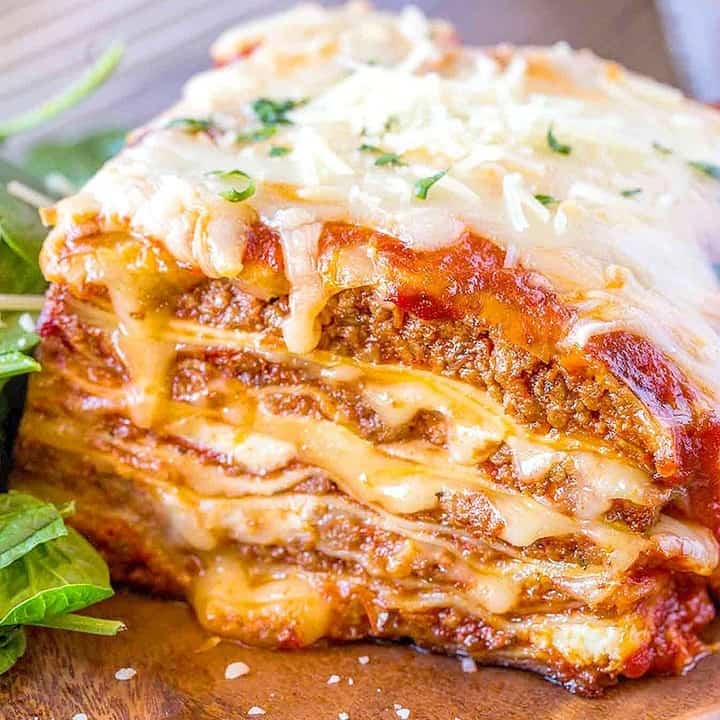 No list of the best foods in Venezuela would be complete without mentioning Pasticho. Also known as the lasagna of Venezuela, this beloved food is one of the most popular pasta dishes in the country.
The truth is that alongside Spain and Portugal, Italy also plays an important role in Venezuelan cuisine. This pasta dish shares a lot of similarities with Italian lasagna as it has cheese, meat, tomatoes, and thin pasta layers.
However, Venezuelans added their signature touch by using a range of local spices to compliment the dish.
Pasticho is layered with both creamy bechamel sauce and a meat sauce and seasoned with cheese, soy and Worcestershire sauce.
Once served, a generous layer of grated cheese is necessary to complete this hearty Venezuelan meal.
5. Pabellón Criollo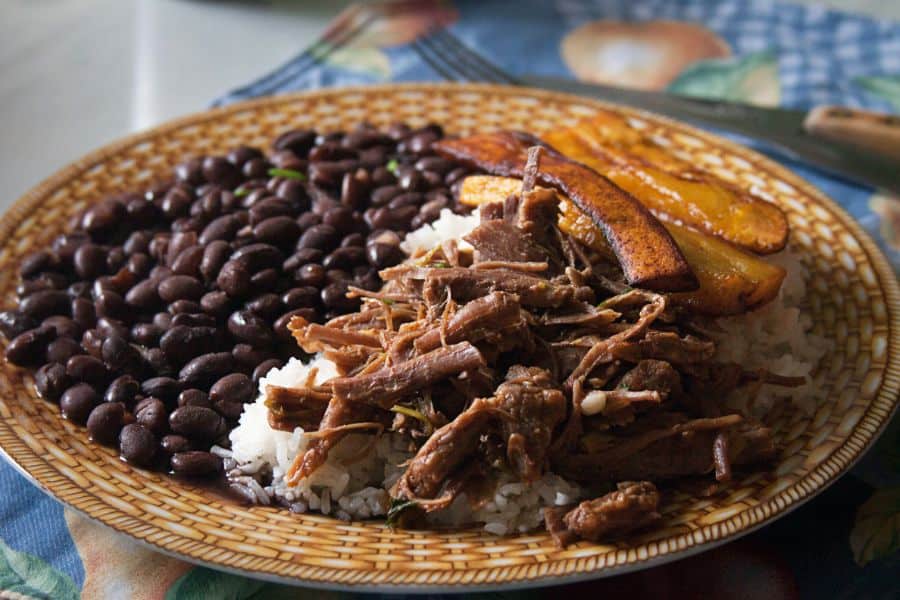 Pabellón Criollo is officially considered the national dish of Venezuela.
Typically made of shredded beef, black beans, and white rice, this simple and hearty Venezuelan meal is full of colors and unique flavors. Some people might also include fried eggs or plantains to this mouth-watering dish from Venezuela.
Perfect for a winter meal, Pabellón Criollo is one of those meals that you can enjoy at home or in a traditional Venezuelan restaurant.
The dish originates from the state of Lara in Venezuela and is often served with a side of avocado or sour cream.
6. Hallacas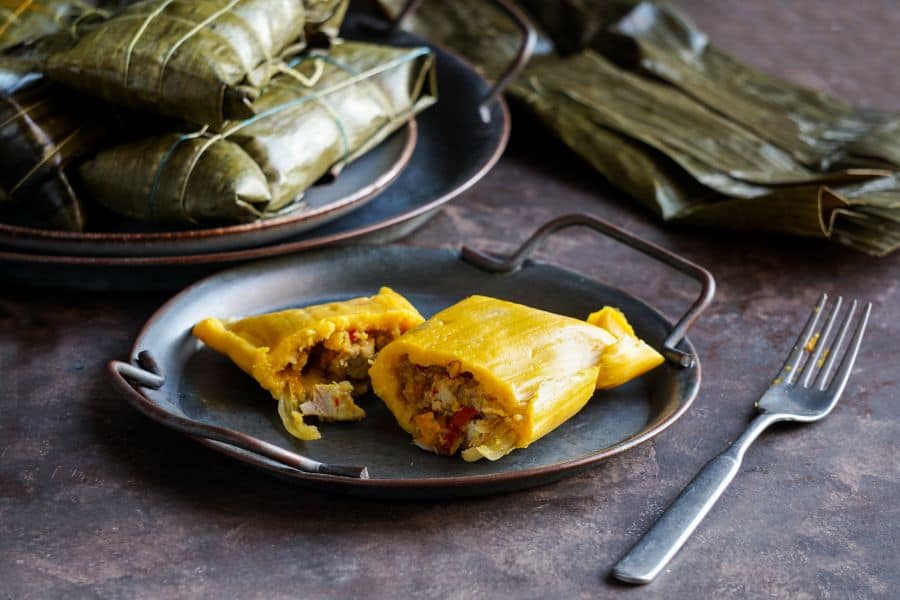 Hallacas is the most prominent Venezuelan Christmas dish. During the holiday season, Venezuelan families reunite and prepare dozens, if not hundreds of Hallacas. Preparing this mouthwatering meal is one of the oldest Venezuelan food traditions.
Hallacas is actually a version of tamales, a popular Mesoamerican dish. While tamales are made of corn dough and banana leaf, Hallacas has a much more generous filling with options such as beef, pork, and chicken stew.
We should mention that Hallacas is probably one of the most complex dishes in Venezuelan cuisine. A meat filling together with other ingredients like bell peppers, olives, and raisins is stuffed inside a thin layer of cornmeal dough. The entire mix is wrapped in plantain leaves and cooked to perfection.
7. Tequenos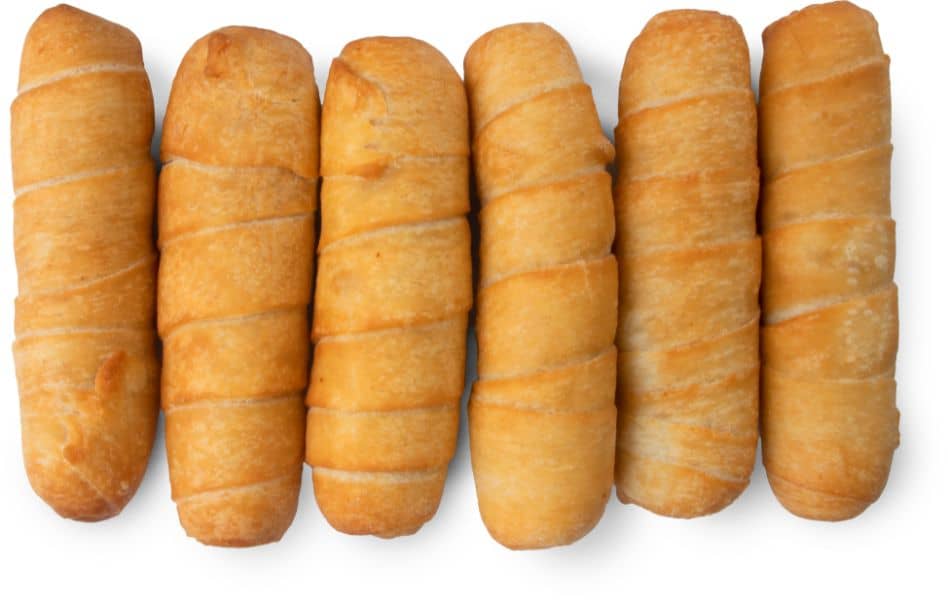 Similar to mozzarella sticks, Tequenos is the ultimate Venezuelan snack and appetizer at restaurants. Tequenos are made by wrapping cheese sticks in bread dough and deep-frying them.
No social gathering in the country would be complete without this Venezuelan popular party appetizer. They even serve Tequenos at weddings in Venezuela.
So, what are tequenos? Originally a simple white cheese spear covered in dough, Tequenos are either fried or baked and served with a range of dipping sauces.
Nowadays, this snack has multiple variations with different fillings, cheeses, and fruits. Try the avocado-infused dip or go for the chimichurri dip.
8. Asado Negro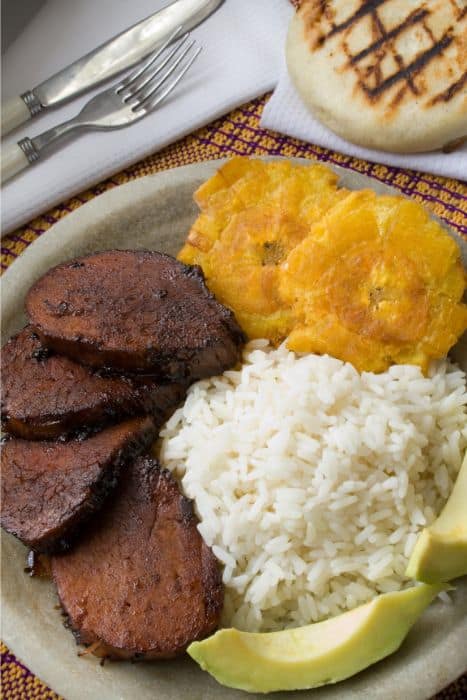 There is no shortage of delicious stew dishes in Venezuela. However, we have to admit that Asado Negro is one of the best stews in South America. This hearty and filling Venezuelan dish is made with shredded beef, charred onions, carrots, bell peppers, garlic, bay leaf, and oregano.
The recipe for Asado Negro is pretty much straightforward. The shredded beef is slow-cooked in a brown sauce (broth of beef stock, charred onions, garlic, and bell peppers) until it becomes super tender.
This hearty Venezuelan dish is typically served with rice, black beans, and plantains. For a tangy taste, locals add a bit of vinegar and sugar when preparing Asado Negro.
We should also mention Asado Negro is a meal for special occasions like family celebrations and holidays like Christmas, Father's Day, and Easter.
9. Pan de Jamon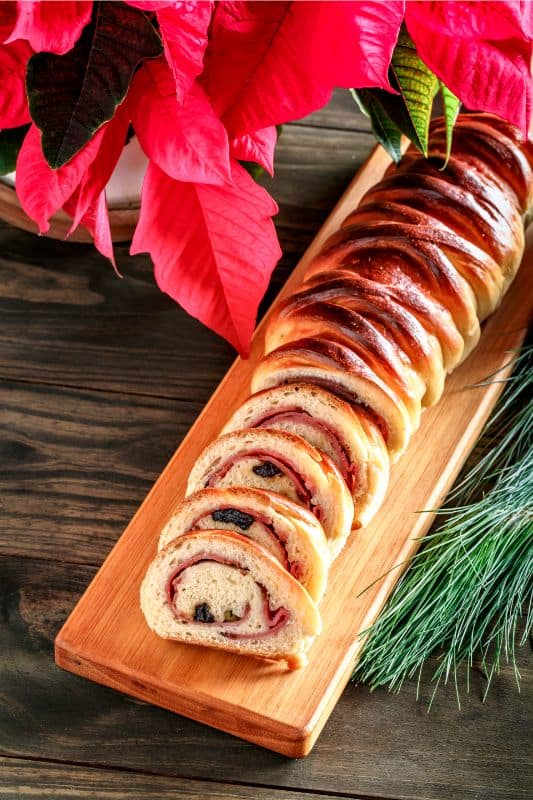 Pan de Jamon is another popular Christmas food in Venezuela. This sweet bread roll that's stuffed with ham, olives, and raisins is usually served for Christmas dinner. The dish translates as "ham bread".
Historians say how the dish originates from Caracas. In 1905, the owner of a local bakery was thinking about how to use his leftover ham. He decided to roll the ham in the fluffy dough, sprinkle it with sugar, and bake it. Nowadays, olives are raisins are added to the original recipe.
The bread is sweet and warm making it a perfect food delicacy for a memorable Christmas holiday feast.
10. Golfeados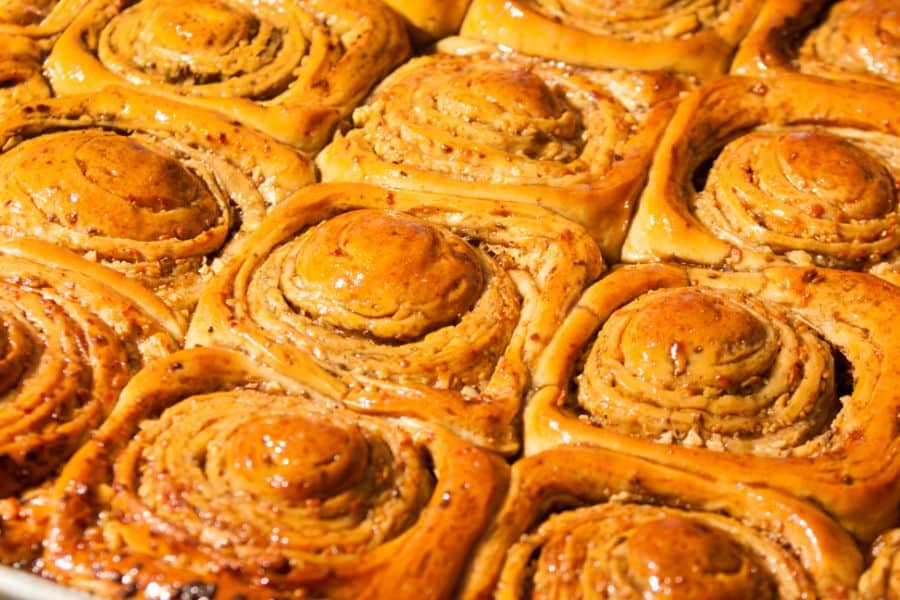 Meet Golfeados, rolled sweet bread rolls sweetened with anise. This traditional Venezuelan dessert is similar to cinnamon rolls but also includes cheese.
The mouthwatering roll is made with wheat-sweet bread dough and stuffed with sugar and hard white cheese. The sweet rolls are baked and sprinkled with sweet syrup and more cheese!
Local bakers have added their personal touch to this authentic Venezuelan dish by adding ingredients and toppings such as cinnamon and even chocolate.
While the combination of sweet and cheesy may seem odd, the locals have crafted this Venezuelan dessert to perfection.
11. Pisca Andina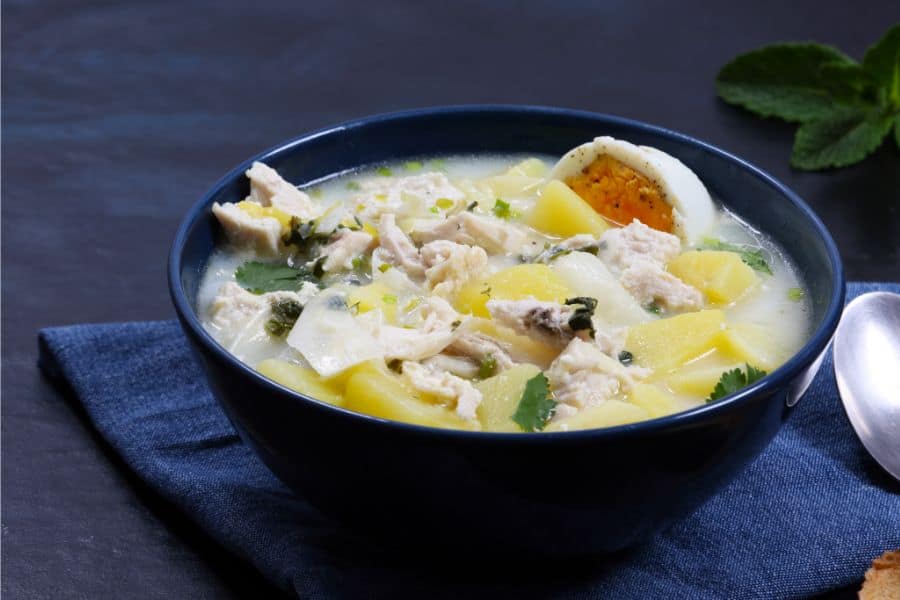 An Andean specialty that's eaten in the Venezuelan Andes region, Pisca Andina is a warm and scrumptious chicken broth soup. It is usually served for breakfast in a clay bowl.
Made with chicken broth, milk, garlic, carrots, onion, scallions, diced potatoes, cilantro, and a poached egg on top of it all, Pisca Andina can be thickened with cheese or milk.
The mornings up in the Venezuelan Andes are known to be frosty due to very high altitudes, so the dish is served hot to warm your body.
Locals believe that the soup's revitalizing ingredients have been known to cure hangovers.
12. Perico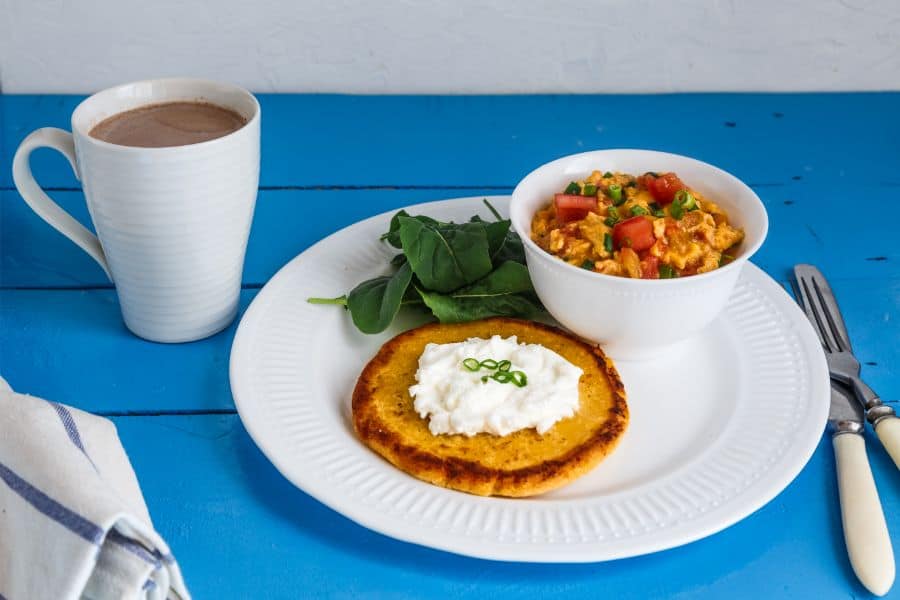 Beloved in Venezuela, Perico is a popular South American breakfast and brunch dish. This meal mixes fresh eggs with tomatoes, onions, and green peppers. Ingredients can be added all at once, but locals in Venezuela like to cook onions, peppers, and tomatoes beforehand for a more flavorful taste.
This easy and delicious breakfast or brunch dish has a perfect balance of minerals, carbs, protein, and fibers and is usually eaten inside an arepa or a bun.
Alongside the dish, you can add additional ingredients like plantains, black beans, and avocado. Also, it is believed that Perico is an outstanding food to cure hangovers.
13. Fosforera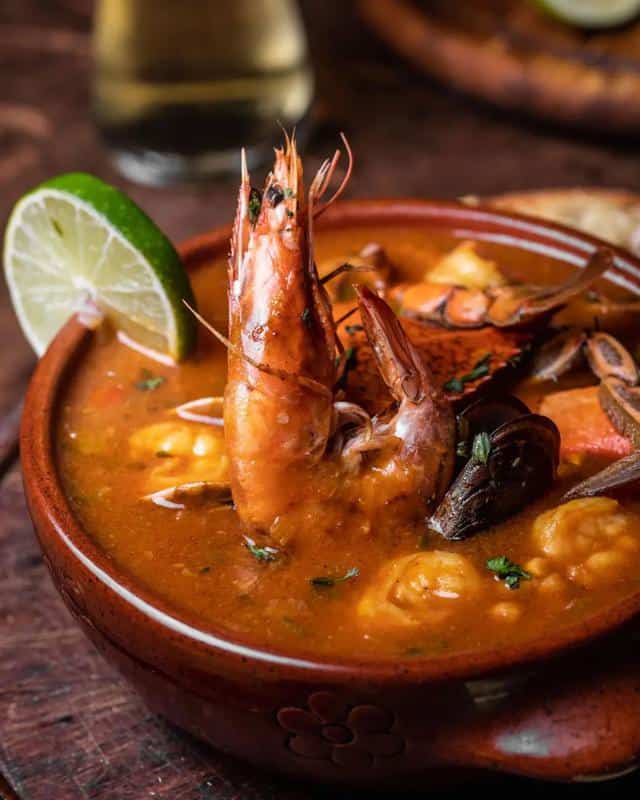 Fosforera is one of the most popular seafood dishes in all of Venezuela. Originally from the coastal region of Fosgorera, this hearty and nutritious seafood meal may seem simple on paper.
However, finding the right balance between the ingredients and deciding what seafood to use for this delicious soup is not that easy.
Cooking Fosforera requires a lot of work, but the end result is definitely worth the time and effort. Some of the ingredients you will find in this Venezuelan soup are shrimp, clams, squids, crabs, and fish head.
The seafood is complimented by various types of veggies ranging from coriander and green peppers to tomatoes and onions.
14. Mandoca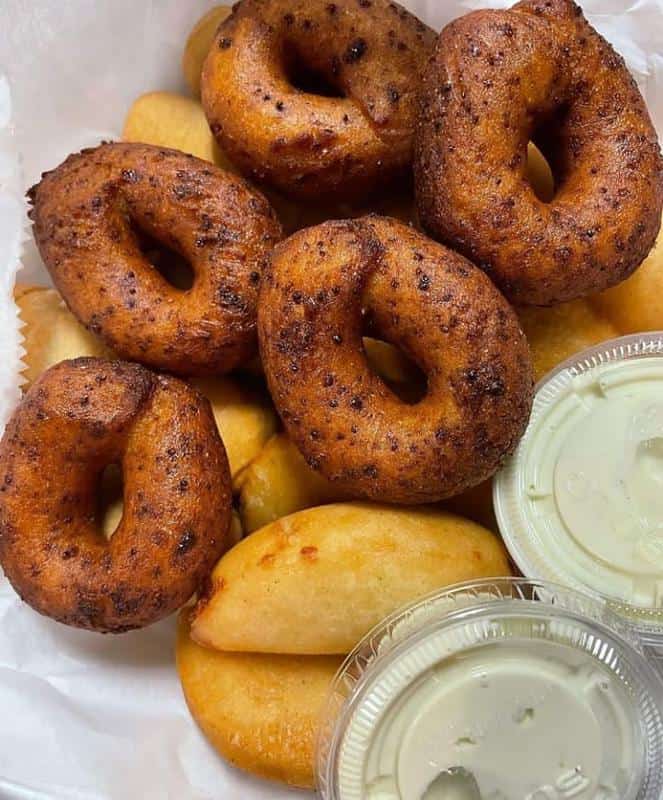 Try Mandoca, a yummy fried snack from Venezuela. Mandoca is a donut, but with a unique Venezuelan twist. The dish originates from the Zulia region in the western part of the country and is beloved by both adults and children.
Made out of cornmeal, salt, water, and plantains, these pretzel-shaped donuts are fried with plenty of oil and then served with butter or queso fresco cheese.
The dish somehow has the perfect balance of sweet and salty flavor. Many people in Venezuela eat Mandoca for breakfast, simply because it is such a filling dish.
15. Bollo Pelón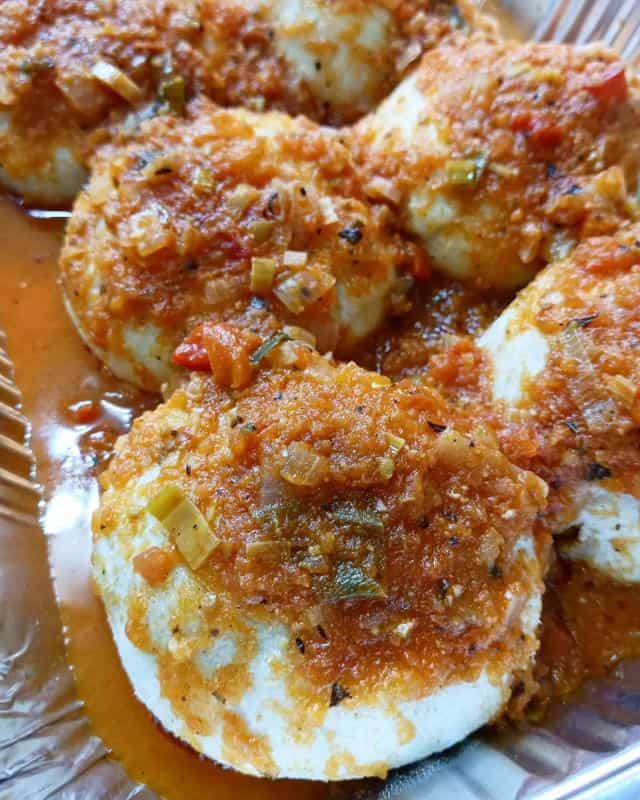 No visit to Venezuela is complete without trying Bollo Pelón. A cross between a dumpling and a meatball, this elaborate dish consists of an apple-sized corn dough ball which is usually filled with ground beef stew. Some people make it with a chicken broth.
How to prepare Bollo Pelón? Combine corn flour with water and sugar. Once they become thick, Bollo Pelón needs to be filled, formed into balls, and cooked. The dish is served with homemade tomato sauce and a generous amount of sprinkled cheese.
To make the meatballs, you will need onions, garlic, tomato paste, ground beef, olives, capers, cooking wine, and seasoning. The tomato sauce, it consists of stewed tomatoes, onions, peppers, garlic, and tomato paste.
Children and adults alike love this authentic Venezuelan meal.
16. Quesillo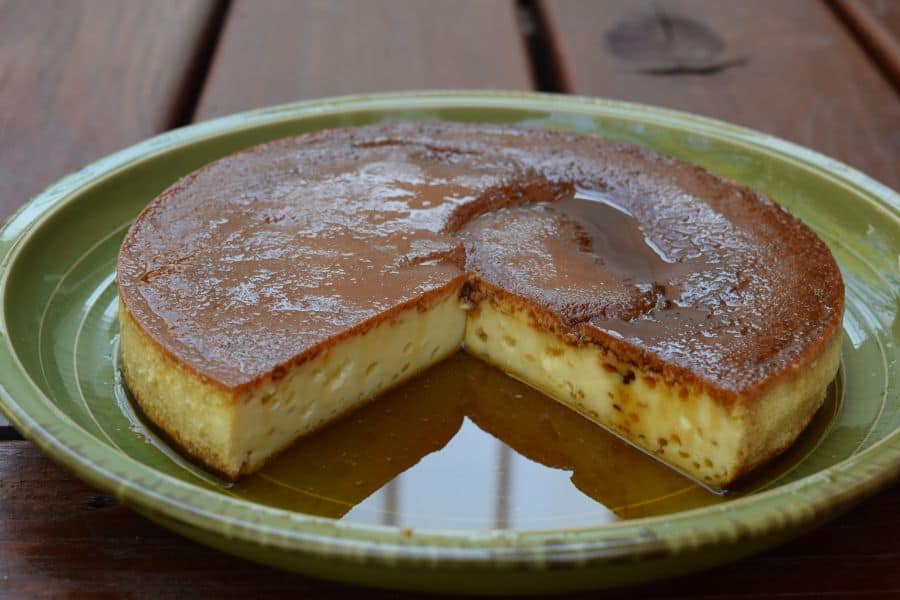 Very similar to Mexican flan, Quesillo is a beloved Venezuelan dessert made with caramel, eggs, sugar, condensed milk, and vanilla extract.
The dish has a texture similar to a pudding and tastes like crème caramel. Both adults and kids with a sweet tooth love this popular Venezuelan dessert
What makes it different than Mexican flan is the fact that Venezuelans use the whole egg instead of the yolk to prepare this dish.
The end result is a less watery and creamier dessert.
Read More:
Venezuelan Food: FAQs
What Is the Most Popular Food in Venezuela?
Arepa is the most iconic dish in Venezuela. These small corn flour pitas are synonymous with the country and its food culture.
What Do Locals Eat for Christmas in Venezuela?
Hallacas is one of the most popular Christmas dishes in Venezuela. Wrapped in plantain and maize leaves and boiled to perfection, this authentic dish from Venezuela is served for Christmas dinner.
Are Venezuelan Dishes Spicy?
Venezuelan dishes don't tend to be that spicy. The meals concentrate more on rich flavors.
What Is Typical Venezuelan Cuisine?
Some of the most popular ingredients for cooking in Venezuela include meat, rice, corn, plantains, and beans.
Most Popular Venezuelan Finger Foods?
Stuffed pastries like Empanadas and cheese sticks (Tequenos).
What Do People in Venezuela Eat for Breakfast?
Some of the most popular and beloved breakfast meals in Venezuela include perico (an egg-based dish), Arepas (stuffed cornbread pitas), and Mandoca (pretzel-shaped donuts).
Final Thoughts
Thanks to its rich and diverse culture, Venezuela is known for its incredibly varied, exotic, and delicious cuisine.
Whether you are craving desserts, wish to enjoy light snacks and finger foods, or treat your taste buds to a bowl of tasty soup, there is so much to look forward to when trying authentic foods from Venezuela. Bon appetit!