Welcome to Peoria, the oldest European settlement in Illinois. Nestled on the banks of the Illinois River, this picturesque riverfront city is well-known for its cultural attractions and lovely city parks.
Whether you wish to discover a dense collection of folk and fine art at the Peoria Riverfront Museum, explore the Wildlife Prairie Park, or spend a day at Luthy Botanical Gardens, there is so much to do and see in this city in central Illinois.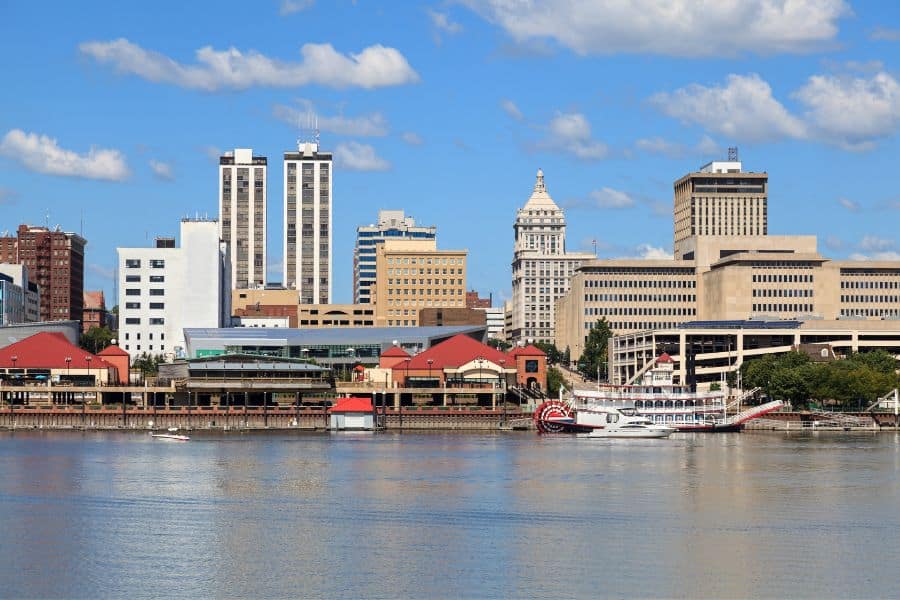 After all the sightseeing, you'll probably get hungry. The good news is that Peoria is famous for its extraordinary dining scene that ranges from casual eateries and pubs to upscale American fine dining establishments and steakhouses.
To help you decide where to go, we've put together a list of the best restaurants in Peoria, Illinois.
Best Restaurants in Peoria, Illinois
1. Johnny's Italian Steakhouse
Located just a short drive from Veterans Park in East Peoria, Johnny's Italian Steakhouse is an upscale restaurant that offers authentic Italian cuisine and steaks. Tantalize your taste buds with a range of appetizers, pasta, seafood, and meat delicacies.
Start with Johnny's signature meatballs covered in marinara sauce, parmesan cheese, and basil. To try a bit of everything from the appetizer menu, guests can order the Little Italy Combination which includes calamari marinara, sausage bread, toasted ravioli, and bruschetta.
The selection of pasta dishes at Johnny's Italian Steakhouse is absolutely amazing with options such as Seafood Pasta Pomodoro and classic Spaghetti Marinara. There is also Johnny's signature lasagna, pasta layered with seasoned ricotta cheese, plum tomatoes, meat sauce, and fresh mozzarella cheese.
Steaks here are hand selected and aged a minimum of 28 days. The signature steak at this amazing restaurant in Peoria is Johnny's Steak De Burgo (beef tenderloin medallions, roasted garlic, basil, and oregano served in a cream sauce).
Pair your meal at Johnny's Italian Steakhouse with a glass of white wine from Napa Valley or from Italy. The restaurant also offers a nice selection of martinis and cocktails.
Address: 101 Holiday St, East Peoria, IL 61611
Telephone Number: +1 309-692-3887
2. One World Café
One World Café is one of the most popular cafes in downtown Peoria. Open for breakfast, lunch, and dinner, this picturesque café offers a wide selection of breakfast meals, sandwiches, burgers, pasta, pizza, and specialties from countries all over the world.
Start your day with biscuits and gravy, Belgian waffles, or peasant-style French toast. For lunch, guests can order dishes like the chicken tender platter, eggplant lasagna, or spicy Cajun pasta.
The Royal burger topped with bacon, ham, fried egg, and American cheese will practically melt in your mouth.
If you are a fan of pizza, order the Spicy Pig (marinara with Italian sausage, pepperoni, bacon, ham, and jalapenos.
Looking for a vegetarian meal at the One World Café? Their Vegetarian Delight Quesadilla with swiss and mozzarella cheese, spinach, caramelized onion, and mushrooms is delicious.
Address: 1245 W Main St, Peoria, IL 61606
Phone: +1 309-672-1522
3. Rhythm Kitchen Music Café
Next on our list of the best restaurants in Peoria, Illinois is the legendary Rhythm Kitchen Music Café. Opened back in 1999, this casual riverfront café is known for its bohemian décor, eclectic live music, and tasty New Orleans-style home-cooked fare.
With both indoor and outdoor seating, Rhythm Kitchen Music Café boasts a casual atmosphere and attracts both locals and tourists.
What's on the menu? The café offers a range of appetizers, salads, pizzas, entrees, and vegetarian dishes. Crawfish Etouffee served with rice and garlic toast is to die for, as well as the Shrimp Creole with Sweet Biscuit.
If you wish to enjoy a healthy meal, order the Salmon Salad or the Spicy Mexican Chicken Salad. In addition to tasty foods, Rhythm Kitchen Music Café offers a variety of craft beers and wines.
Live music at the Rhythm Kitchen Music Café is featured by local rotating artists.
Address: 305 Southwest Water Street, Peoria,
Phone: +1 309-676-9668
4. Connected
If you are in the mood for some fine Italian and American cuisine, stop by this elegant restaurant in the heart of Peoria. Well-known for impeccable service, romantic ambiance, and delicious foods, Connected is one of the finest dining establishments in the city.
The dining room with a mezzanine balcony, twinkling lights, and beautiful chandeliers create a perfect setting for a memorable dining experience.
On the menu, guests will find everything from pasta and seafood to soups, steaks, salads, and specialty dishes. A graduate of New York's Culinary Institute of America, Chef Troy Ummel is in charge of this classy restaurant.
House specialties include Bastecca Al Barolo (Filet Mignon in a Barolo wine sauce with caramelized pearl onions and mushrooms) and Cinghiale (Wild boar tenderloin, pepper-crusted and pan roasted in an Indonesian lemon, ginger, sweet soy sauce).
If you like pasta, rigatoni served in a light cream sauce with shredded sweet Italian sausage is the most obvious choice here.
To round out your meal, order something from their seasonal cocktail list.
Address: 3218 N Dries Ln, Peoria, IL 61604
Phone: +1 309-686-5925
5. The Fish House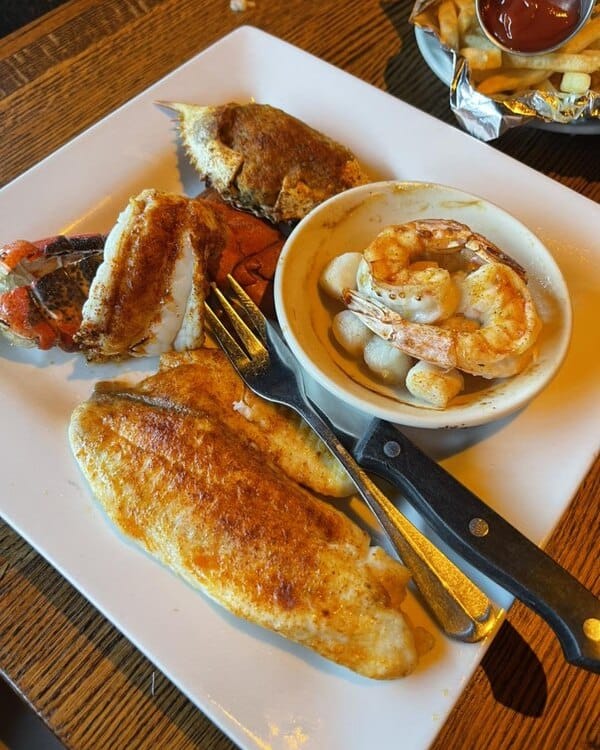 Seafood lovers visiting Peoria can book a table at the Fish House. Opened in 1976, this seafood joint is open daily from 4 pm for dinner and offers delicacies like baked oyster Rockefeller, seared tuna, lobster, prawns, and crab.
Shrimp or scallops with spinach and cheese-filled pasta in a rich house-made alfredo sauce is definitely a dish worth ordering, as well as Halibut Florentine, served with spinach and cheese.
Guests can also opt for the "land and sea" plates (African Lobster Tail & Filet, Gulf Shrimp & Filet, and Prawn Shrimp & Filet).
In addition to fresh seafood, the restaurant has a nice selection of pasta, chicken, and steak dishes. Try the Charbroiled Chicken Breast or order the hearty Filet Oskar which is topped with jumbo lump crab and hollandaise sauce.
Address: 4919 N University St, Peoria, IL 61614
Telephone Number: +1 309-691-9358
6. Jim's Steak House
If you are a fan of succulent dry-aged steaks and delicious fresh seafood, a visit to Jim's Steak House in Peoria is simply a must.
Opened in 1960, this culinary institution in Illinois has everything you would expect to find in a steakhouse. Think low-lit ambiance, dark wood décor, live piano music on the weekends, and tasty steakhouse fare.
The appetizers here are surprisingly awesome and include options like steak bruschetta and shrimp Dijon.
The aged steak menu is impressive. You will find all of the usual suspects including filet mignon, ribeye, New York Strip, and beef stroganoff.
There is also the mouthwatering Chopped Sirloin (Hamburger Steak Bacon wrapped with Mushrooms & Grilled Onions).
In addition to steaks, the restaurant offers salads, soup, seafood, and pasta dishes. Order Tortellini Michelangelo served with peas, mushrooms, and prosciutto in a Bechamel Sauce.
The wine list at Jim's Steak House is also something worth writing about. On the wine menu, you will find offerings from California, Italy, Argentina, and France.
Address: 110 SW Jefferson Ave, Peoria, IL 61602
Telephone Number: +1 309-673-5300
7. The Blue Duck Barbecue Tavern
Travelers looking for a casual spot in Peoria where they can enjoy a wood-smoked BBQ will want to pay a visit to the Blue Duck Barbecue Tavern. A visit to this place makes you feel like you are in Austin, Texas.
From the pork belly sandwich and the Brisket sandwich topped with caramelized onions and horseradish crema to the pulled pork slow-smoked for a minimum of 12 hours, everything you order at the Blue Duck Barbecue Tavern promises to be a real treat for your taste buds.
Guests can also try the St. Louis Cut Ribs which are very meaty with a flat bone. Any burger fans here? Order the Lorraine Burger (Topped with cheddar, bacon, caramelized onions, tomatoes, mixed greens, and garlic aioli on a brioche bun).
Situated inside the iconic River Station building in downtown Peoria, this casual pub also offers a wide range of craft beers from local microbreweries.
We also like the interior with a 13-foot exposed metal beam ceiling, high-end lighting, and cool artwork.
Address: 212 Southwest Water Street Suite B, Peoria, IL 61602
Phone: +1 309-981-5801
8. Jonah's Seafood House
You will find Jonah's Seafood House across the River in East Peoria. Rub by Terry and Pattie Waldschmidt, this waterfront dining establishment is all about high-quality seafood and fresh fish caught on a daily basis.
The menu is extensive and offers something for every fish and seafood junkie. Guests can dine on appetizers like salmon fritters, crab tortilla dip, ahi tuna fish spread, and fried fresh oysters from the restaurant's own oyster bar.
The mains menu, also known as "Fresh as it Gets" includes options such as pan-seared deep-sea scallops and sesame-crusted Hawaiian ahi tuna.
If you like fish, go for the Devil Bronzed King Salmon (Creole-Crusted, pan-seared, topped with sweet Pennsylvania black vinegar with raisins, served on a bed of mixed greens)
Wines by the glass from the Napa Valley are available to order, as well as a wide range of craft beers.
Leave some space for dessert and try the custard-based N'Orleans-style bread pudding.
Address: 2601 N Main St, East Peoria, IL 61611
Telephone Number: +1 309-694-0946
9. Thyme Kitchen & Craft Beer
Thyme Kitchen & Craft Beer is a charming eatery that offers an extensive craft beer & bourbon menu. In addition to nearly 50 craft beers, artisan cocktails, about 250 bourbons, and a wine list, this place offers a regular food menu and a brunch menu that is available on the weekends from 10 am to 4 pm.
The regular food menu includes dishes like house-smoked short ribs, tuna poke bowl, and pasta in a jar. Guests can try the Bison Burger with Blueberry ketchup, sage aioli, swiss cheese, and lettuce. If you are a vegetarian, order the vegetarian tenderloin (Panko breaded cauliflower, pickles, tomato, garlic aioli, and lettuce)
The brunch menu is also quite impressive. There are sandwiches, soups, salads, and mains designed to be shared.
The country charcuterie board includes assorted meats, grain mustard, house pickles, pesto burrata, spiced berry compote, goat cheese, stuffed peppadews, and naan.
Kids love grilled macaroni and cheese.
Address: 736 SW Washington St, Peoria, IL 61602
Phone: +1 309-713-2619
10. Sugar: Wood-Fired Bistro and Gourmet Treats
If you are in the mood for wood-fired pizza and other Italian dishes, reserve a table at the Sugar: Wood-Fired Bistro and Gourmet Treats.
The rustic interior provides an ideal setting for trying Italian comfort foods like pesto chicken, wood-fired meatloaf, and Italian beef.
On the wood-fired pizza menu, guests will find classic options like Pepperoni and Margherita pizza.
Innovative pizza offerings include Three Little Pigs (Italian Sausage, Ham, Bacon, Tomato Sauce, Mozzarella) and White Veggie (Alfredo sauce, Mushroom, Pepper, Onion, Cherry Tomato, Mozzarella).
Wash down your meal with something from their extensive beer and wine list.
Address: 826 SW Adams St, Peoria, IL 61602
Telephone Number: +1 309-676-0848
11. Kelleher's Irish Pub
Next on our list of the best restaurants in Peoria is the authentic Kelleher's Irish Pub. Opened in 2001, this wood-trimmed Irish taproom has become one of the most beloved places among the locals here in Peoria.
The pub is situated inside a former warehouse and offers live music, an extensive list of drinks, and some seriously delicious food. In summer, you can sit outside on the terrace and enjoy majestic views of the Illinois River.
So, what's on the menu here? Start with some Irish chips served with sour cream in a cheese sauce. You can also get the Celtic Wings in your choice of signature sauce or order a portion of Mozzarella sticks.
The Irish Fair menu is small, but each dish tastes amazing. For instance, the Irish sampler which includes Irish coddle, Shepherd's Pie, and chicken hot pot is a great option to try a bit of everything.
There is also the signature Guinness Pot Roast and Bangers and Mash for all you fans of traditional Irish foods.
Don't leave Kelleher's Irish Pub before having a slice of their signature dessert, the homemade Guinness Brownie with vanilla ice cream.
Address: 619 Southwest Water Street, Peoria, IL 61602,
Phone: +1 309-673-6000
12. Obed & Isaac's Microbrewery and Eatery
Located in downtown Peoria, Obed & Isaac's Microbrewery and Eatery is definitely one of the most unique places on our list.
Situated inside a beautifully preserved 1889 Church with frescoes and stained windows, this restaurant looks absolutely amazing.
They also have a lovely outdoor beer garden that offers spectacular views of the historic church. If you are in the mood for a beer, choose something from their extensive beer list. The beer is made in the brewery just beyond the bar.
The food menu is typical gastro-pub fare with options like onion rings, fish tacos, and scotch eggs for appetizers.
Burger lovers will want to try the Beer Brat Burger topped with grilled bratwurst, braised onions, and beer cheese on a Bavarian pretzel bun.
The Reuben Flatbread with sauerkraut, mozzarella, and Swiss cheese with a 1000 island base is also worth ordering.
Address: 321 NE Madison Ave, Peoria, IL 61603,
Telephone Number: +1 309-306-0190
Read More:
Final Thoughts
Peoria is well-known for its parks and art culture, but it is also a great place to visit for a memorable dining experience. It offers
From casual pubs with attached microbreweries to elegant steakhouses and seafood dining establishments, this beautiful city on the banks of the Illinois River has it all.