Central America's second-largest country, Honduras is well-known for its jungle-covered mountains, idyllic Caribbean beaches, exquisite Maya ruins, and cobblestone villages.
This incredibly diverse country also offers a unique cuisine characterized by the flavors of local ingredients. You will also notice influences from Mesoamerican (Lenca), Spanish, Caribbean, African, and Garifuna cuisines here.
The staple ingredients of Honduran cuisine include corn, bananas red and black, beans, rice, tortillas, grilled meats (chicken, pork, beef), and seafood. Tropical fruits like avocado, coconut, and plantain are used a lot too in the local cuisine.
What to expect from traditional Honduran cuisine? The meals in Honduras are tasty, colorful, and full of variety.
Whether you wish to try traditional flour tortillas with different fillings called Baleadas or go for the popular snail soup (Sopa De Caracol), this ultimate guide to the best foods in Honduras has got you covered.
Popular Honduran Dishes
1. Baleadas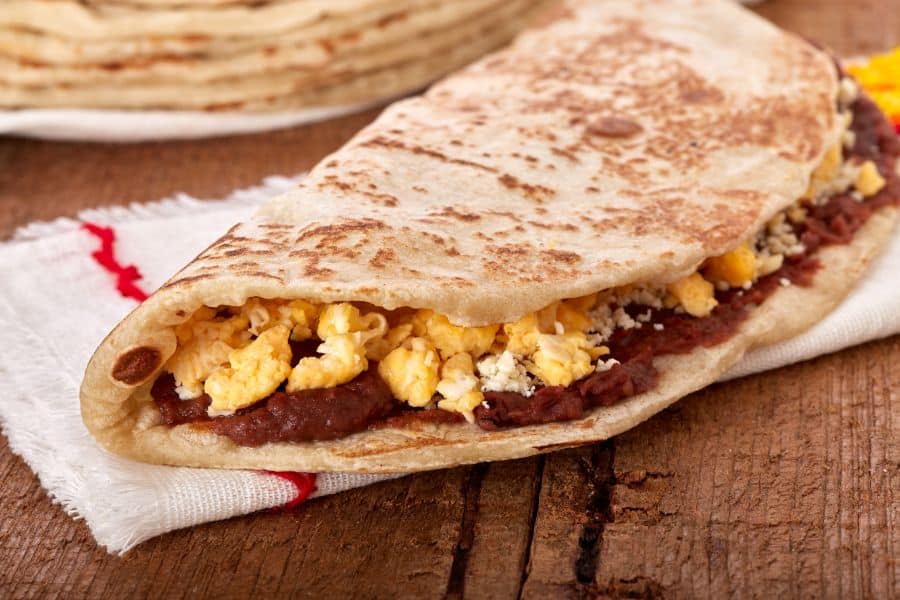 One of the most representative dishes of Honduras, Baleadas are traditional handmade flour tortillas that can be filled with everything from cream, cheese, and beans, to avocado, scrambled eggs, and meat.
You can get the simple version with traditional fillings like cheese and beans or try something like super preparada baleada which includes meat and avocado slices.
They are always made to order and generally eaten for breakfast. You can also have baleadas as a late-night snack.
According to local foodies from Honduras, Baleadas originate from the area of La Ceiba in the Caribbean coastal plain.
2. Catrachas
Next on our list is the hearty dish called Catrachas. Like many other meals from Honduran cuisine, it is based around corn tortillas.
Generally served as a side dish or appetizer, Catrachas is a beloved Honduran dish that consists of a fried corn tortilla base, grated cheese, and cooked red beans.
You can also opt for exotic versions of Catrachas that include slices of avocado or pork. Catrachas are usually served as an appetizer at various celebrations ranging from birthdays and weddings to corporate business events.
3. Pupusas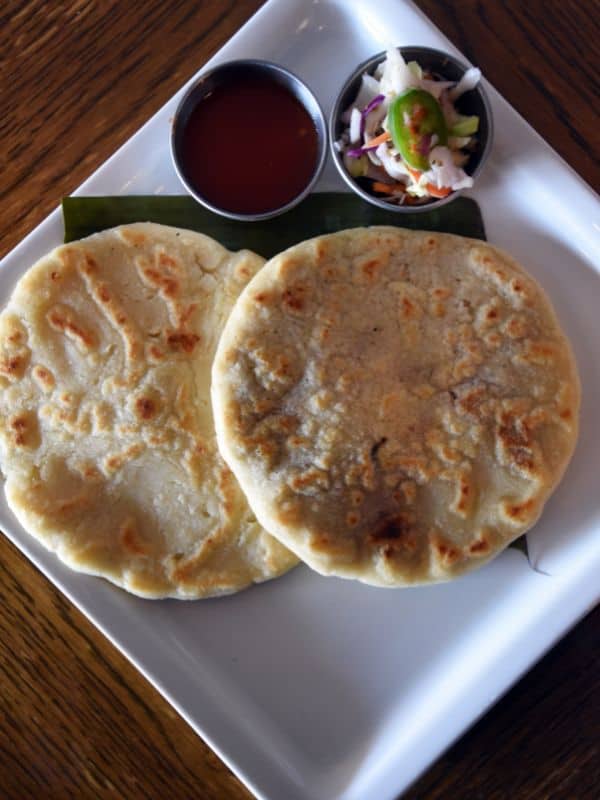 If you are into doughy dishes, try Honduran pupusas! Similar to an arepa, papusa is cheese melted inside a thick tortilla. The best cheese to use for this dish is quesillo simply because it is very easy to melt.
In addition to cheese, papusas can also be stuffed with different things like beans and pork and tipped with pickled onions, cabbage, and chilli.
How to make pupusas? Place the cheese inside raw corn dough, flatten it until it gets that tortilla shape, and place it on the griddle. It will take you about 15 minutes to prepare this Honduran delicacy.
4. Salpicón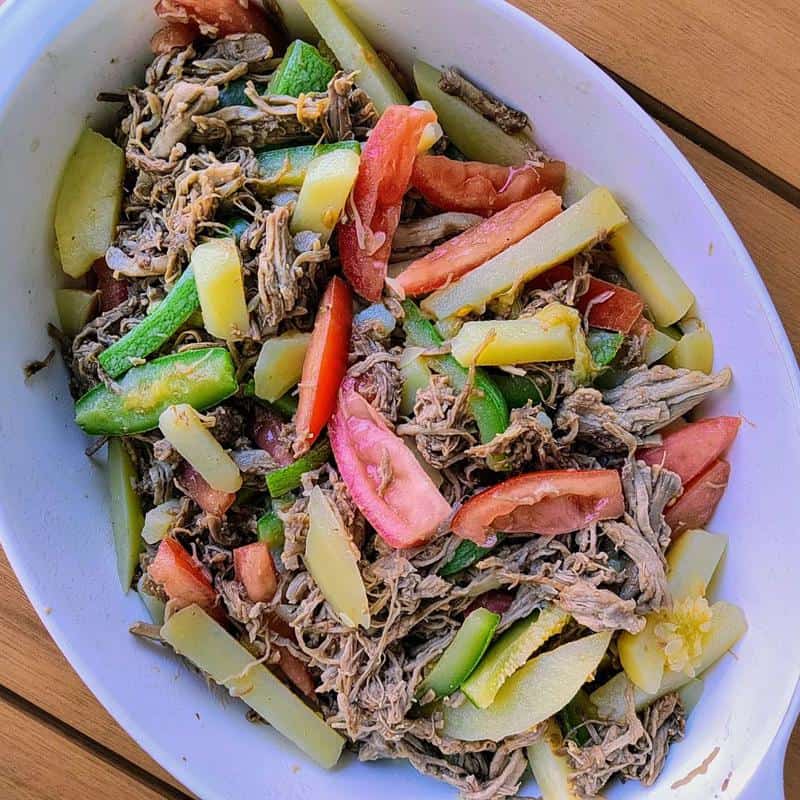 Salpicón is a traditional Honduran salad dish that can be served as a main course or a side dish. It is made with fresh tomatoes, beef, cilantro, and some onions. This beloved Honduran dish is usually served with sides like veggies, beans, white rice, or tortillas.
Preparing Salpicón is quite easy. The beef is cooked slowly together with garlic, onions, tomatoes, cilantro, and sweet chilli until it becomes super tender.
The next step is to shred the beef and add salt, pepper, and some orange juice. The locals eat this dish either cold or at room temperature.
5. Yuca Con Chicharrón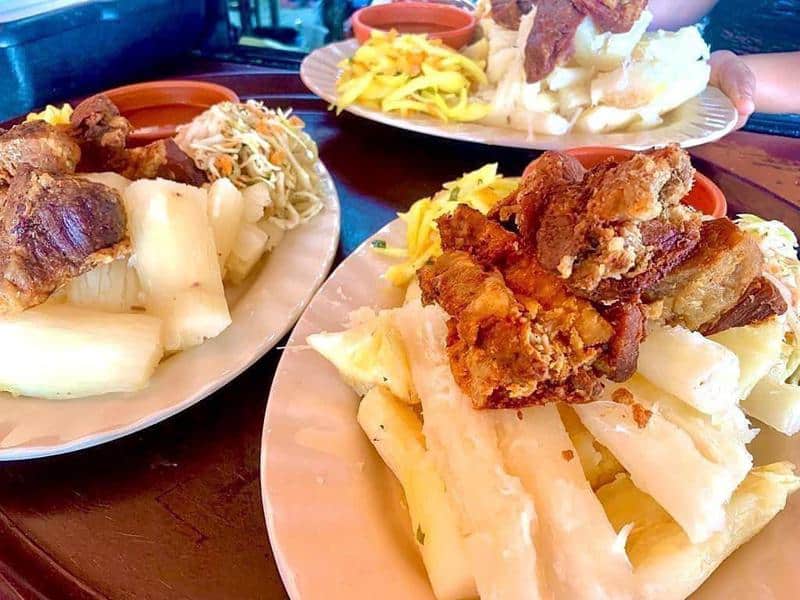 No list of the best foods in Honduras would be complete without mentioning Yuca Con Chicharrón.
This typical Honduran dish is usually served on the side, accompanying meat dishes and soups. You can also have it as an appetizer.
What is Yuca Con Chicharrón? It consists of cabbage, boiled yucca root, and lemon juice. It is topped with hot tomato sauce and deep-fried pork.
6. Pastelitos Hondureños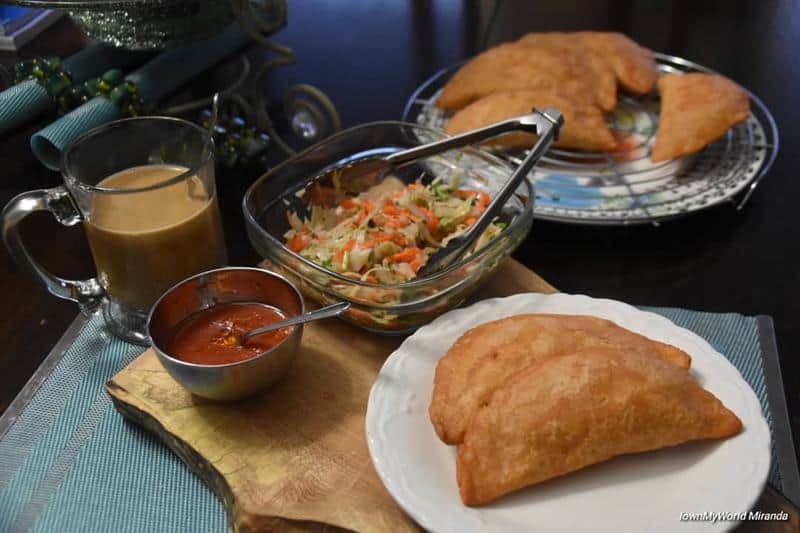 Originally from Tegucigalpa, Pastelitos Hondureños are a type of empanadas. This traditional Honduran dish made with dough of corn flour, onion, garlic, achiote, and rice is also known as pastelitos de perro.
You can fill this popular Honduran dish with any type of meat and vegetable before. The next step is to fold it and fry it up until it becomes crispy.
Toppings for Pastelitos Hondureños include everything from hot sauce to red onions and shredded cabbage.
7. Sopa De Caracol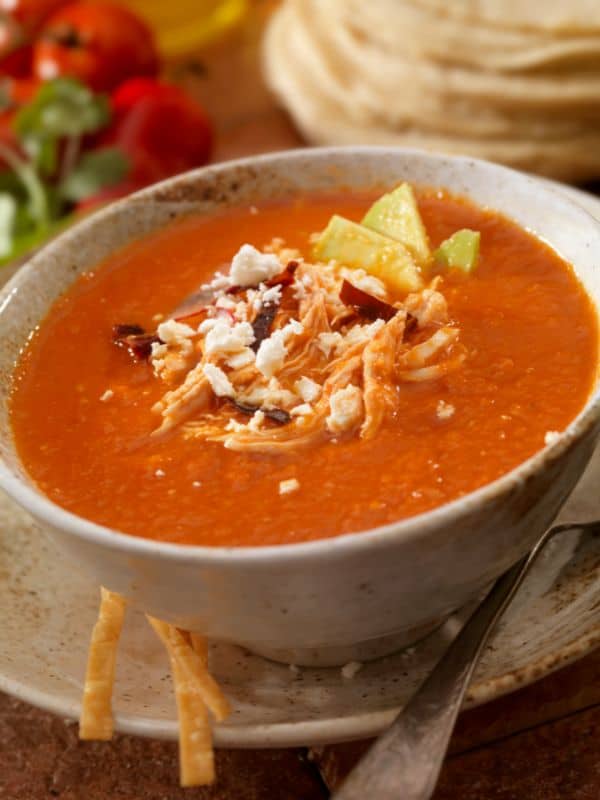 Honduran families are known to gather on Sundays for lunch and having soup on this occasion is customary for many people. Sopa De Caracol is one of the most popular soups in Honduras, especially in coastal areas in Honduras.
This fragrant soup is made from conch snails and other ingredients like tomatoes, cassava, bell peppers, carrots, and ripe plantain.
To elevate the flavor of this popular soup, Honduran people usually sauté the snails in coconut oil, garlic, and onions before cooking the meal in a pot. Adding chopped fresh cilantro is also a must.
Sopa De Caracol originates from the Garifuna people who settled here in the late 18th century.
8. Tamales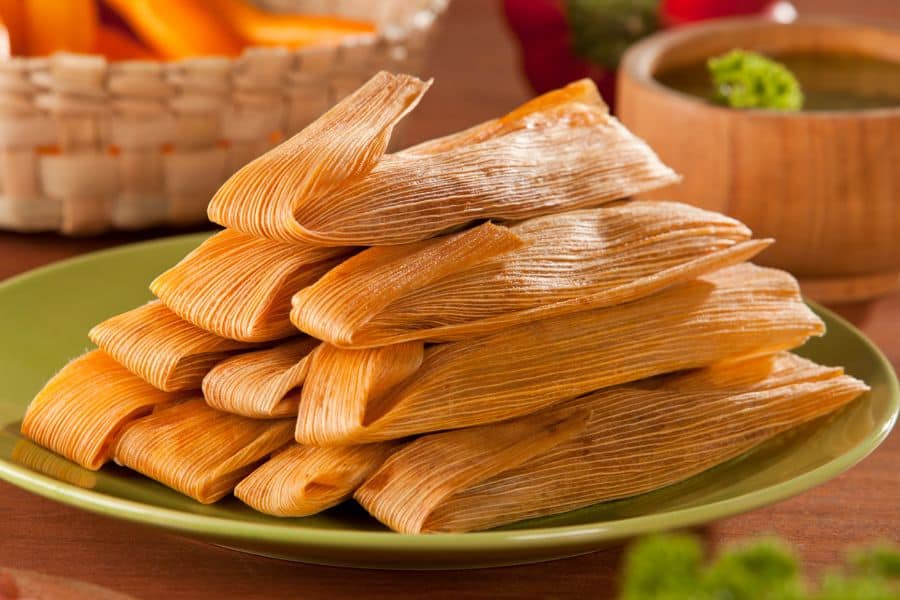 Also known as nacatamales, Honduran tamales are a typical Honduran Christmas meal. It is one of the most traditional Honduran dishes and can be served for any meal of the day.
The dough for Tamales is made out of corn, wrapped in plantain leaves, and filled with beans, pork, or chicken.
Filled with meat and vegetables and steamed in banana leaves, these beloved steamed corncakes from Honduras are definitely worth trying when visiting this Central American country with Caribbean Sea coastlines.
9. Pollo Chuco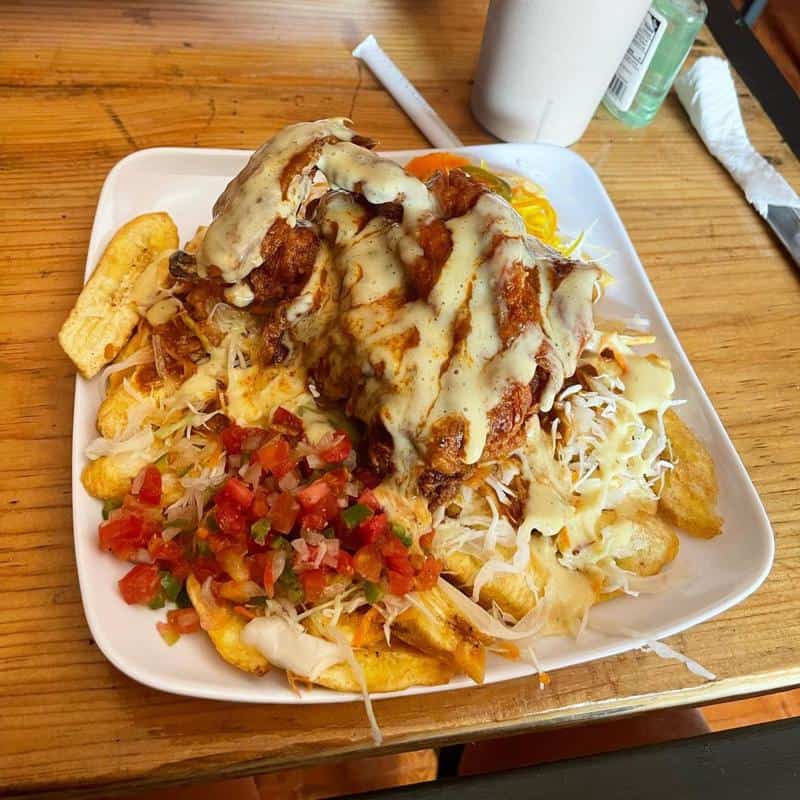 Pollo Chuco comes from one of the most populated cities in Honduras, San Pedro de Sula. Also known as pollo con tajadas, this dish is made from chicken, fried plantains in slices, and French fries.
The most important thing when preparing this Honduran delicacy is to fry the French fries in the same oil as the chicken. Pollo Chuco is usually served with salsa, cheese, rice, or shredded cabbage.
Pollo Chuco is definitely one of the most affordable meals in Honduras. It is served typically for breakfast or as a late-night snack.
10. Tapado De Pescado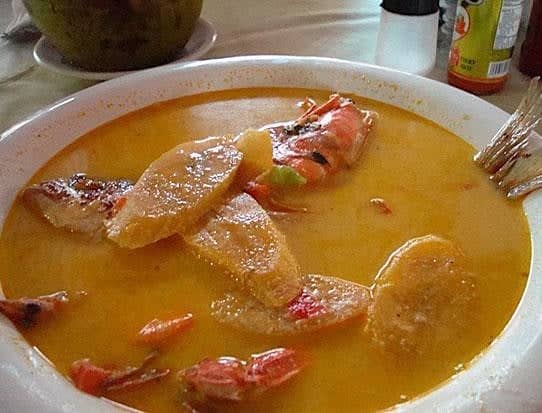 Next on our list of the best Honduran foods is Tapado de pescado. This flavorful specialty soup is popular in the coastal areas of Honduras.
The base of the soup is snapper, haddock, bass, or some other white fish. Other ingredients for Tapado De Pescado include yucca, yams, onions, plantains, squash, coconut milk, salt, and pepper.
The coconut milk adds sweet notes to the flavor and a creamy texture.
11. Carne Asada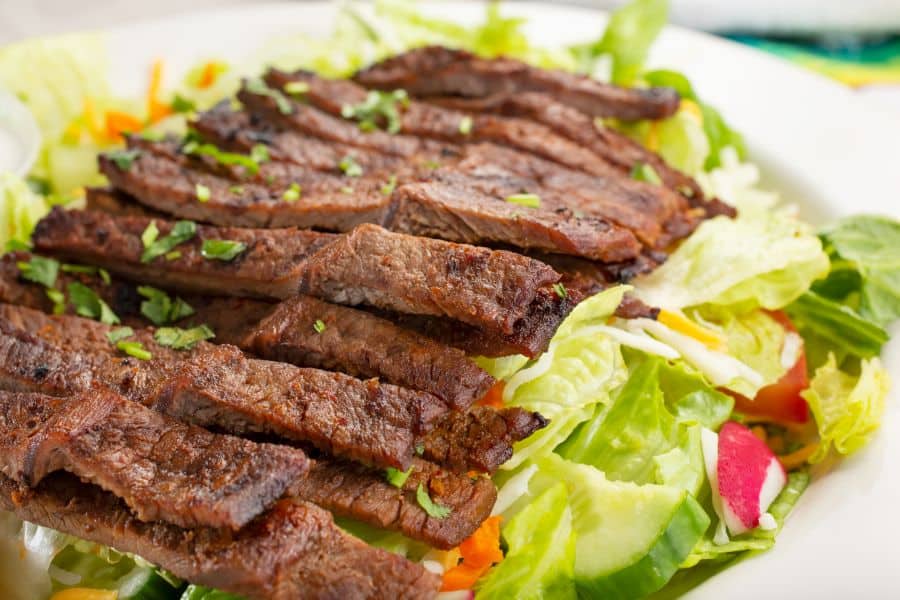 Meat lovers will definitely want to try Carne Asada when visiting Honduras. This traditional Honduran meal is usually prepared on weekends at family gatherings.
What is carne asada? The dish consists of grilled beef which is marinated with ingredients like sugar, lemon, vinegar, cumin seed, and black pepper.
Carne asada is typically served with side dishes such as dry cheese, grilled plantain, toasted tortillas, rice, and beans.
12. Tapado Olanchano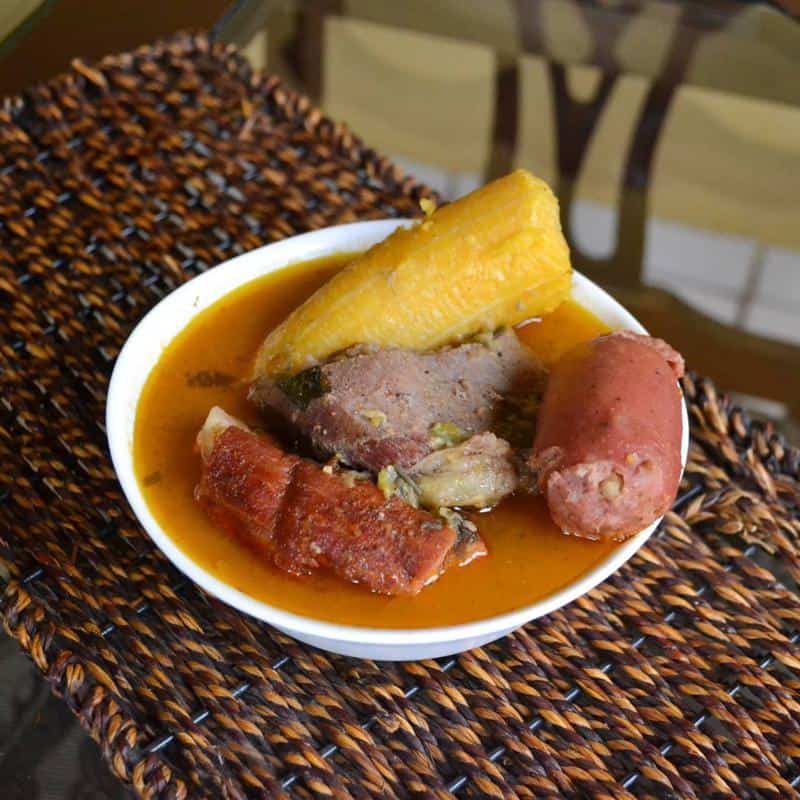 Popular with both locals and tourists alike, Tapado Olanchano comes from the region of Olancho. Well-known for its rich flavors, this much-loved meal consists of pork sausage, smoked ribs, salted beef, and plantains.
To enhance the flavor, ingredients like garlic, tomato, cassava, onion, coconut milk, and cilantro are added to this rich stew.
How to prepare Tapado Olanchano? Fry the veggies, add shredded meat, and cook until the meat is soft. The next step is to season the stew and add coconut milk for a softer texture. The dish is usually accompanied by plantain and yucca.
13. Bean Soup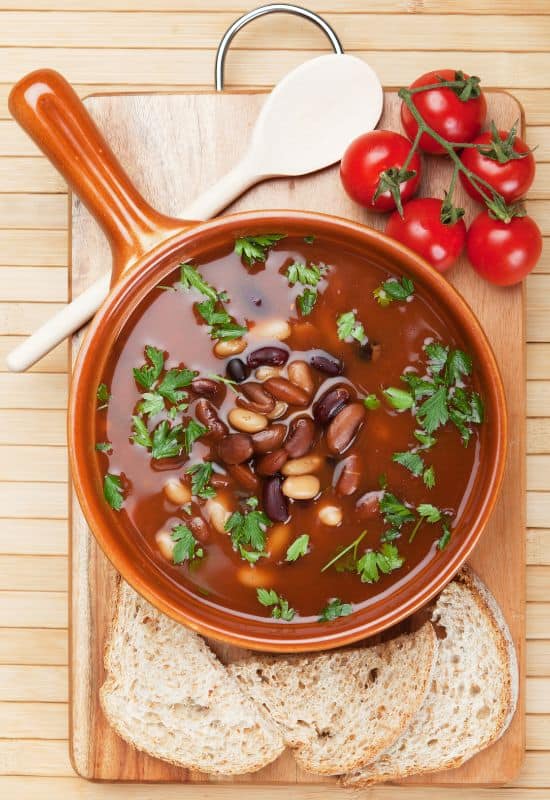 Bean soup is a humble Honduran dish often served for lunch and dinner.
The red bean-based soup consists of beef or pork ribs, green plantain, onion, sweet chili, cassava, and cilantro.
All of these ingredients are added to a red bean-based broth and cooked until the beans become soft.
Honduran people eat bean soup with either white rice or corn tortillas.
14. Mangos En Miel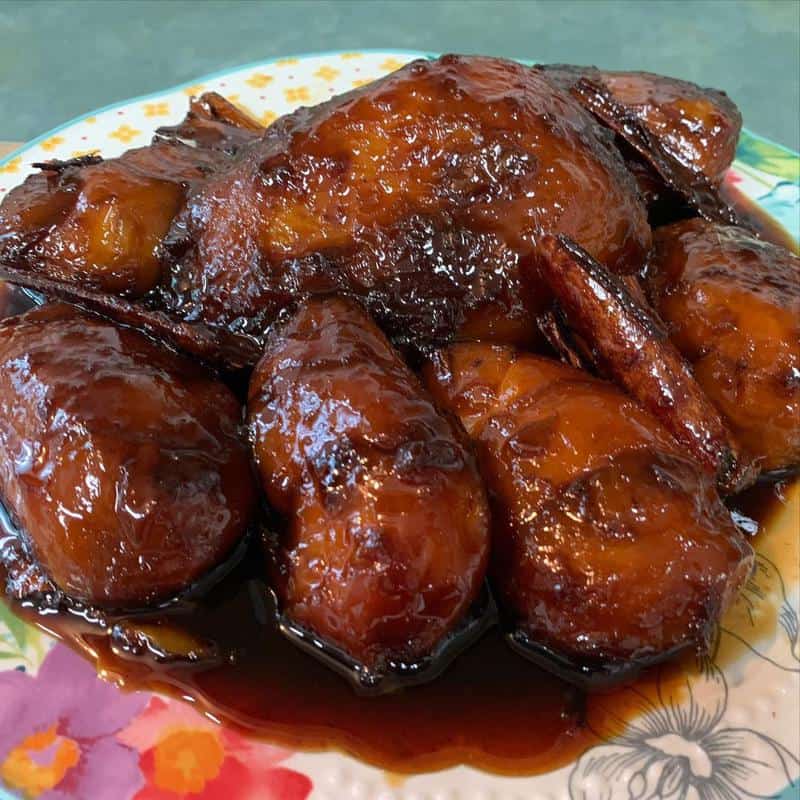 If you have a sweet tooth, try this typical Honduran dessert. Mangos En Miel is a simple dessert, but making it requires a lot of patience.
It is made with mango and honey. But, you can substitute honey with sugar if you want.
How to make it? Camulianes, a type of Mango is cooked over low heat. After a couple of hours of cooking, the dessert is brought to room temperature and can be served.
15. Sopa de Machuca
A traditional Honduran soup that comes from Garifuna culture, Sopa de Machuca is another great dish that is typically served for lunch on the weekends. This soup combines seafood and fruit from the Caribbean.
A combination of shrimp, fish, and conch is used as the base for the soup. To add some sweet notes to the dish, a mix of ripe and green plantain is added to the mix.
Some of the other ingredients for Sopa de Machuca include simmered onions, coconut milk, and cilantro which are sprinkled on the soup right before serving.
16. Rosquillas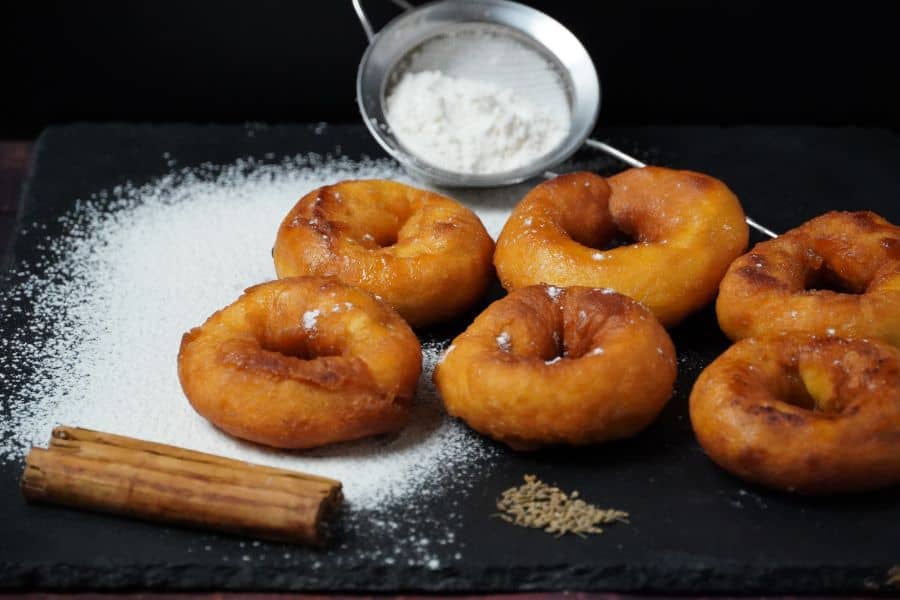 If you are a fan of donuts, try the traditional Spanish deep-fried donuts called Rosquillas. With a hole in the middle and a rather fluffy texture, these Honduran-style donuts are typically made during celebrations and religious festivities.
There are many types of rosquillas. For instance, the classic version is prepared with a combo of lemon zest, eggs, sugar, milk, baking powder, and anisette. There is also rosquillas de vino which includes sweet wine.
After being deep-fried, these delicious treats are topped with a sprinkle of cinnamon sugar.
17. Arroz Con Leche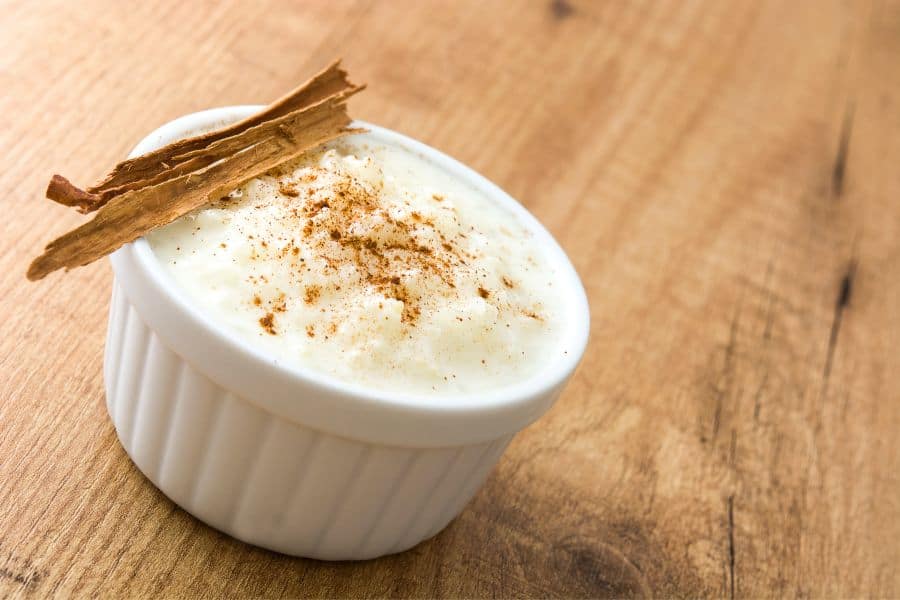 Rice pudding is a classic dessert that you can find all across the world. The Honduran version of this classic dessert is called Arroz Con Leche.
This dish is not made in small batches in Honduras. Instead, arroz con leche is prepared in a large casserole and served at large family gatherings, birthday parties, and other celebrations.
The pudding is topped with cloves and cinnamon.
18. Pan de coco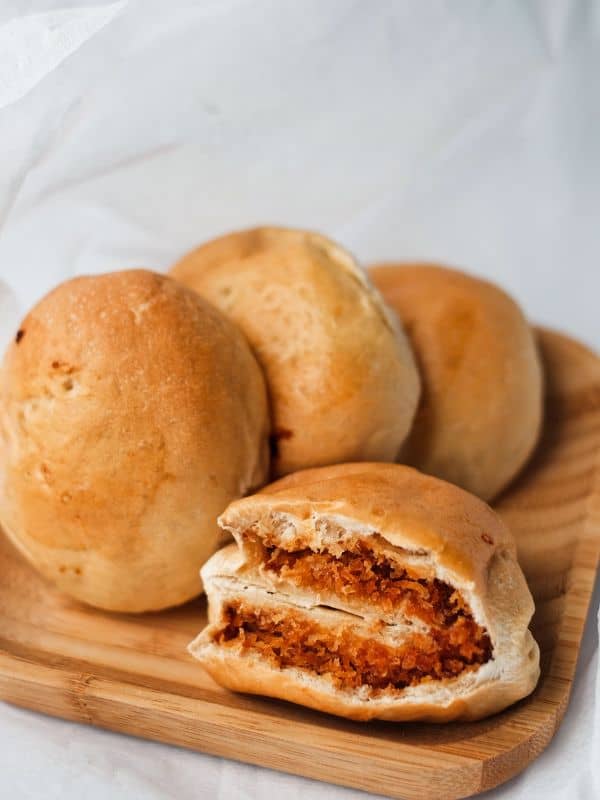 A popular snack in Latin America, Pan de Coco is a sweet bread roll filled with sugar and coconut. The name of the dish actually translates to "coconut bread".
People in Honduras use coconut milk to make the dough and consider pan de coco a meal, while other countries in the neighborhood treat this dish as a dessert.
The plain version of pan de coco consists of not much more than coconut milk, grated coconut, flour, and water.
Pan de coco in Honduras is typically made in wood ovens. The dish is scrumptious and served alongside fried plantains, beans, and rice. You can also have Pan de coco with jam and butter.
19. Pescado Frito con Tajadas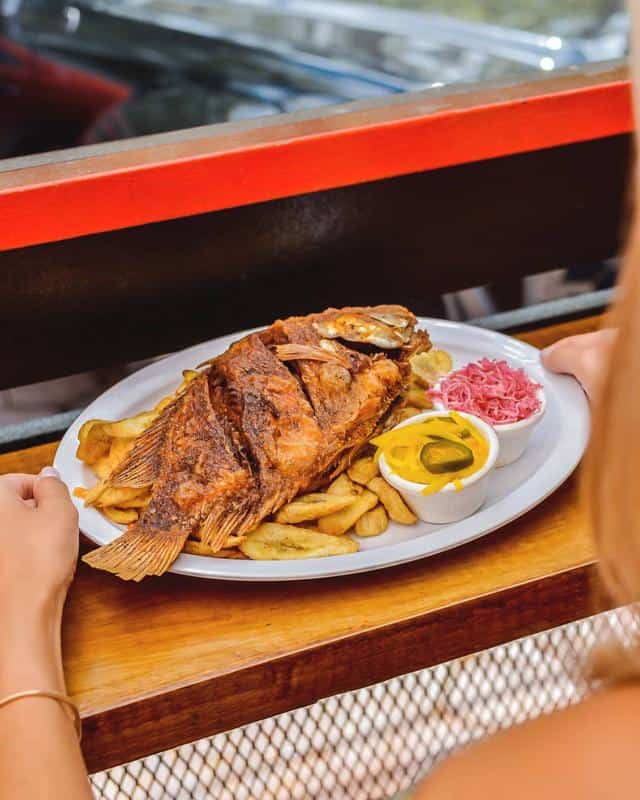 Served as a main dish in the coastal areas in Honduras, Pescado Frito con Tajadas typically consists of tilapia (fried fish), sliced green plantains, lettuce salad, and casamiento.
On the side, locals usually serve beans cooked with rice together with Pescado Frito con Tajadas.
How to serve Pescado Frito con Tajadas? Place the fried and seasoned fish on a banana lead that is surrounded by fried green plantain.
Read More:
Final Thoughts
With some truly delicious fusions and flavors, Honduran cuisine is well-known for its rich and hearty dishes made with local ingredients. African and Caribbean unique flavors definitely elevate Honduran cuisine to the next level.
Whether you wish to try tortilla-based dishes, enjoy unique soups, or want to try decadent desserts, Honduran cuisine offers something for everyone.
The good news is that you enjoy authentic Honduran food and try a bit of everything without breaking the bank. The street vendors in Honduras are known to prepare mouthwatering and reasonably priced Honduran traditional foods.
Travelers who wish to dine in style will be pleased to hear that Honduras is also home to high-end dining establishments with spectacular ocean views where professional chefs craft authentic Honduran dishes to perfection.