If you wish to have a delicious meal and you are short on time, a quick stop at the sandwich shop will satisfy your food cravings.
The good news is there is no shortage of sandwich chains to choose from in the US. Some of them have been around for decades, while others are quite new to the game.
These quick-service sandwich chains in the US offer everything from hot and cold subs to paninis and wraps.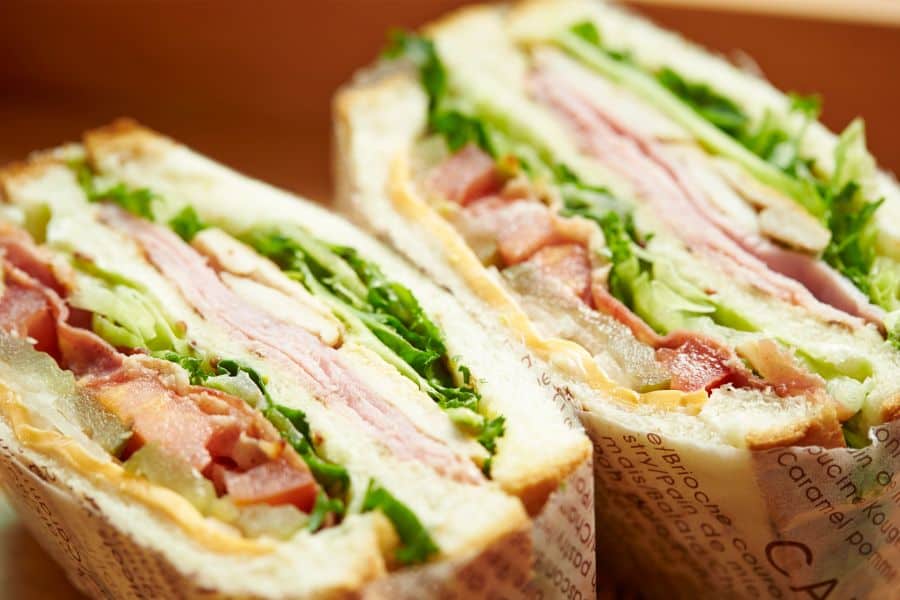 However, not all sandwich joints are created equally.
Does Jersey Mike's Famous Philly beat the Billy Club sandwich from Jimmy John's? Is Subway still good?
Which places allow you to fully personalize your Subway sandwich and choose from vegetables, toppings, and condiments?
To answer all of these questions and more, we've put together a list of our favorite sandwich chains in the US.
Best Sandwich Chains in the US
1. Jersey Mike's
Dating back to the 1950s, Jersey Mike's offers an amazing selection of both hot and cold sandwiches.
This US chain sandwich shop is definitely on the top of our list for a reason. Their made-to-order subs with fresh vegetables and meats and cheeses are simply delicious.
We also like that everything you try at Jersey Mike's is super fresh. Meats and cheeses at Jersey Mike's are sliced right in front of you and many of the ingredients are locally sourced.
On the menu, you will find options like Mike's Famous Philly, the Veggie, and the Juice which has a special mix of red-wine vinegar and olive oil.
You can also go for Mike's Way, a sub that includes tomatoes, lettuce, dried spices, and onions.
2. Blimpie
Welcome to Blimpie, a deli-style sandwich chain with more than 150 locations in the US. Founded back in the 1960s by three friends from New Jersey, this place specializes in submarine sandwiches.
The signature items on the menu at Blimpie are cold and hot deli-style served submarine sandwiches. Choose from classic subs, premium subs, hot subs, and limited-time offers.
Try the signature Blimp submarine which includes sweet peppers, roast beef, turkey, salami, pepperoni, onion, mayo, vinegar oil, pickles, tomatoes, lettuce, and oregano.
You can also go for the hot submarine sandwich called MeatBall Parmigiana. This delicious sub is made with pork meatballs, Italian beef, provolone cheese, parmesan, and marinara sauce.
Some of the other popular options on the menu include Hoboken Hero, Trio Supreme, Turkey Reuben, Philly Cheesesteak, and Buffalo Chicken.
Visiting Blimpie with the little ones? This deli-style sandwich shop offers a kid's meals menu with options such as Ham and Cheese and Turkey and Cheese. They also do gourmet cookies and chips.
3. Pret A Manger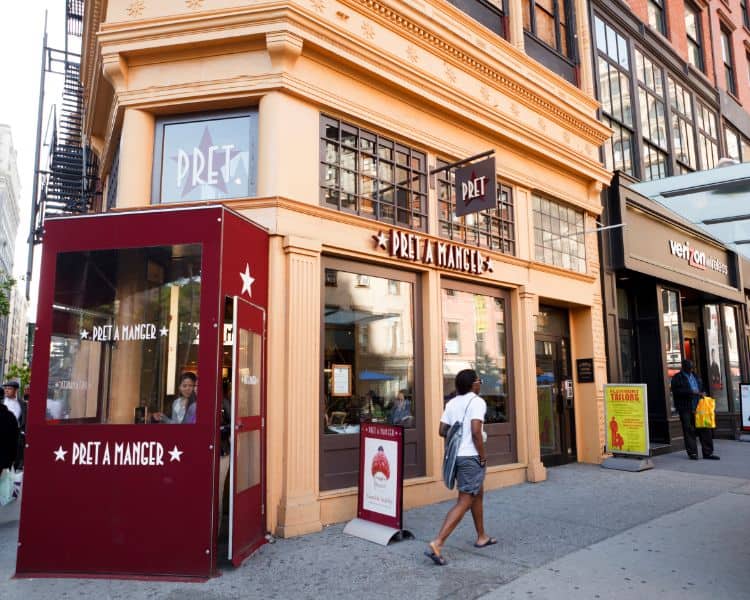 Pret A Manger is actually a British-based fast-casual restaurant chain that offers tasty sandwiches and organic coffee. It has about 50 locations in the United States (New York, Pennsylvania, Washington, and Washington DC).
Pret A Manger prides itself on preparing freshly made food. All of the sandwiches here are made from scratch daily. On the menu, visitors will find everything from wraps, soups, and croissants to grilled cheeses, salads, and sandwiches.
Egg Salad & Arugula Sandwich is definitely one of the most popular orders at Pret A Manger. Another favorite is the Chicken & Bacon Sandwich (grilled chicken (ABF), crispy Niman Ranch applewood smoked bacon (ABF), sliced tomatoes, and mesclun with cage-free mayo).
Vegans will not stay hungry at Pret A Manger and can order the Rainbow Veggie Sandwich (miso sesame hummus, avocado, arugula, cucumber, and pickled cabbage & carrots with a squeeze of lemon juice on multi-grain bread.)
If you prefer wraps, try the delicious Pret's Chicken Burrito Wrap which includes chipotle chicken, quinoa, black bean salsa, charred corn, Wisconsin cheddar, and crispy onions.
4. Publix Deli
The award-winning Publix Deli is known for its legendary submarine sandwiches.
Although the selection of subs at Publix Delis may vary, you will probably come across options like Boar's Head Italian Sub (Genoa salami, tavern ham, capicola, provolone cheese, and veggie toppings), Publix Deli Turkey Sub, and Boar's Head Roast Beef Sub.
Don't leave this place before trying their signature Publix Chicken Tender Sub which includes double hand-breaded chicken tenders, cheese, and veggie toppings.
The only downside is that travelers won't find Publix deli in every state in the country. This popular grocery retailer is mostly located down in the South.
We should also mention that not all Publix grocery stores sell sub sandwiches in their delis, so it is always best to call in advance and see if that local Publix Deli sells submarine sandwiches.
5. Potbelly
The first Potbelly sandwich shop was opened back in 1977 in Chicago by Peter Hastings. Peter actually opened up a vintage goods store and decided to sell toasted sandwiches. It was 1996 when Bryant Kiel purchased the shop and expanded the business.
What is Potbelly known for today? This popular sandwich chain in the US offers thick and scrumptious sandwiches.
Expect to find classic options like roast beef, Italian, and Mediterranean, as well as a range of specialty sandwiches such as A Wreck which includes roast beef, turkey, salami, ham, melted cheese, tomato, mayonnaise, and lettuce.
In addition to delicious sandwiches, Potbelly offers a variety of smoothies, desserts, salads, soups, and sides.
Potbelly's hot-pepper blend with red bell peppers, green olives, celery, carrots, cauliflower, and Serrano is definitely one of the most popular sides.
6. Subway
With more than 40,000 locations in over 100 countries around the world, Subway is one of the most famous sandwich chain shops.
Whether you wish to try sandwiches, wraps, cookies, or salads, Subway offers something for everyone.
Customers can choose from Subway's wide range of toppings, condiments, meats, and freshly baked bread and personalize every item on the menu.
The sandwich menu at Subway is extensive and includes options like BBQ Rib, Black Forest Ham, Roast Beef, Seafood Sensation, and Oven Roasted Chicken.
At Subway, customers can also customize their pizza, order salads like roast beef salad, Subway melt salad, and Italian bmt salad, or go for breakfast favorites such as French toast, eggs and cheese, and omelet.
7. Schlotzsky's
Next on our list of the best sandwich chains in the US is Schlotzsky's. This sandwich ship didn't have an actual food menu back in 1971 when it first opened in Austin, Texas.
This was simply because, in the beginning, the restaurant only sold one sandwich which was the owner's take on a giant round Italian sandwich called Muffuletta.
Nowadays, this signature sandwich goes by the name of "The Original" and remains the most popular item to order. It includes house-made sourdough bread as well as ham, Genoa salami, Cotto salami, cheddar, mozzarella, parmesan, black olives, red onion, lettuce, tomato, mustard, and signature sauce.
Apart from the muffaletta, Schlotzsky's offers a range of soups, salads, flatbreads, and pizzas. Customers with a sweet tooth should definitely try the Cinnabon cinnamon rolls.
8. Firehouse Subs
Two firefighters, Chris and Robin Sorensen decided to open a sandwich shop in 1994. Today, Firehouse Subs has expanded to more than 1,000 locations in the US.
This sandwich chain specializes in hearty and filling hot gourmet sandwiches which are perfect for a quick lunch. With premium meats, cheeses, and toasty bread, it comes as no surprise that Firehouse Subs sandwiches are simply amazing.
Customers like the signature Firehouse Steak and Cheese and add that the Spicy Cajun Chicken which includes ingredients like jalapenos, cajun mayo, and pepper jack cheese is also spectacular.
The good news is that you can also choose ingredients and build your own sub at Firehouse Subs.
We should also mention that although this sandwich chain shop focuses mostly on hot sandwiches, customers can order their sandwiches cold.
9. Jimmy John's
Founded in 1983 in Charleston, Illinois, Jimmy John's is one of the best sandwich chains in the US.
An interesting fact is that the first shop in Charleston only had 4 sandwiches on the menu: the Pepe, the Totally Tuna, the Turkey Tom, and the Vito. Today, Jimmy John's has 2,700 locations in the US and still offers those 4 signature sandwiches.
You can also order something from their expanded menu. Made from hand-sliced roast beef, smoked ham, provolone cheese, mayo, Dijon mustard, lettuce, and tomato, the Billy Club is definitely worth ordering.
Not too hungry, but still want to try something from Jimmy John's? Go for Little Johns, a variety of mini sandwiches which are perfect for a snack.
Some of the other favorites on the sandwich food menu at Jimmy John's include Jimmy Cubano, Spicy East Coast Italian, and Hunter's Club.
In addition to sandwiches, Jimmy John's serves a variety of sides like cookies, pickles, and chips.
10. Which Wich
One of the newest additions to the sandwich fast food scene in the US, Which Wich opened its doors in Dallas, Texas in 2003. With over 400 Which Wich locations in 36 states, this fast-casual restaurant chain specializes in sandwiches and salads.
There are eight categories of sandwiches ranging from vegetarian and seafood to beef with more than 50 customizable ingredients to choose from. The food menu here features over a dozen delicious sandwiches, but their signature Wicked sandwich is definitely the most ordered dish.
This signature sandwich includes everything from turkey, ham, roast beef, pepperoni, bacon, cheddar, and provolone to pepper jack, lettuce, tomato, red onions, and mayonnaise.
If you are on a diet and want to enjoy the ingredients without the bread, order the Bowlwich. Making your own sandwich and choosing which ingredients to put inside the sandwich is also an option here at Which Wich.
11. Mendocino Farms
Offering tasty sandwiches since 2005, Mendocino Farms only has locations in California, Texas, and Washington State. This small sandwich chain shop focuses on fresh ingredients of the highest quality and offers everything from sandwiches and soulful salads to deli sides, soups, and kid's meals.
Eating at Mendocino Farms is super healthy, simply because you can choose from gluten-free bread and vegan dressing and sauce options. We recommend their signature Cheffy Sandwiches which include Not so Fried Chicken, Peruvian Steak, Prosciutto and Chicken, and Mendo's Original Pork Belly Banh Mi.
You can also go for the classic sandwiches. For instance, Italiano Clasico features salami, honey ham, capicola, provolone, spicy giardiniera, tomatoes, and lettuce. Steak lovers should definitely get the Bistro Steak which includes carved steak with basil pesto, dijonnaise, onion jam, tomatoes, arugula, and lemon squeeze.
The salad menu is also impressive with favorites such as the Modern Caesar and the Impossible Taco Salad.
12. Panera Bread
What makes Panera Bread different from order sandwich chain shops in the US?
First of all, Panera Bread is also a bakery which means they make their own bread when needed. Second of all, on their website, you will notice that the company is all about selective sourcing and the humane treatment of animals.
Founded in 1987 by Ron Shaich and Louis Kane, this popular sandwich chain shop has over 2,000 Panera locations across the US. The place is known for its wide variety of fresh sandwiches, soups, salads, and pastries.
Panera's food menu is packed with delicious options, but their sandwiches will always be a top choice for customers. With pulled chicken, tomatoes, onions, mozzarella, fresh basil, and chipotle sauce, the Toasted Frontega Chicken is a big crowd-pleaser here at Panera Bread.
You won't go wrong with ordering the Mediterranean Veggie or the Smokehouse BBQ Chicken sandwich.
13. Au Bon Pain
Serving baked goods, sandwiches, soups, and salads, Au Bon Pain is a popular bakery and café chain in the US. It has around 90 locations across the country and was originally opened by Louis Kane in Boston, Massachusetts, in 1978.
When it comes to interiors, Au Bon Pain is so much more than your average sandwich chain shop in the US. Instead of a basic space with a counter, expect to find a stylish sit-down dining establishment that offers gourmet sandwiches and French-inspired meals.
On the menu, customers will find nearly 20 sandwiches including wraps, and hot and cold options. Toasted Chicken and Avocado sandwich which includes chicken, hardwood smoked bacon, avocado, tomatoes, field greens, and basil aioli is one of the signature sandwiches here. You can also try the Chicken Salad sandwich with chicken, cranberries, toasted almonds, mayo, tomatoes, and field greens.
If you are a vegetarian, we recommend getting the Mediterranean wrap which features hummus, avocado, kalamata olives, feta, tomatoes, red bell peppers, cucumber, romaine lettuce, field greens, and lemon vinaigrette.
14. Quiznos
Quiznos is a great place to enjoy about 20 different submarine sandwiches. The first Quiznos sandwich shop was opened in 1981 in Denver, Colorado.
Sandwich lovers can choose from an extensive menu that includes everything from the classic Italian, made from pepperoni, salami, spicy capicola, smoked ham, melted provolone, black olives, lettuce, tomato, onion, banana peppers, and red wine vinaigrette to soups, salads, and chips.
What we like about Quiznos is that it offers a variety of bread choices ranging from rosemary-parmesan to white and wheat bread. If you are a fan of spicy foods, go for the jalapeño-cheddar bread. Sandwiches here are also available as sammies which are offered on a toasted flatbread instead of a traditional submarine bun.
15. Corner Bakery Café
Last on our list is the iconic Corner Bakery Café. With over 150 Corner Bakery Cafe locations in 21 states, this sandwich chain offers a variety of sandwiches and paninis.
The signature Uptown Turkey and Avocado is made with oven-roasted turkey, bacon, avocado, tomato, lettuce, and mayonnaise, while the Chicken Pomodori with grilled chicken, provolone, basil, spinach, oven-roasted tomato, pesto, and aioli is a popular panini.
The popular Choose Two option allows you to mix a panini and a half sandwich with a half serving of pasta, soup, or salad.
Also Read:
Final Thoughts
Finding a perfect sandwich in the US is not an easy task. However, many amazing sandwich chains in the US offer reasonably priced and delicious sandwiches without compromising taste and quality.
Whether you wish to stick to those old-school sandwich chains shops like Subway and Quiznos or want to see what the newcomers like Mendocino Farms and Which Wich have to offer, there is so much to choose from.