New Hampshire is known for its rich history and culture that shaped today's America. Portsmouth is one of the cities in the museum state, boasting traditional structures of the 18th and 19th centuries.
Portsmouth sits near the Piscataqua River, making it ideal as a tourist attraction. Did you know Portsmouth doesn't charge tax on shopping? That and the beautiful waterfronts and recipes that have stood the test of time and taste await you here.
Talking about food: seafood is the love language of the city. Clam chowder and oyster dinners are popular here. Here is a list of seafood restaurants to put in your itinerary as you plan your next trip to Portsmouth.
Best Seafood Restaurants In Portsmouth, NH
Surf Portsmouth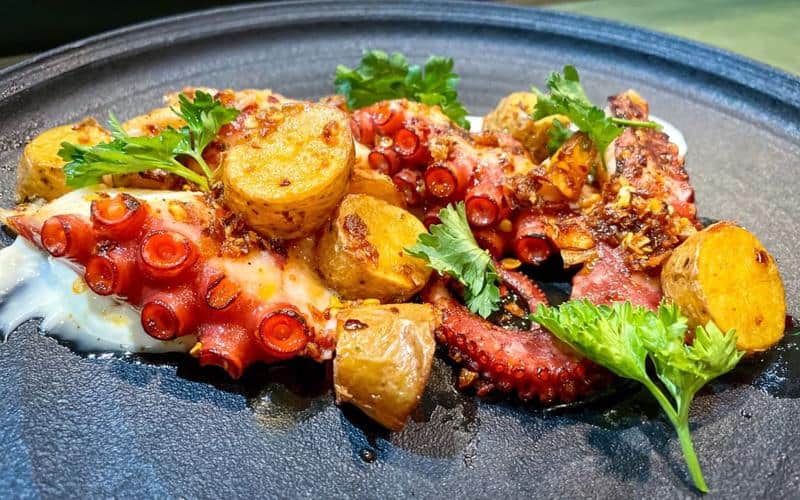 Address: 99 Bow St Suite 200W, Portsmouth, NH 03801
Opening Hours: Wednesday and Thursday: 4 pm – 9 pm, Friday to Sunday: 11 am – 9 pm (CLOSED ON MONDAY AND TUESDAY)
Rating: 4.6 stars
Surf prides itself on freshness in all the seafood on the menu. Dishes are prepared especially daily from a fresh catch from the local fishermen. Michale Buckley (the chef and owner of the restaurant) has decades of culinary expertise in preparing government food.
A lunch or dinner session at Surf is not only refreshing but mouthwatering. The water view provides the perfect escape from the bustling streets of New Hampshire into a tranquil spot. The raw bar is something to look forward to; it serves oysters, among other delicious foods.
Why You Should Dine Here: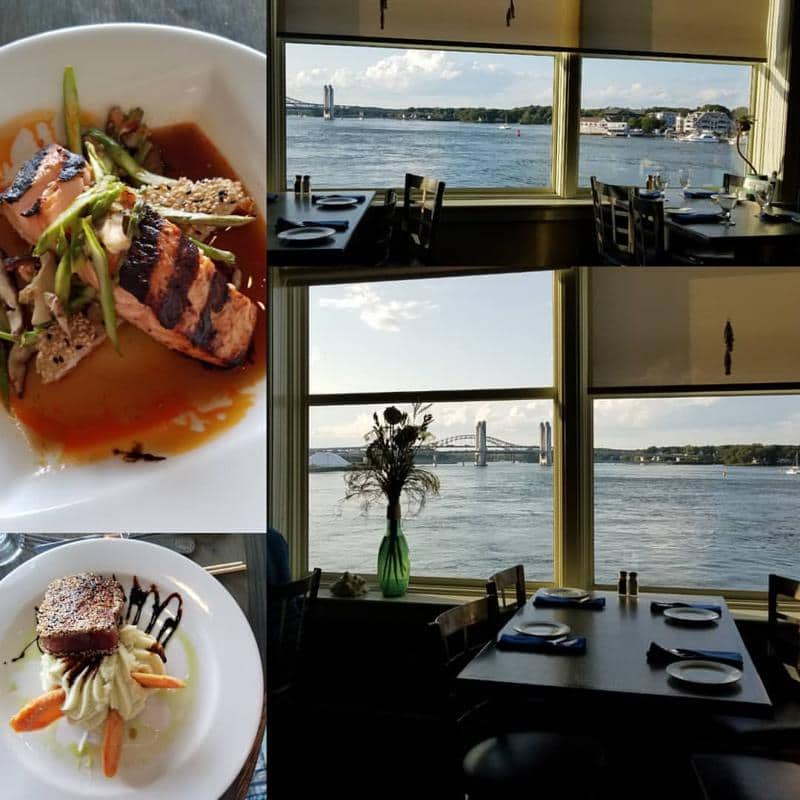 Surf has a menu to die for alongside the wowing ambiance at the waterfront restaurant. You dine in the warmth of the south and international wonder with recipes. Surf is your one-stop shopping place to satisfy your cravings with grilled, smoked, and fried meats fresh from the water.
Recommended dish: Portuguese Seafood Stew, sushi rolls, smoked Philly Roll, and the 8 oz grilled shrimp filet.
River House Restaurant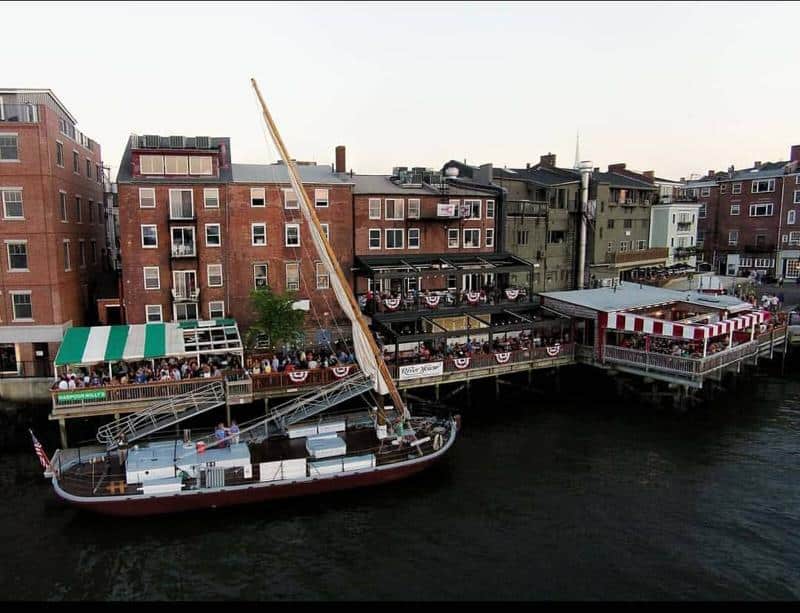 Address: 53 Bow St, Portsmouth, NH 03801, United States
Opening Hours: Monday to Thursday: 11 am – 8:30 pm, Friday and Saturday: 11 am – 9.30 pm, Sunday: 10.30 am – 4 pm
Rating: 4.3 stars
River House is a casual restaurant serving seasonal food in Portsmouth. The waterfront locale is ideal for serene date nights and calm days. The fish and vegetables are procured locally to have fresh and flavorful ingredients.
The restaurant has three chefs to ensure quality is served with every plate: a corporate chef, an executive chef, and a sous chef. All have extensive experiences making delicious seafood, making this locale a must-visit for locals or travelers.
There are three eating spaces at this joint. The main deck outside offers a waterfront view with heated space and retractable sides, making it an absolute deluxe for night dates.
The upper balcony is also heated and has retractable sides. The advantage is that it's open all year, come snow or rain.
The main hall dining area has waterfront views, with enough space to hold a large party. Adjacent to the main deck is a cocktail deck ready to pour you "staggeringly good" mixes of spirits from the bar.
Why You Should Dine Here:
The outdoor deck and balcony seating give breathtaking views of the Piscataqua River. You witness the tugboats as they draw the tankers to the docks.
The restaurant has a kids' menu for children 12 years and lower. You can order their favorite chicken tenders and fish.
You can also hold private dinners at the restaurant-book ahead by calling for reservations and availability.
Recommended dish: Lobster Artichoke Dip GF (Maine lobster meat casserole, artichoke, romano, and asiago cheeses). Served with "old bay" dusted tortilla chips.
The Beach Plum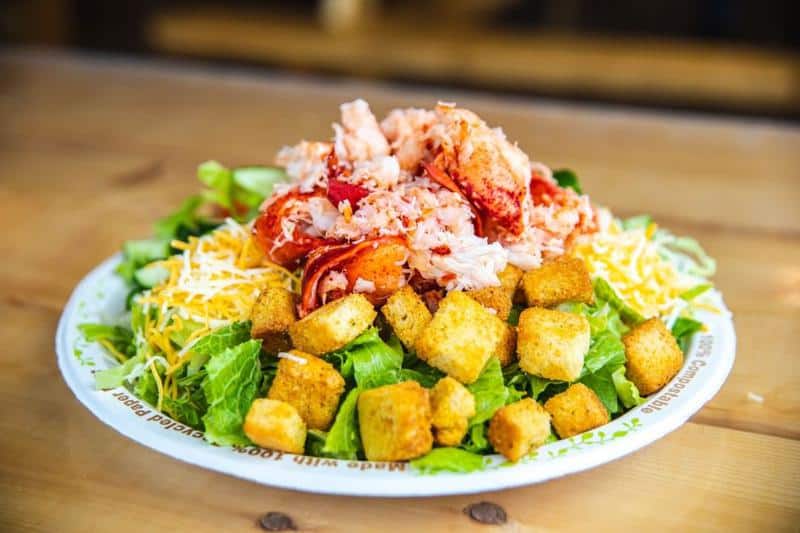 Address: 2800 Lafayette Rd Route 1, Portsmouth, NH 03801, United States
Opening Hours: Sunday to Thursday: 11 am – 8 pm, Friday and Saturday: 11 am – 9 pm
Rating: 4.3 stars
The Beach Plum is a counter service restaurant specializing in seafood recipes in Portsmouth. It has four locations in New Hampshire serving delicious seafood recipes. The Portsmouth locale started in 1992 and is open all year, serving delicious clams and lobster rolls that you can never get enough of.
The 2018 winner of the "Best of Taste of the Southcoast" award has the best lobster rolls in the area. Beach Plum also holds the 2019 "Best of New Hampshire" by the New Hampshire Magazine.
Why You Should Dine Here:
The restaurant is open all year, serving seafood and alcohol at table service. You can also sample the 78 ice cream flavors from the in-house ice cream bar.
Recommended dish: The fisherman's platter is also worth checking out-a plate full of fries, bread, fish steaks, shrimp, etc. The platter is enough for two.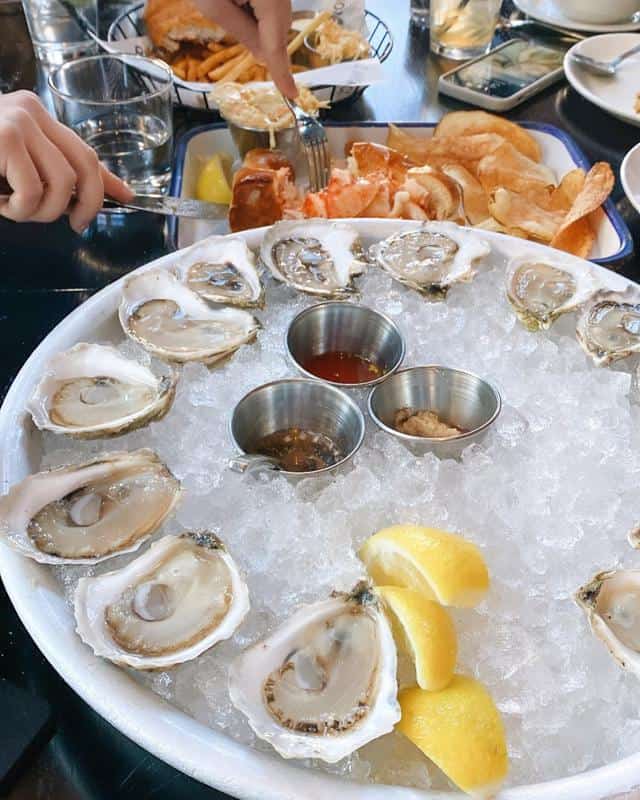 Address: 5 Portwalk Pl, Portsmouth, NH 03801
Opening Hours: Tuesday to Thursday: 5 pm – 9 pm, Friday and Saturday: 11.30 am – 10 pm, Sunday: 11.30 am – 9 pm
Rating: 4.5 stars
Row 34 is an upscale eatery serving oysters and seafood in a sleek environment. The restaurant boasts a classical menu, away from the obvious fried food but still closer to popular seafood tastes. The chefs put in a great deal of craft to serve each plate with a specialty that's only available at Row 34.
Although not right at the waterfront, Row 34 is only a few blocks from the decks. The outdoor seating compensates for the waterline, serving food and tapped beers sought from the best breweries in Portsmouth. Fish is always fresh from Fish Pier, and the best fresh oysters money can buy.
Why You Should Dine Here:
Parking is available at Hanover Street Parking Garage or on the metered street parking outside the restaurant. The spacious dining hall is perfect for holding large parties and events. Plan with the management through a reservation on how best they can accommodate you. The "order online" feature is also a lifesaver if you want to have takeout.
Recommended dish: Seafood Stew-carrot, fingerlings potatoes, and sourdough) served with baked oysters (with lemon parsley butter; and garlic).
Warren's Lobster House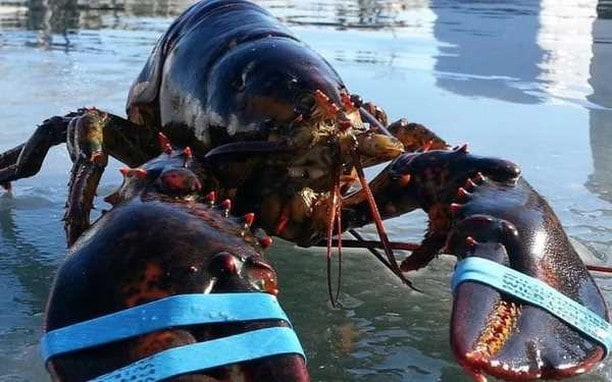 Address: 11 Water St, Kittery, ME 03904
Opening Hours: Sunday to Wednesday: 11.30 am – 4 pm, Thursday to Saturday: 11.30 am – 7 pm
Rating: 4.4 stars
The port restaurant at Warren's is a destination with its fair share of glory and praise for seafood prowess. They serve the best in town for lobsters, taking the lead in having a fine menu on this. The restaurant even has a salad bar, The Seacoast's Finest Seafood & Salad Bar, with over 60 items.
The 350 seat restaurant has a history of serving food since 1940, making it one of the oldest buildings in Portsmouth. A 30-pound lobster still displays above the bar and a latch hook rug with over 50 fisherman's knots. Visit the restaurant for an exquisite representation of seafood in the Port city of Portsmouth.
Why You Should Dine Here: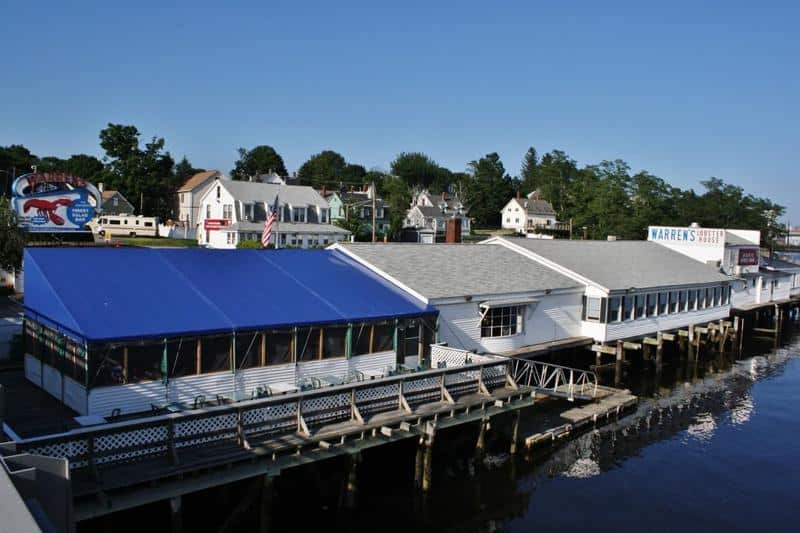 Warren's Lobster House has outdoor seating at the deck. You get to enjoy the breeze by the waterfront as you dig in on your delicious seafood helping. There's valet parking, especially in season. Additional parking on the street is also available if you visit, off-hours.
The restaurant has a kids' menu alongside their main menu for children below 10 years.
Recommended dish: Lobster stuffed lobster tail (2 lobster tails, stuffed with a quarter pound of lobster meat) served with your vegetable choice and homemade vanilla ice cream.
Bob's Clam Hut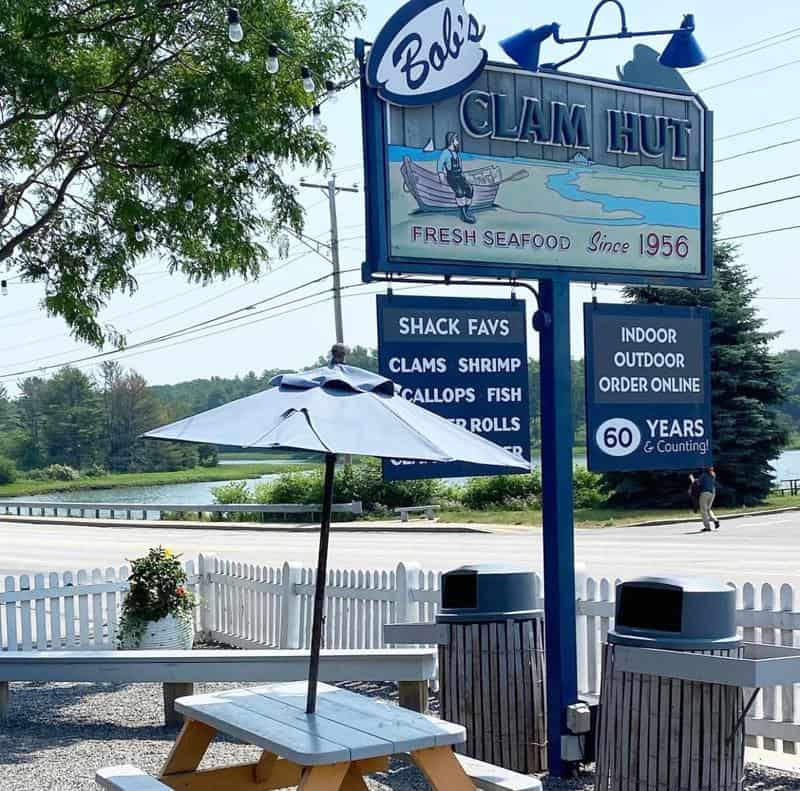 Address: 315 US-1, Kittery, ME 03904, United States
Opening Hours: Daily: 11 am – 7 pm
Rating: 4.5 stars
Bob's Clam Hut has a rotation for fresh lobster and clams prepared with a hand of experience. The family-owned restaurant is home to daily fresh deliveries from local fishermen. The lobsters and clams are hand-selected to maintain consistent quality and size.
Since its inception in the 50s, the restaurant has continued to be a fan-favorite among locals and travelers alike. Expect some dip into the rich-inhouse recipes the restaurant has developed for years. The state is marvelous, like tasting Old England's best with a modern touch.
Why You Should Dine Here: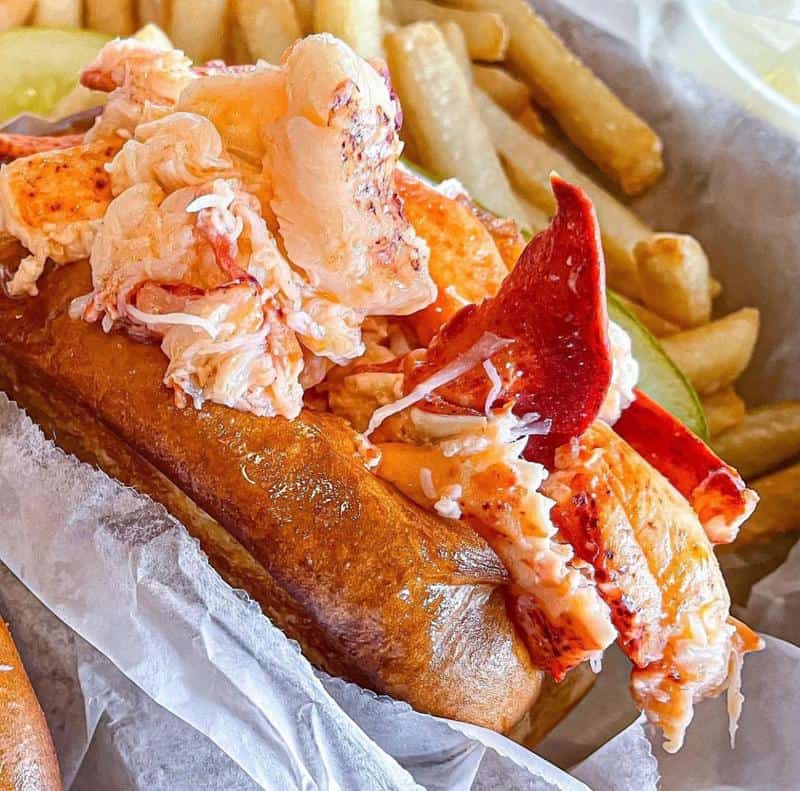 Bob's Clam Hut has the best hand-selected clam and lobster. The selection process makes the restaurant a top tier in the quality of the food they serve, as they're meticulous about their selection process. The traditional recipes native to Bob's are to envy-you cannot afford to miss a meal here.
Oh, and there's a kids' menu and a full bar serving beer and wine. Take a look at their extensive wine and beer options to see if your favorite drink is available.
Recommended dish: Any of their fried recipes are awesome-lobster or clam.
Editorial Note: Check out Kittery Trading Post adjacent to Bob's Clam Hut for the best sportswear in the area.
Address: 150 Congress Street, Portsmouth, NH 03801, United States
Opening Hours: Monday to Thursday: 5 pm – 9 pm; Friday & Saturday: 5 pm – 10 pm (CLOSED ON WEDNESDAYS AND SUNDAYS)
Rating: 4.5 stars
Jumpin' Jay's Fish Cafe opened in 2000, serving seafood in a sleek environment in Portsmouth. It's loved for the variety of seafood it serves, among its dishes: haddock piccata, oysters, tuna, salmon, linguine, and clams.
Executive Chef Harley Smith ensures quality is unsurpassed on the freshly arrived seafood from the local fish piers. The restaurant also specializes in exotic fish tastes like tuna and haddock. Enjoy delicious food in a hip ambience at Jumpin' Jay's Fish Cafe when you make a trip to Portsmouth—it's a must-attend venue for locals. Why not you?
Why You Should Dine Here:
Seafood is always fresh from the local fishers, with an exotic blend of the same for tuna, salmon, and haddock. The restaurant loves reservations; make a booking for your event through a call to the restaurant. Private dining is also welcome in the cafe's dining halls, with a capacity of up to 60 guests for dinner.
Recommended dish: Swordfish Carbonara (Peppadew Fettuccine, Peas, Smoked Bacon, Leeks, Broccolini, Alfredo Cream.)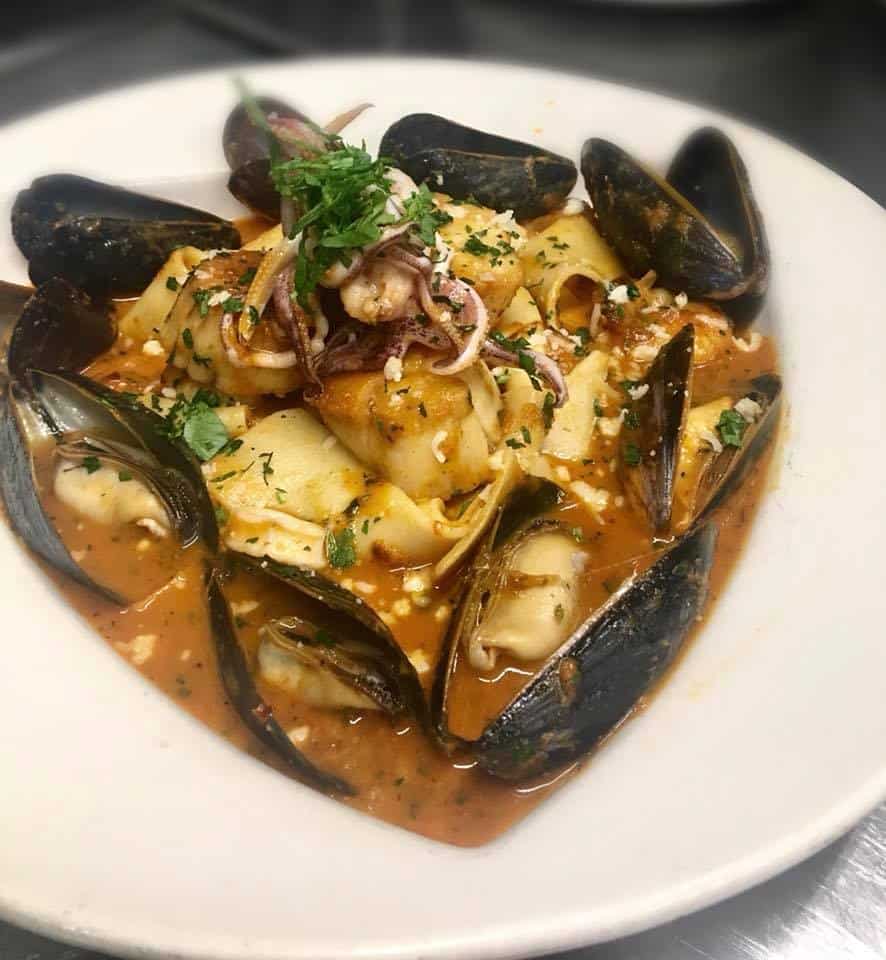 Address: 55 Ceres St, Portsmouth, NH 03801
Opening Hours: Wednesday to Friday: 4 pm – 8 pm; Saturday: 11.30 am – 8.30 pm; Sunday: 11.30 am – 7 pm
Rating: 4.3 stars
The Oar House is located in a historic building in the downtown Portsmouth area. The structure was used as a Merchant's Row near Portsmouth's old harbor. The building saw a fire and was later constructed as a brick structure, a notable trend in the 1800s.
The seafood service comprises mussels, Atlantic haddock, oysters, lobsters, and shrimp. There is a raw bar for shrimp and oysters, too. The Oar is ready for private events of between 10 and 75 guests or a banquet of up to 100 patrons.
Why You Should Dine Here: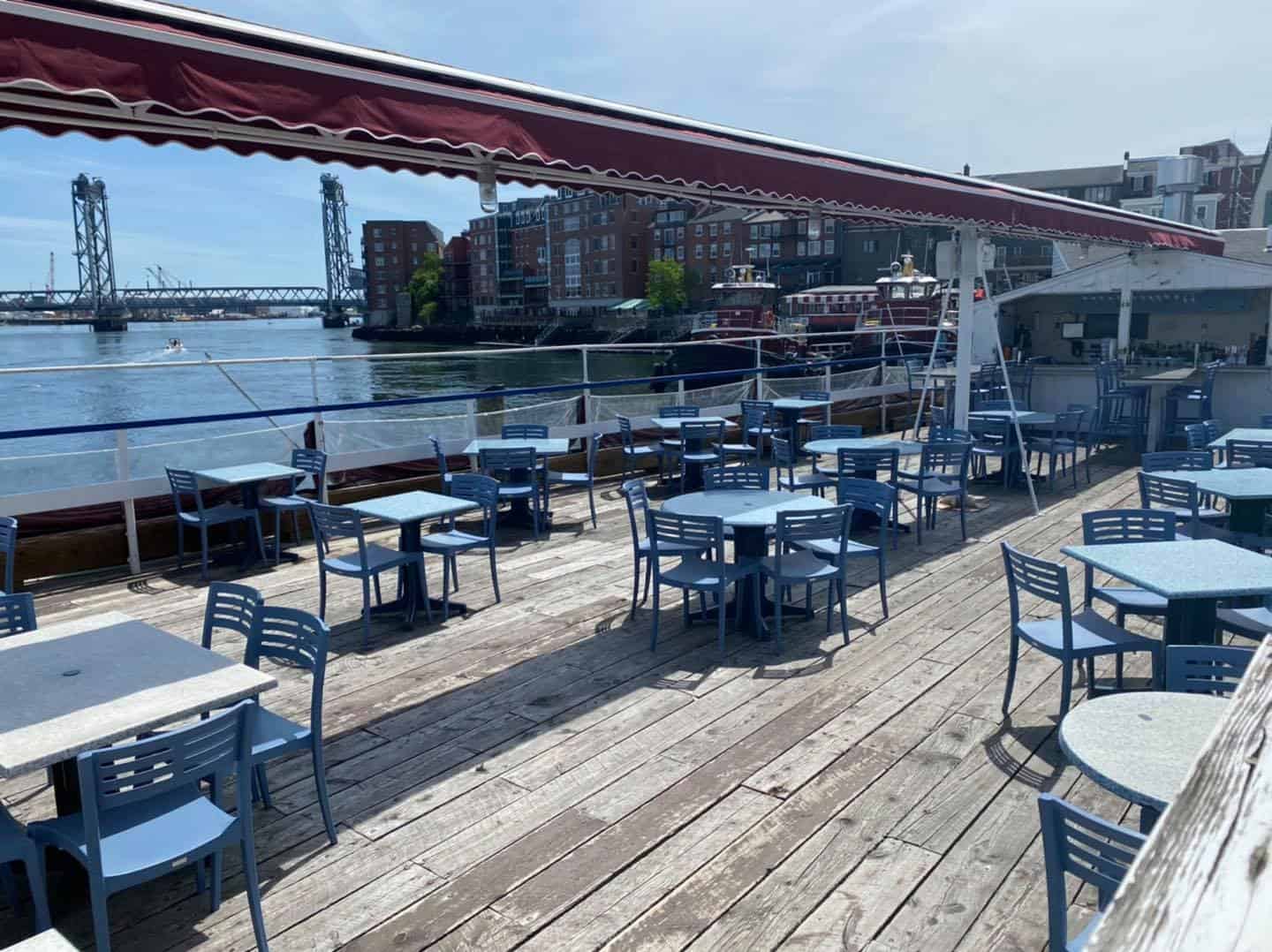 There is available parking at the restaurant's parking garage. Your boat or yacht can tow on the docks near the restaurant, as it's walking distance from any downtown setting. The outdoor space allows you to enjoy the abundant scenery at the waterfront as you enjoy a beer, wine glass, or margarita from the full bar in the restaurant.
Recommended dish: Lobster Mac & Cheese: Maine lobster, five cheese blends, cavatelli pasta, cherry tomato, scallion, and seasoned crumbs.
Seafood Restaurants In Portsmouth, NH: FAQs
Are there fresh seafood restaurants in Portsmouth?
Seafood on the menus of Portsmouth restaurants is a fresh catch from local fish sellers. River Piscataqua runs along with the city, making it an ideal and dependable source for daily fresh catches.
Which seafood restaurants are on the water in Portsmouth?
The waterfront by River Piscataqua is present in most restaurants serving seafood in Portsmouth. Such seafood restaurants include Surf, The Beach Plum, River House, and Bob's Clam Hut. You will get your fill of the water view and delicious food from their carefully curated seafood menus.
Conclusion
Portsmouth is an exciting city adorning a seafood culture, especially for a river city. The restaurants are strategic on the waterfront of River Piscataqua. All recipes in these restaurants are predominantly seafood-oriented, serving clams, mussels, oysters, lobster, etc.
If you want to have a great seafood "buffet" by the water, make your way to Portsmouth. They have specialized international recipes and make their dishes from fresh produce from the local catch. Make it a must-visit for your travel plans to New Hampshire.