Salt Lake City is a beautiful city in Utah with Mormon roots and a rapidly evolving culinary scene. When deciding where to eat, you will be overwhelmed by choices as there are over 200 restaurants in the city.
With a sea of delectable spots, you will find anything and everything to satiate your cravings at any time of the day. Whether you are looking for homely comforts with wholesome and filling soul food or a uniquely indulgent innovative dish, Salt Lake City is there to serve you.
We have a list of the best restaurants in Salt Lake City that you'll surely enjoy. Keep reading to know all about them!
Best Overall Restaurant: Valter's Osteria
Best Romantic Restaurant: Log Haven
Best Seafood Restaurant: Current Fish & Oyster
Best Fine Dining Restaurant: Caffe Molise
Best Restaurants in Salt Lake City
Valter's Osteria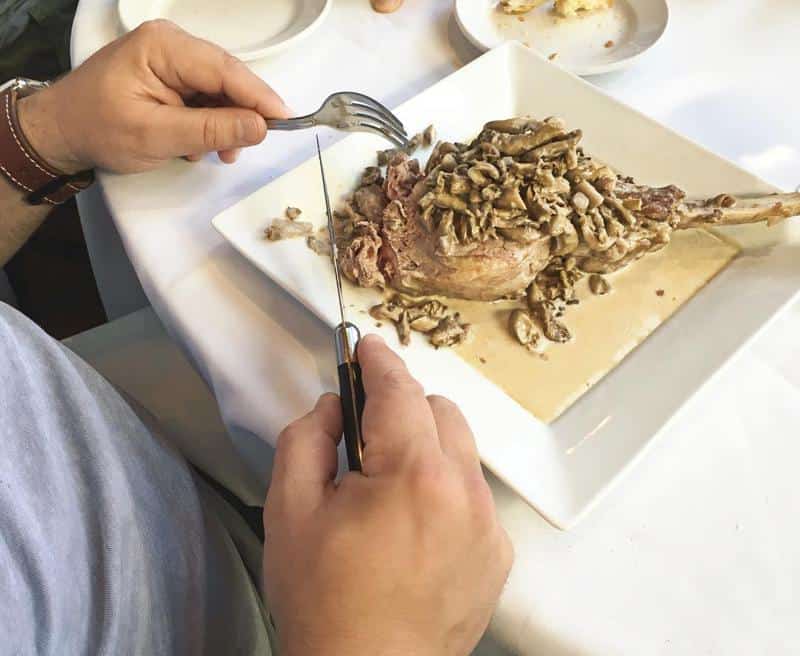 Address: 173 W Broadway, Salt Lake City, UT 84101
Known for: Fine dining rustic Italian restaurant with elevated cuisines in a romantic setup
Valter's Osteria is a top-rated restaurant on TripAdvisor. The tranquil and scenic setup transports you to the cobbled streets of Tuscany, and the elevated dining area carries the authentic tastes of Italy close to home.
The refined layout includes white tablecloths and formally-dressed servers. It is a great spot for date nights and anniversary dinners with traditional Italian dishes intricately prepared with the recipes of chef and owner Valter Nassi.
Indulge in a hearty serving of homemade lasagna – Pasta al Forno Vera, succulent and juicy Veal Chops, or a Fennel-Crusted Duck Breast drenched in grape sauce and cognac.
Log Haven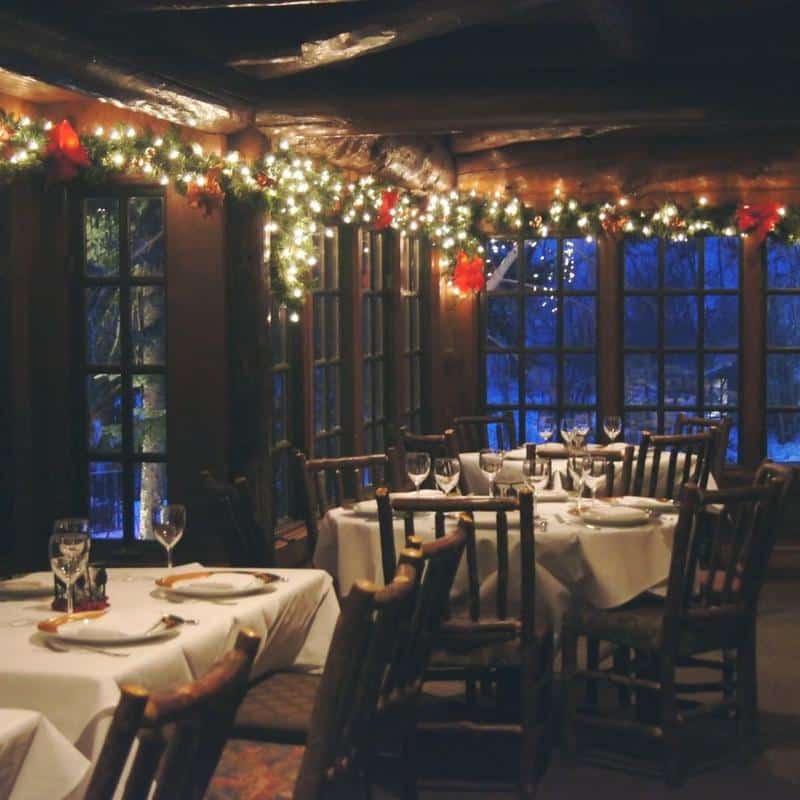 Address: 6451 Mill Creek Canyon Rd, Salt Lake City, UT 84109
Known for: Dreamy and enchanting setup within a log mansion with spellbinding views
With a rustic log mansion setting and enchanting views, Log Haven offers the most romantic dining experience in Salt Lake City. The dimly lit dining area is beautified with fresh flowers and serene wooden furnishing to have an intimate date with your beau.
The extensive list of fine wines further adds to its fine dining experience. If you have a special occasion or plans to get down on one knee, they go out of their way to have the perfect setup to make your special moments extra memorable.
The menu includes fine dining delights like Bison Steak, Pan-Seared Market Fish, Ravioli, and Coffee and Cocoa Rubbed Elk Striploin.
Current Fish and Oyster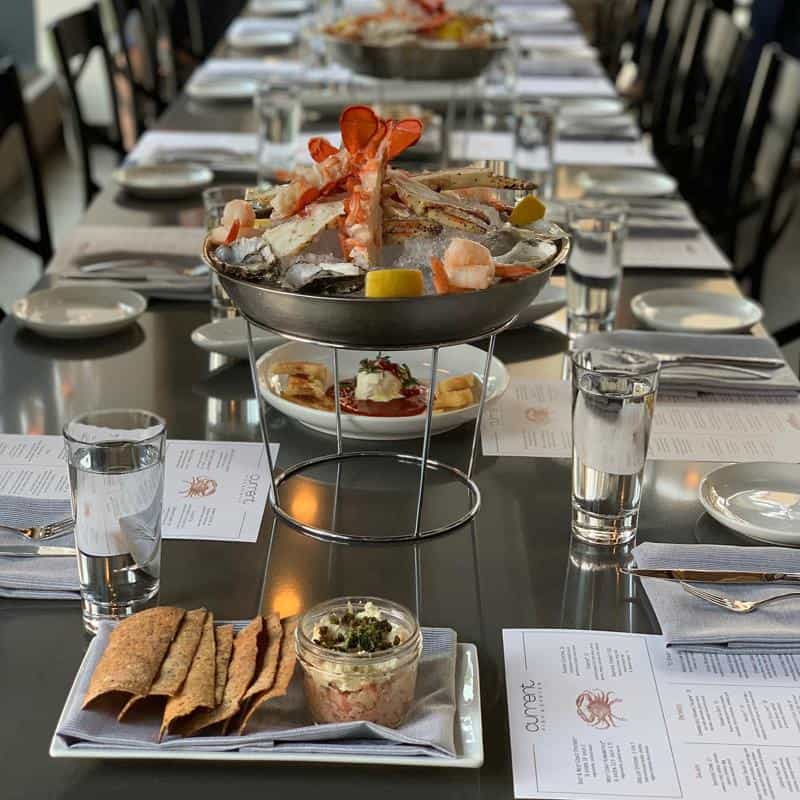 Address: 279 E 300 S, Salt Lake City, UT 84111
Known for: Fresh seafood variety and locally-sourced dishes in a regal and historic ambiance
The refreshingly breezy and sophisticated Current Fish and Oyster is one of the best seafood restaurants in Salt Lake City. The modern and chic spot has a breathtaking historic setting with a regal ambiance.
You will find a vast variety of dishes on their menu, with good old seafood towers served with chilled cocktails and fresh catch-of-the-day prepared with house-made sauces and sides.
Try their Burrata dish with local burrata, pear butter, and grilled radicchio served with local sourdough, or a simple yet timeless Fish Sandwich with a trout patty and house-made slaw on a tender brioche bun.
If you are in the mood for some steaks, you can also find a juicy and scrumptious Prime New York on their dinner menu. Don't forget to pair your food with a delicious wine or cocktail.
Caffe Molise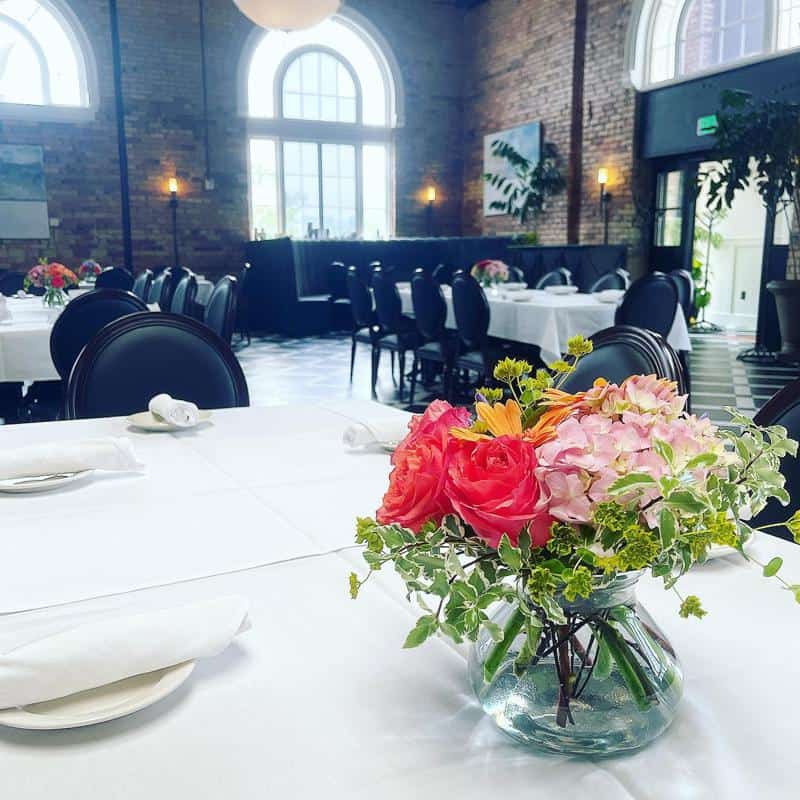 Address: 404 S W Temple St, Salt Lake City, UT 84101
Known for: Fine dining in the heart of downtown with refined Italian cuisine
Caffe Molise is a downtown gem famous as one of the best independent restaurants in the city with a refined fine dining setup and a grand dining hall. Owner and Chef Fred Moessinger bring you the best Italian dishes with seasonal delights and traditional flavors.
Visitors can have a perfect date night while dining here as the restaurant is right next to the Salt Palace and numerous art and entertainment venues. The spectacular spot has a separate bar area to pair with fresh, house-made cuisines.
Try the Ravioli con Zucca made with butternut squash ravioli in a rich garlic brown butter sauce, Asiago cheese, and balsamic reduction, or a classic Piatti served with a side of green salad, vegetables, and starch.
The Pasta variety includes Gnocchi di Patate, Pappardelle al Sugo, Spaghettini Pomodori, and Ravioli ai Funghi among other classic favorites. End your evening with a classic serving of Traditional Crème Brulee or a traditional Italian Gelato and Sorbetto.
Takashi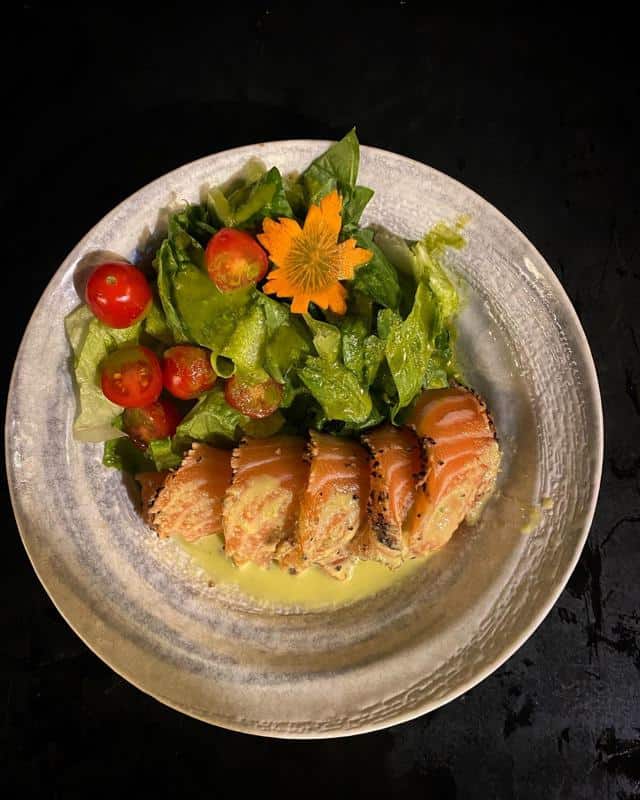 Address: 18 W Market St, Salt Lake City, UT 84101
Known for: Traditional sushi and innovative Japanese dishes
With sleek and modern interiors and equally stylish and trendy food, Takashi is an upscale Japanese eatery with exceptional sushi. The restaurant serves high-quality and fresh seafood dishes along with other authentic Japanese delights.
The restaurant is very famous in the area and is always packed with hungry diners. It is a perfect spot to hang out with friends or stop by for lunch to try one of their delicious Nigiri Sampler or a perfectly rolled Summit Sushi.
Another top item on their menu is the Deconstructed Azekura, but one simply can't turn down a delicately prepared Sake Tataki either. The dish has lightly seared and peppered salmon sashimi served with jalapeño vinaigrette and cilantro vinaigrette on a colorful platter.
Related: Best Sushi in Salt Lake City
Oquirrh Restaurant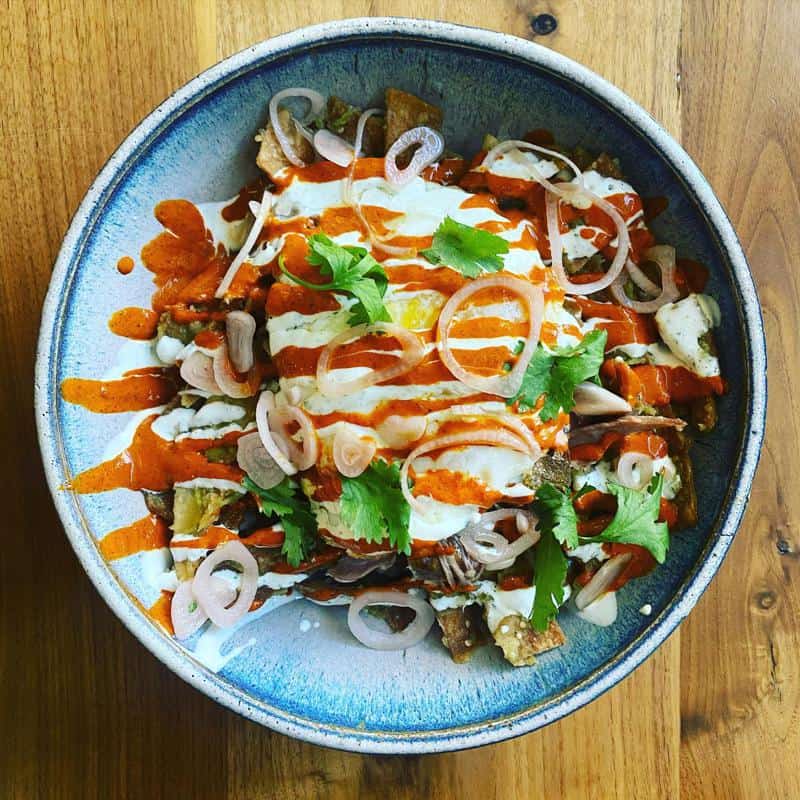 Address: 368 E 100 S, Salt Lake City, UT 84111
Known for: Family-style dining experience in a warm and welcoming setup
With minimalist yet classy interiors and humble wooden furnishing, Oquirrh Restaurant is an intimate and cozy little spot embellished with tasteful local artwork. The warm and welcoming restaurant is a perfect spot for weekend dinners with the whole family, as you will feel right at home with hearty local dishes and seamless hospitality.
The dining area has a family-style setup and you will be welcomed with the mouth-watering aroma of dishes like Milk Braised Potatoes and House Made Bucatini. The restaurant is also famous for brunch on the weekends with stunningly presented dishes like Duck Confit Chilaquiles.
Enjoy these dishes with one of your favorite drinks from an extensive selection of specialty cocktails and wines.
Settebello Pizzeria Napoletana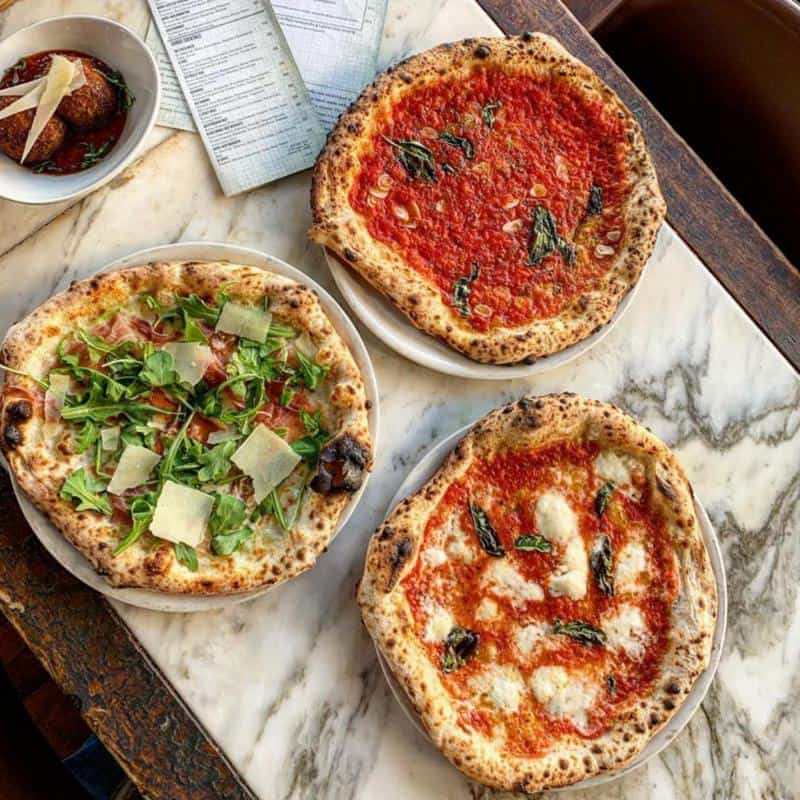 Address: 260 S 200 W, Salt Lake City, UT 84101
Known for: Best Margherita Pizza in town
Craving a traditionally prepared pizza in Salt Lake City? Head to Settebello Pizzeria Napoletana for the best pizza in town with the lightest, crispy or fluffy crust topped with tasty and seasonal veggies and imported San Marzano tomatoes.
The restaurant is just across from Salt Palace Convention Center and has a humble setup with family-style dining. The fresh and delectable flavors remind one of Napoli, and its authentic Italian preparation is unlike any other pizza you've had before.
There is a lot of variety on their menu, but a classic Margherita Pizza has no comparison. With fresh mozzarella and basil beautifully complementing the tangy crushed tomatoes, it is one of the top-selling pizzas of the restaurant.
For a sweet treat, get their heavenly rich and delicious Nutella Pizza doused in cream and Nutella with a topping of fresh strawberries.
HSL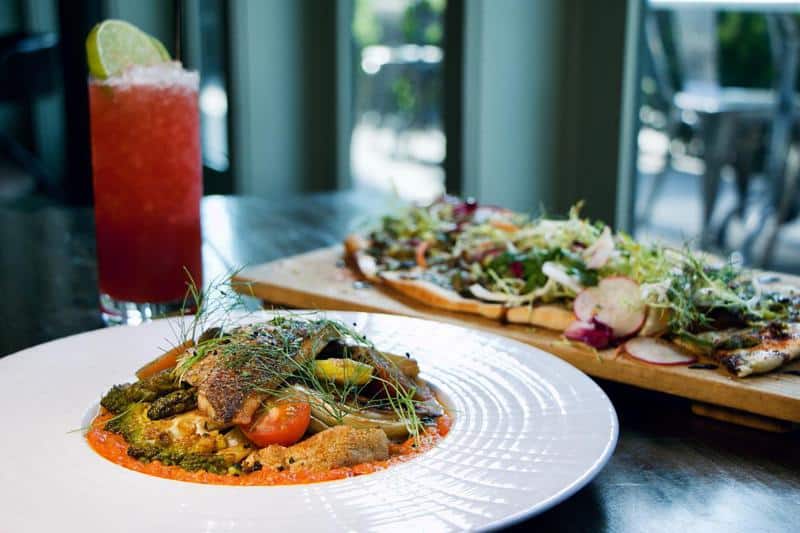 Address: 418 E 200 S, Salt Lake City, UT 84111
Known for: Upscale ambiance with refined New American dishes
Handle Salt Lake or HSL is a lovely New American restaurant with a gorgeous setup and fresh, locally-sourced food. It is a great spot for family dinners and celebrations as the ambiance is warm and welcoming, allowing one to have intimate and memorable moments with loved ones over shared platters, delicious food, and drinks.
Some of the favorite dishes at HSL include Baja Striped Bass made in a romesco sauce with lion's mane mushrooms and General Tso's Cauliflower. For a light lunch, try one of their colorful salads with house-pickled veggies, grilled carrots, and sweet beetroot tahini.
The restaurant also has a lot of seasonal and rotational dishes on the menu. For dessert, we highly recommend the Strawberry Basque Cheesecake with spruce tip sorbet before heading to the lounge and bar area for some weekend drinks.
Bambara Salt Lake City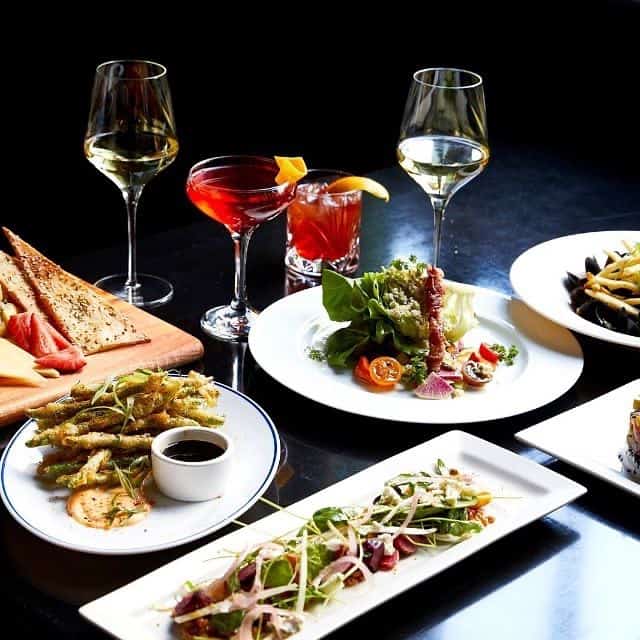 Address: 202 S Main St, Salt Lake City, UT 84101
Known for: Historic downtown location in Hotel Monaco with inspired New American dishes and an extensive drinks menu
Tucked in the heart of the historic downtown, Bambara Salt Lake City is a lively restaurant set in a historic building within Hotel Monaco. The inspired New American bistro has an imperial dining area ideal for large family dinners in a relaxed yet refined ambiance.
The restaurant serves a variety of New American dishes along with delicious seasonal fare, fine wines, and cocktails. Perfectly balancing history and innovation both in its layout and menu, the critically acclaimed and locally loved spot is embellished with rich brass accents and a dynamic exhibition kitchen.
Start your evening with Corn and Shrimp Fritters or a classic Cheese Board with a rotating selection of cheese and cured meats. The entrees include meaty delights like Filet of Beef, New York Strip, Pan-Seared Salmon, Elk, and Roasted Chicken. They also have a huge selection of wines, cocktails, and draft beers.
The Dodo Restaurant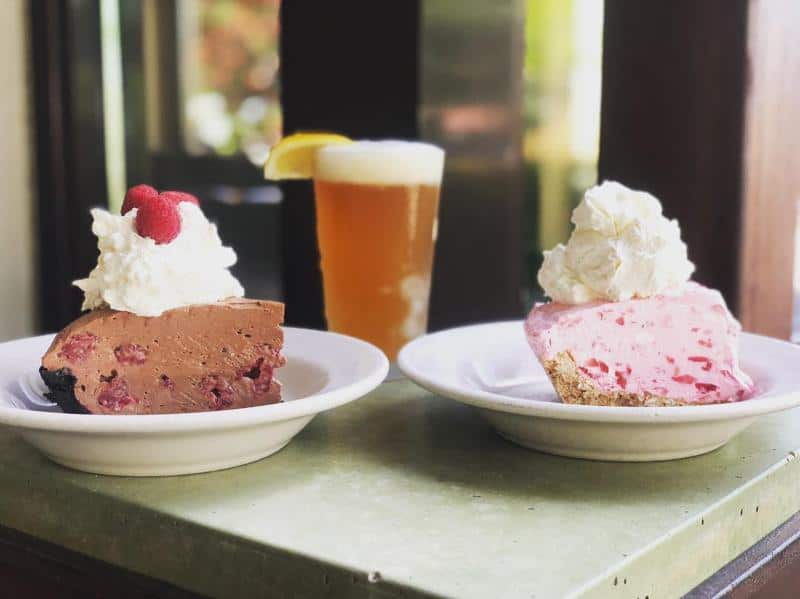 Address: 1355 E 2100 S, Salt Lake City, UT 84105
Known for: Best pie in town – especially the signature Toll House Pie
The Dodo Restaurant is a celebration of the two best things in life – Pies and Beers! The cutesy, laid-back restaurant is famous for its pies and desserts, thanks to the talented pastry chef Ramon who continues to bake the most delicious signature pies.
The quaint setting of the restaurant offers a warm and welcoming ambiance with refreshing park views. The eclectic fare also includes brunch and lip-smacking stacked Turkey sandwiches.
Try the famous signature Toll House Pie – the evergreen and best-selling item on their menu, or a slice of their heavenly rich Banana Cream Cheesecake. Pair this slice of heaven with a chilled beer and you will be singing show tunes all day long!
The Copper Onion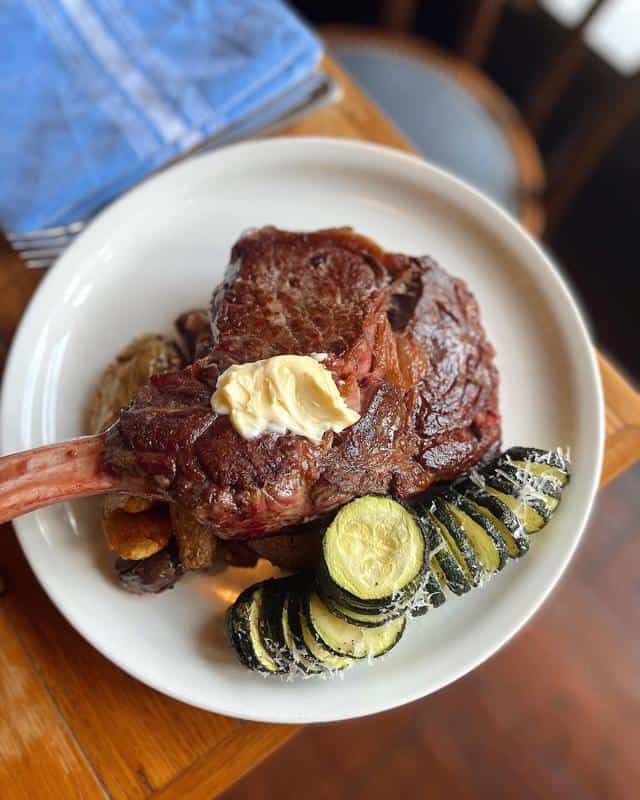 Address: 111 E Broadway #170, Salt Lake City, UT 84111
Known for: Downtown location, seasonal delights, and weekend brunch and drinks
The Copper Onion is another classic downtown find with a refined and elegant ambiance along with indoor and outdoor seating options. The restaurant features locally-sourced New American fare, brunch, and cocktails.
The brunch is quite famous here and includes both small and large plates along with boozy drinks. From salad to fruity delights and fresh seafood, the small plate is fit for a light brunch and goes well with Bloody bull, Mimosa, Bloody Mary, Meletti Spritz, or Moondance from their drinks menu.
The classic dinner entrees feature seasonal delights and specials, but some of the mainstays such as Wagyu Beef Stroganoff, Ricotta Dumplings, and Patatas Bravas are also quite famous and well-loved.
Mumbai House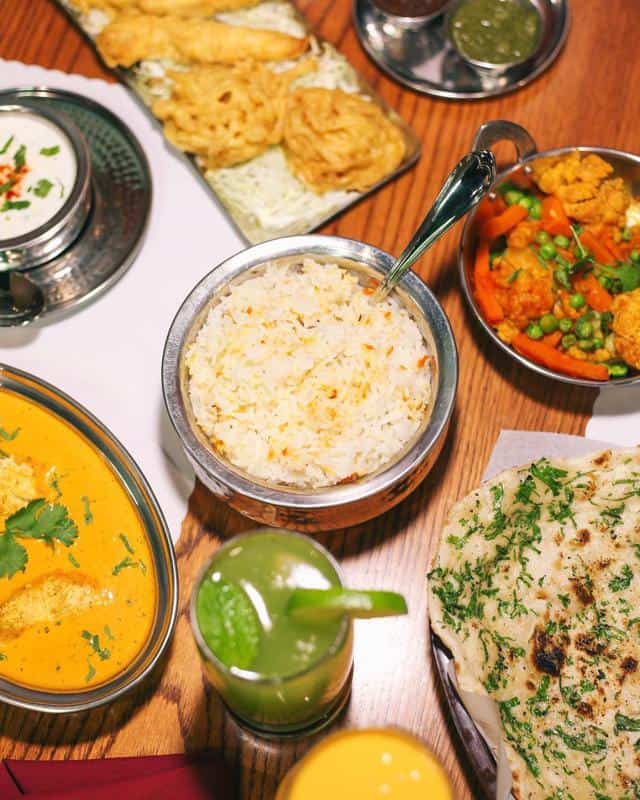 Address: 2731 E Parleys Way, Salt Lake City, UT 84109
Known for: Traditional and authentic Indian dishes with tandoor and coal-fired clay oven
Bombay's House branch in Salt Lake City is famously known as the Mumbai House. If you are craving classic Indian dishes, this is the best spot in town to get your hands on some delectable butter naans and aromatic basmati rice dishes.
The humble and family-friendly setup invites you amid the wafting aroma of traditional Indian spices like cardamom, burnt garlic, ginger, and turmeric. The coal-fired clay oven and tandoor add a smoky touch to all the dishes and make for the most succulent meats and fluffy flatbreads.
Try a wholesome and filling curry-based dish with your favorite meat, or have a hearty bowl of Biryani served with fried onions and mint. The Peshawari Naan greatly enhances the flavor of their curry, and the gluten-free chickpea Channa Roti is a good option for people with dietary restrictions.
Zest Kitchen and Bar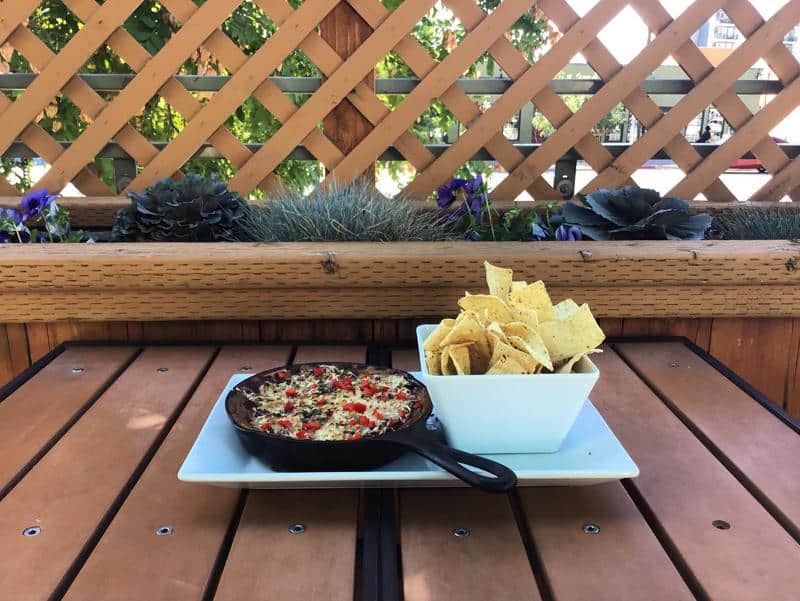 Address: 275 S 200 W, Salt Lake City, UT 84101
Known for: Contemporary American cuisine with global influences and vegan and vegetarian variety
Nestled in the heart of St. Lucie West, Zest Kitchen and Bar offers modern American cuisine inspired by global flavors. With a lot of vegetarian and vegan-friendly options n the menu, the restaurant has something to offer to everyone.
Try one of their fresh seafood appetizers and mains like Crispy Calamari or Ceviche prepared with lump crab, scallop, shrimp, avocado, red onion, Serrano, and cucumber. For a light lunch, get their Zest Cheese Burger or a Seared Tuna Steak, or a hot cast iron skillet dish like a Plant-based Queso Dip with Walnut Meat.
The wide selection of beer, wine, and spirits goes well with all the dishes.
Red Iguana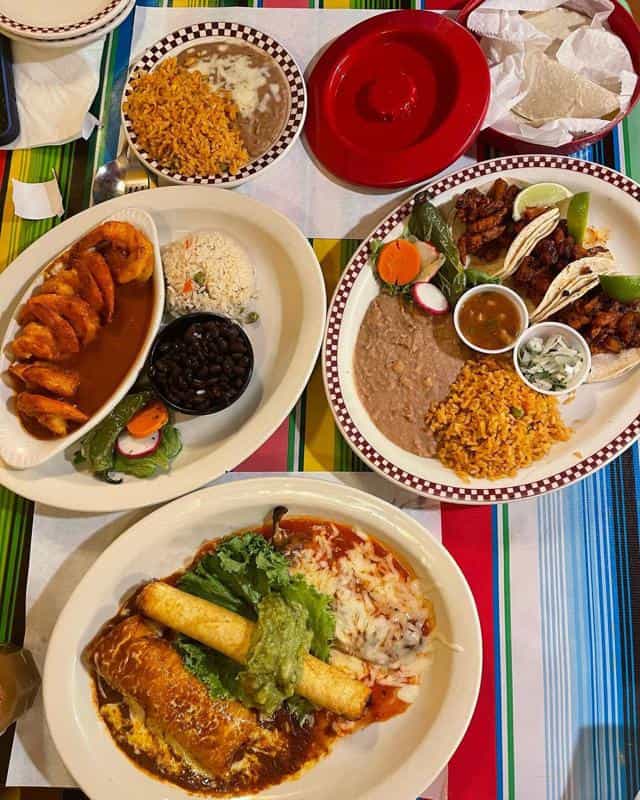 Address: 736 W N Temple St, Salt Lake City, UT 84116
Known for: Authentic and hearty Mexican food in unpretentious surroundings
Have an authentic Mexican experience at Red Iguana boasting a homely and comfortable setup with traditional Mexican delights to satiate your cravings. The house-made corn tortillas and moles are beyond comparison, and the restaurant has three downtown locations in the city.
Try their delicious tacos and burritos, or go for the Puntas de Filete a la Nortena made with sirloin tips tossed in jalapeño strips, bacon, fresh tomatoes, onion, and almond mole.
The Enchiladas Suizas is another top-ordered dish made with tomatillo and corn tortillas with chicken and avocado drenched in sour cream.
Siegfried's Delicatesan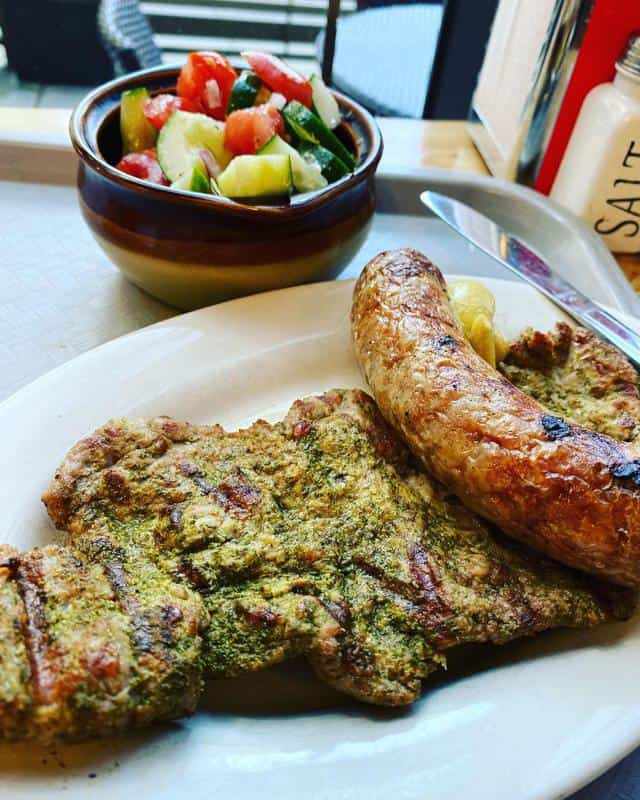 Address: 20 W 200 S, Salt Lake City, UT 84101
Known for: Hearty and traditional German dishes with the best Wiener Schnitzel in town
Tucked along Main Street, Siegfried's Delicatesan is a tasteful German Deli with affordable and mouthwatering German delights. The restaurant is faithfully serving its loyal customers since 1971 and is one of the most beloved local spots to get hearty German food.
The top sellers include a mighty Wiener Schnitzel served with a side bratwurst. They also make a variety of stuffed sandwiches like Corned Beef Reuben to go with traditional drinks.
Try their Schweinesteak und Bratwurst combo served with a side of fresh cucumber and tomato salad, or enjoy a homely hot potato salad with red cabbage and spaetzle with gravy.
The Park Café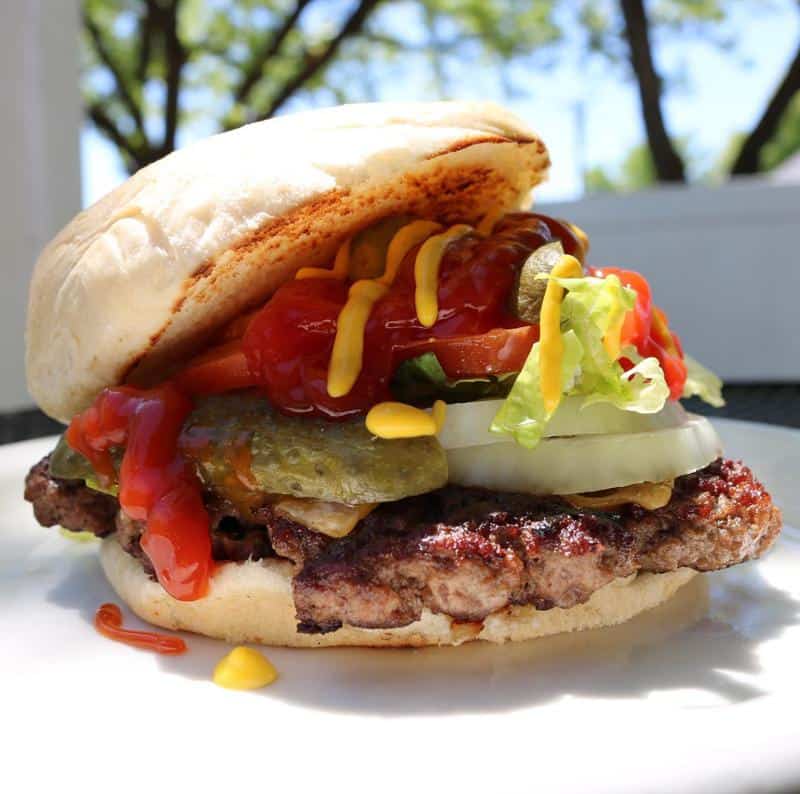 Address: 604 E 1300 S, Salt Lake City, UT 84105
Known for: A classic local spot for breakfast specials and tasty burgers
While exploring the beautiful Liberty Park, stop by for some delicious burgers or home-style breakfast at The Park Café. The quaint diner-style spot is a local's favorite and inviting space for a comfort meal with family and friends.
Impeccable service and a homely local atmosphere is the biggest attraction of the place. Head there early to try the Breakfast Platter with French toast, Eggs, and other breakfast delights.
The café also has whiteboard specials and tasty burgers to go with grilled park potatoes and a chai latte.
Conclusion
Salt Lake City is filled with casual bistros and eateries, humble restaurants, and local favorite spots, as well as refined fine-dining destinations to enjoy with your friends and family.
Try one of the top restaurants on our list and we promise you won't be disappointed.
Map of Best Restaurants Salt Lake City