Gaylord may be only a small town, but it is the perfect destination for a "fresh air" holiday. Gaylord is the county seat of Otsego County in northern Michigan. It features spacious forestlands and waterways that offer enough room to roam in unspoiled wilderness.
Gaylord welcomes you to relax or seek adventure along bountiful forest trails, winding rivers, and over 90 sparkling inland lakes. Offering abundant snowfall, it transforms the town into the ultimate winter playground each year.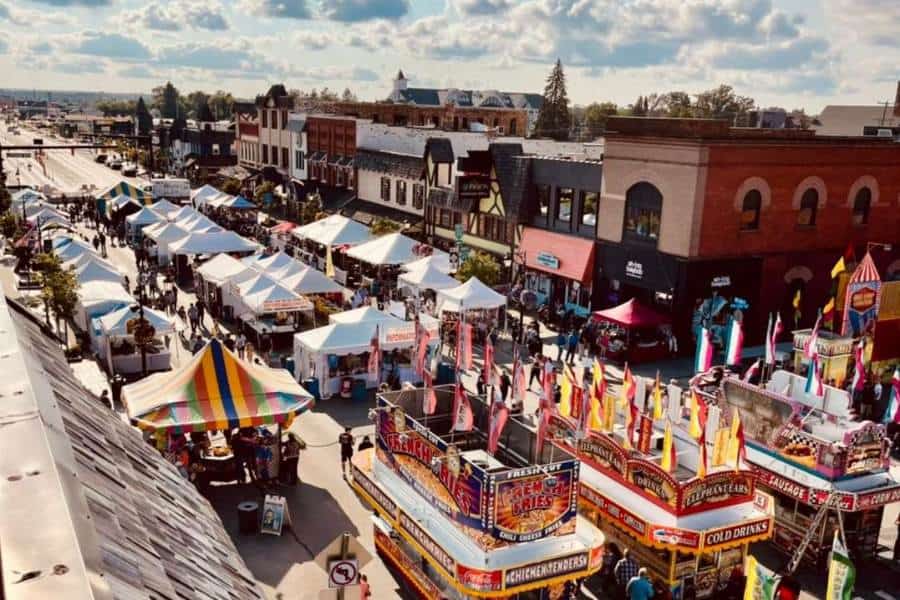 However, apart from the town's rustic beauty, at Gaylord, you can also enjoy a more manicured outdoor experience. For instance, the Gaylord Golf Mecca beckons golfers to stay and play with 17 championship courses where greens stretch as wide as the sky.
Still, while exploring the natural beauty of Gaylord, you will surely need to take a break for a fulfilling meal to get energy and relax. So, check out here the top 12 restaurants to dine in the city.
Best Restaurants in Gaylord, MI
Alpine Tavern and Eatery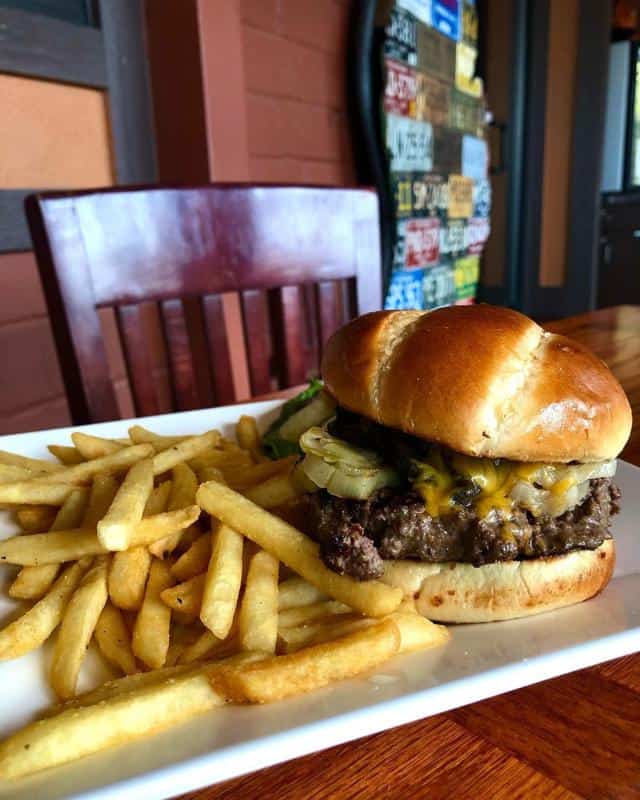 Address: 220 S Otsego Ave #1, Gaylord, MI 49735
Phone: +1 989 732 5444
Alpine Tavern & Eatery offers a friendly environment and a variety of traditional American foods prepared by a family who's been in the food business for over 50 years.
Bring the entire family to the tavern and enjoy their homemade chili, specialty pizzas, or stuffed burgers. The sports bar theme is unique to Gaylord. Enjoy a relaxing day watching your favorite team play while dining at their outdoor patio or playing corn-hole while drinking your favorite beer.
The Iron Pig Smokehouse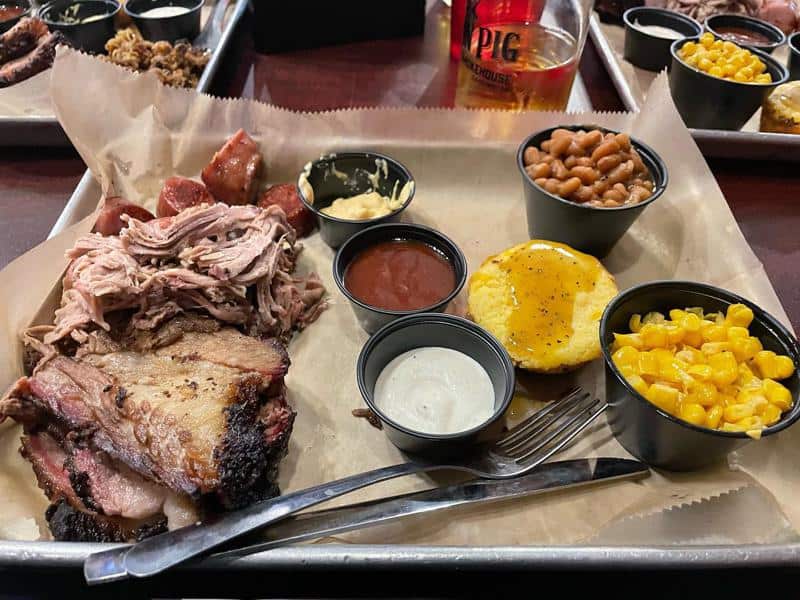 Address: 143 W Main St, Gaylord, MI 49735
Phone: +1 989 448 2065
The Iron Pig claims they have the best BBQ in the north. And indeed, they commit to delivering only the best. Their BBQ is unlike any you've tried before. They only use quality meats, fish, and poultry, as well as an eclectic combination of spices and rubs.
Whether you're stopping in for a quick to-go meal or dining in, be sure to try one of their eight cold draft beers or one of their signature smoked cocktails. Recently, they have also added Flights of different cocktails giving the restaurant a fun and lively atmosphere.
The Pine Squirrel Bar & Grill
Address: 1600 S Otsego Ave, Gaylord, MI 49735
Phone: +1 989 448 2771
The Pine Squirrel is a lively restaurant built on the remnants of The Fireside Grill, with the baseball field still on the side. The outdoor patio and tiki bar are a great place to relax, enjoy the sun and cheer on the local softball teams, with games throughout the summer season.
Expect a casual dining experience and a family-friendly atmosphere. The menu has a wide variety of options, including appetizers, entrees, salads, pizzas, sandwiches, and desserts. Additionally, you will find an entertainment atmosphere with patio dinners, dance events, and a pool room. If you love beer, love dance, and love playing baseball, this is the perfect spot for you.
El Patron Grill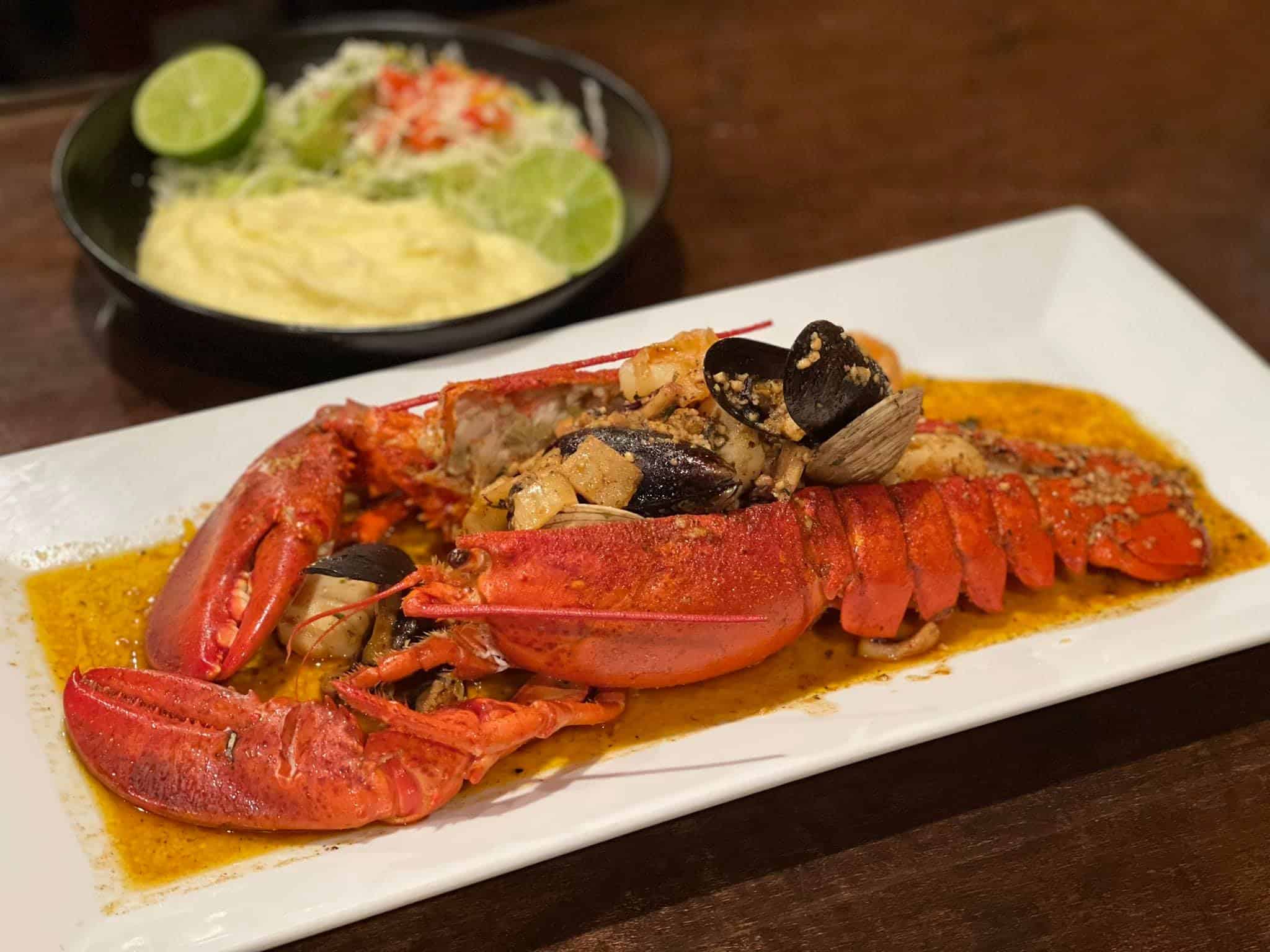 Address: 216 W Main St, Gaylord, MI 49735
Phone: +1 989 448 2753
Sometimes we may think it is impossible to find authentic Mexican cuisine in the North. However, at El Patron Grill, you'll feel as if you are transported to Mexico from Michigan. Their menu features authentic Mexican dishes and cocktails with rich flavors. Be sure to try out their tacos, enchiladas, and their frozen Margaritas.
The restaurant has a southern vibe with Mexican decor. It has a great outdoor seating area and is perfect for a casual family evening outing. Furthermore, the service is always helpful, and no matter the occasion, you will be greeted with a big smile and delicious snacks.
Lucky's Steakhouse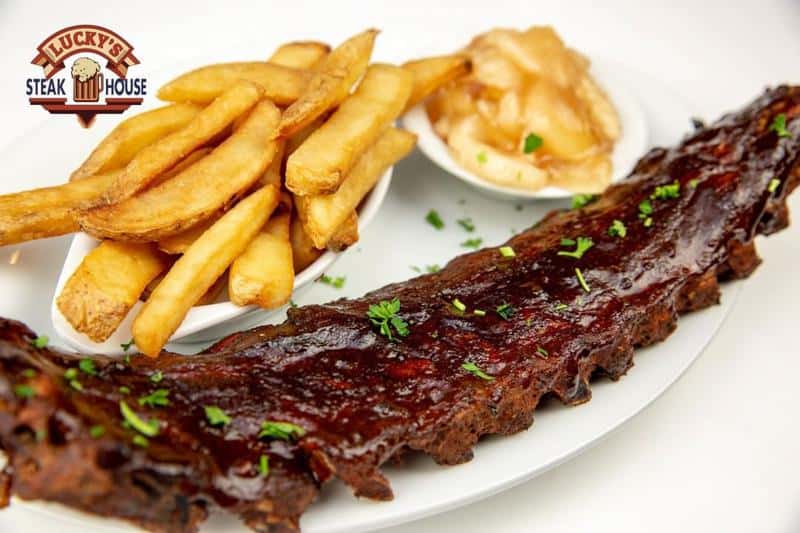 Address: 2525 Snowdrift Dr, Gaylord, MI 49735
Phone: +1 989 448 2580
Lucky Vasilakis came to the United States from Greece in 1967. He opened his first restaurant in 1976 but only opened his first steakhouse in 1998. Lucky's Steakhouse was first established in Davison, and today it is one of the biggest steakhouse chains in the country.
In addition to award-winning steaks, the menu boasts a wide variety of seafood options, chicken, and pasta. After leaving this place, you will surely be satisfied, full, and shocked with its affordability. Their portions are always huge and delicious. Also, you will love their hospitality and eagerness to make your visit perfect.
Porter Haus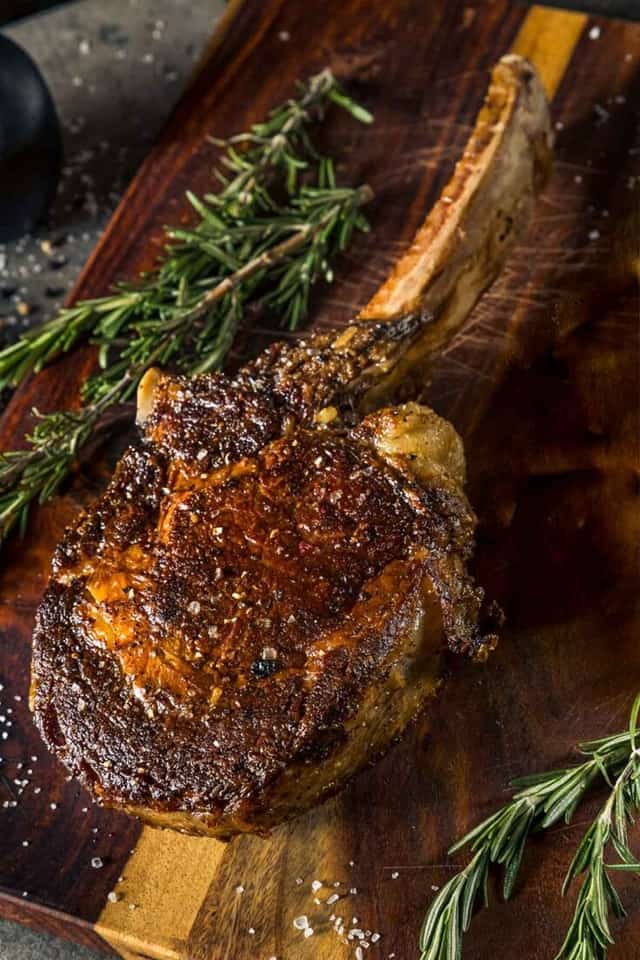 Address: 3885 Old Hwy 27 S, Gaylord, MI 49735
Phone: +1 989 448 7444
Locals may remember the old Stampede Bar outside of town. It featured a western saloon theme giving Gaylord a rather old-style, American style. However, today in its place, you will find Porter Haus, a casual steakhouse with great food and a relaxed atmosphere. It is a destination restaurant with an extensive menu with steak and seafood being the stars.
Established in 2017, it is now one of the busiest local and tourist gathering places, right off Trail 7. Across from Otsego Lake, Porter Haus offers boat-side delivery, take-out, catering, and two Happy Hours, every day with lunch and dinner, as well as specials daily. They also offer outside seating and are dog friendly in the back.
Bennethum's Northern Inn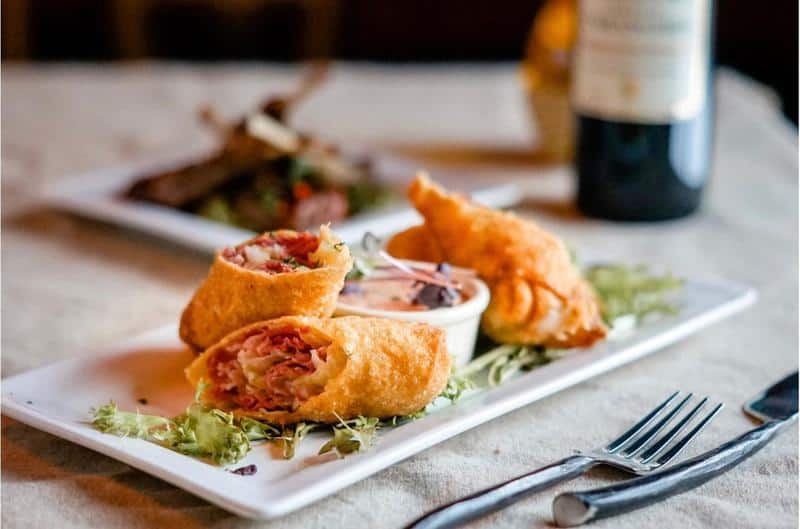 Address: 3917 Old 27 North South, Gaylord, MI 49735
Phone: +1 989 732 9288
Bennethum's gives customers many great dining choices from a menu that changes monthly. Known for their monthly specials and warm hospitality, as well as their global specialties and signature classics, Bennethum's is a good choice for an alternative night out in Gaylord.
Bennethum's was established in 2006, and since then, they have continuously made aesthetic updates. The restaurant has a cozy and rustic ambiance that goes perfectly with its menu, hospitality, aesthetics, and philosophy. Specifically, their philosophy has always been that it is the people that make the place. Thus, their menu is all about seasons, their hospitality is warm and welcoming, and their aesthetics are cozy yet refined.
B.C. Pizza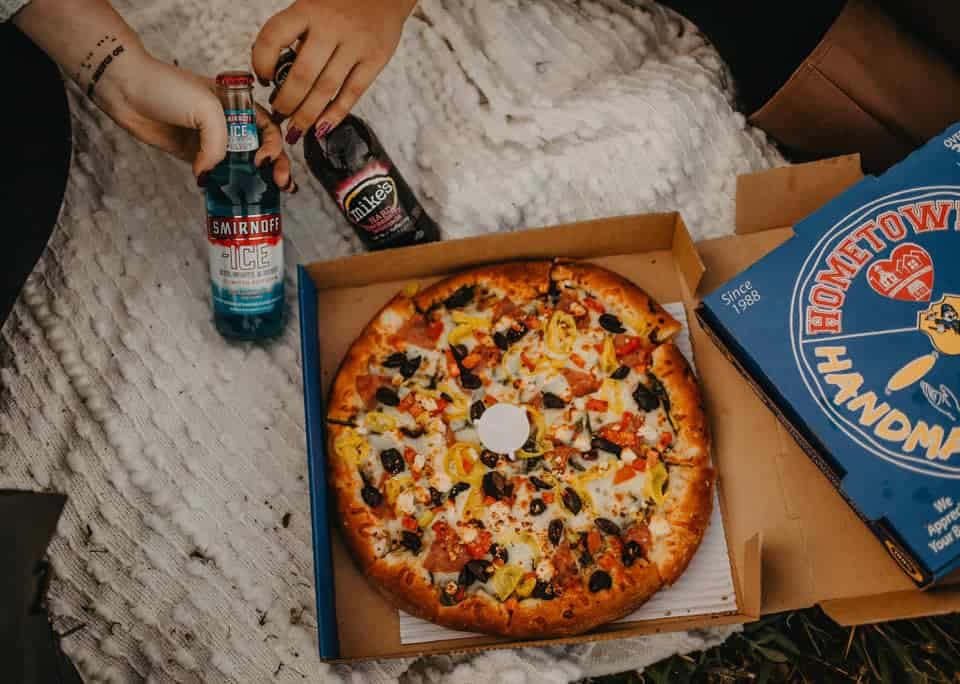 Address: 1525 W Main St, Gaylord, MI 49735
Phone: +1 989 731 1555
Wishing to create a top-quality gourmet pizzeria, brothers Chris and Wayne Nelson established the Boyne City store in 1988. Over the next few decades, the B.C. Pizza brand has expanded to over 30 operating restaurants, with more on the horizon.
B.C. Pizza's reputation as the "Hometown Handmade Gourmet" pizza was built by using only the freshest, top-quality ingredients and the brothers' secret recipes for homemade pizza sauce and crust. Customers continue to be impressed by the one-on-one friendly service and community support. Some of their signature pizzas are Southwest Steak and Portabella, Patrolman's Deluxe, Greek-za Mediterranean, Smokehouse Mac and Cheese, and Chicken Parmazeti.
Big Buck Brewery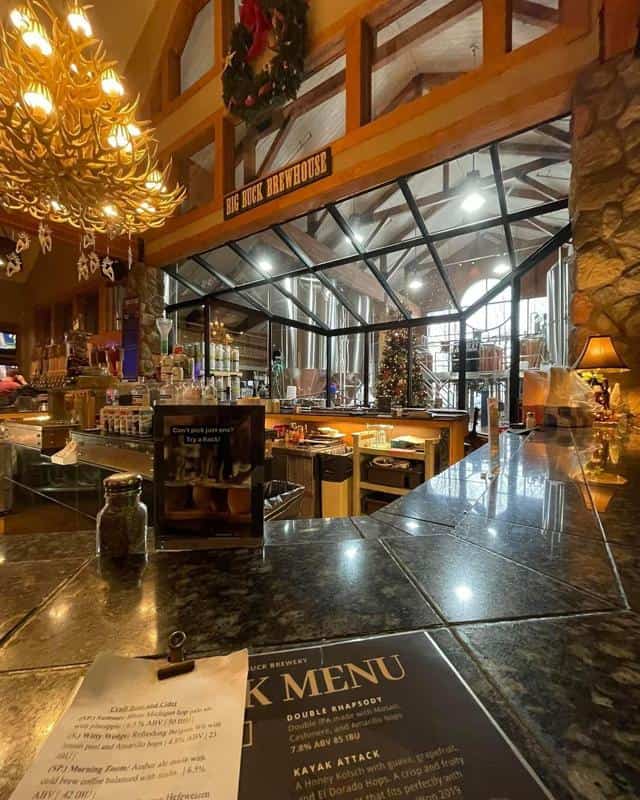 Address: 550 S Wisconsin Ave, Gaylord, MI 49735
Phone: +1 989 448 7072
Cathy and Shawn Smalley have always been passionate about brewing and crafting exceptional beers. Taking advantage of what Northern Michigan has to offer, Big Buck brought forth the birth of the actualization of a long dream coming true.
With a focus on Michigan-made products, they created a menu with delicious steaks, burgers, pizza, pasta, and more. Alongside their mouthwatering food, you will find several all-time favorite beers back to life and some exceptional new beers. Guided by their Executive Chef Ben Hammack and Head Brewer Doug Mehl, they are always striving to produce everything slowly, carefully, and with some northern grit mixed in too.
Timothy's Pub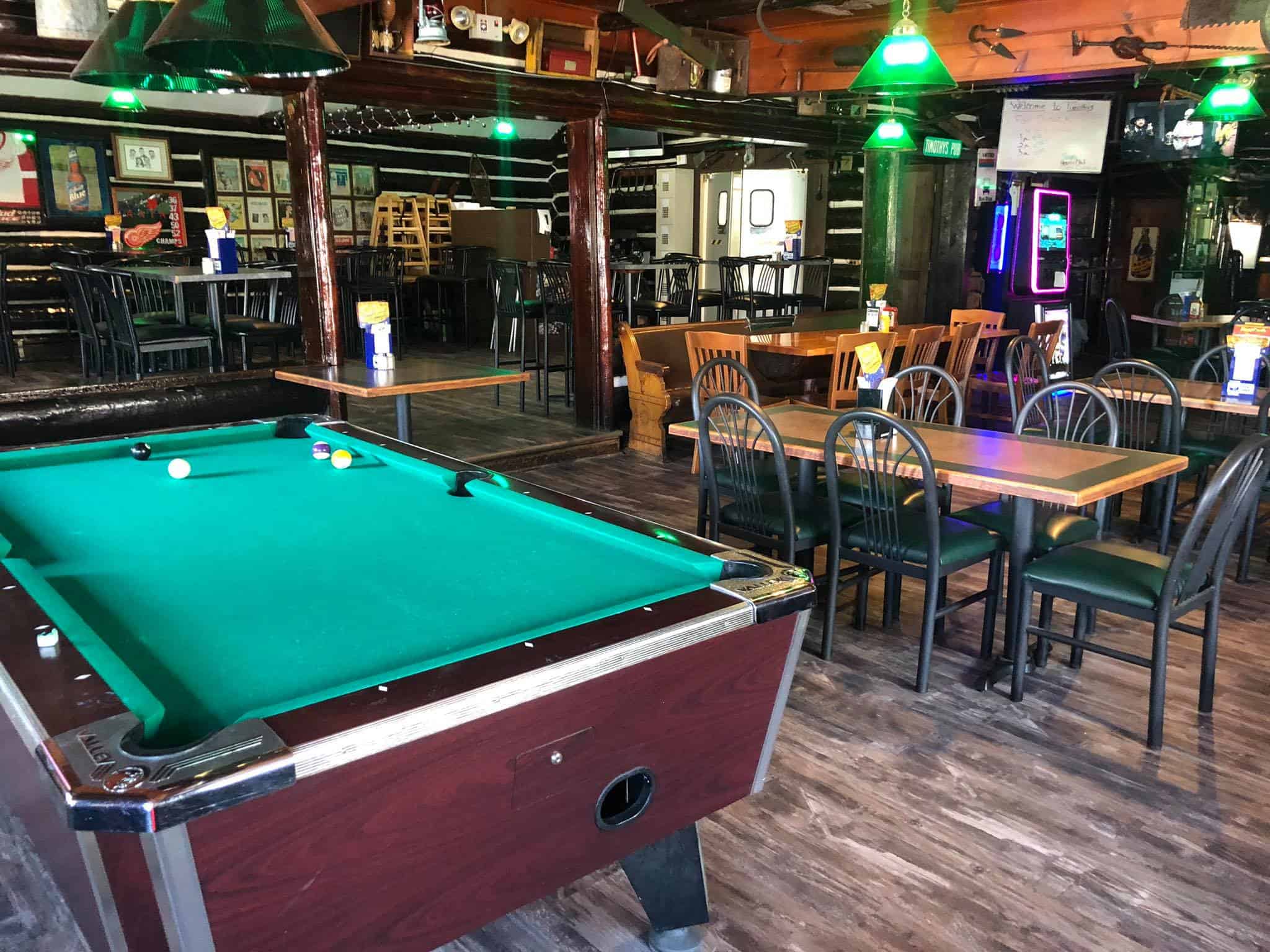 Address: 110 S Otsego Ave, Gaylord, MI 49735
Phone: +1 989 732 9333
Located in the heart of downtown Gaylord, Timothy's Pub has been an area landmark for more than eighty years. Since its establishment, it has been providing excellent service in a pub and restaurant environment as well as serving delicious meals and drinks.
The prominent feature of the bub is the original stone fireplace that provides a heavy pour and "Up North" Michigan log-cabin-style ambiance. It features typical pub grub and draft beer doled out in a laid-back space with a pool table. Some of the favorite meals from locals and travelers are the Applewood Bacon Blue Cheese Burger, Cod Dinner with Fries and Coleslaw, and the Cheese Steak Ribeye Sandwich.
Mama Leone's Italian Restaurant
Address: 2583 S Otsego Ave, Gaylord, MI 49735
Phone: +1 989 732 4431
Mama Leone's Italian Restaurant will definitely bring back nostalgic childhood memories. Its interior gives off classic old-style Italian vibes, while its menu is all about authentic Italian cuisine.
Start your meal with an excellent antipasto salad. Alongside your starters, you will always receive a basket of various Italian bread. Then to continue experiencing a real Italian meal, go for the veal parmigiana, manicotti, cannelloni, linguine with mussels, or pesto spaghetti. And don't forget to have one of their excellent wines.
Crave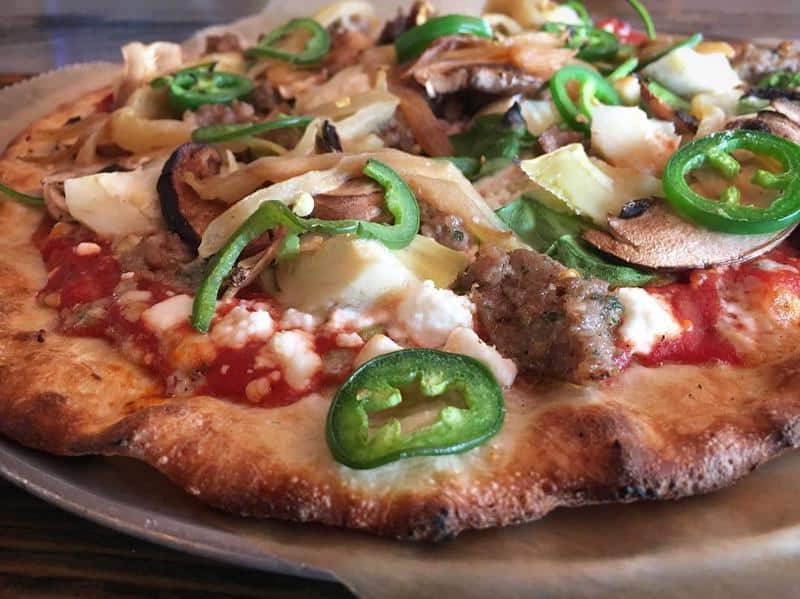 Address: 148 W Main St, Gaylord, MI 49735
Phone: +1 989 748 4848
If you crave pizza and Italian cuisine, then Crave won't disappoint you. The restaurant specializes in traditional brick-oven pizza, and frankly, their hand-tossed and crafted from scratch will leave you satisfied and happy.
Apart from pizza, they also offer various traditional Italian dishes, which also are always fresh with high-quality ingredients. Alongside their menu, they offer a variety of tasty drinks. Last but not least, their service is always top-notch.
Read More:
Final Thoughts
Gaylord offers a variety of foods to fit your tastes and desires after a day of exploring the town or a long drive. Restaurants range from popular national chains to unique local eateries of traditional American dishes and alternative or international cuisines. It is the perfect town for experiencing North cuisine, culture, and hospitality but also a taste of diversity.