As of 2022, over 18,600 Pizza Hut restaurants were in operation worldwide. Despite the massive reach of the big franchise, recent events have seen several of its locations close for one reason or the other.
Thousands of jobs were lost, and several local's favorite Pizza Huts have closed, leaving fans wondering what is happening. Many customers have attributed the closure to the Covid-19 pandemic, which has greatly affected most of the catering and hospitality industry.
Pizza Hut is not the only fast food joint that has been closing its branches. Domino's is another big player in the industry that closed more than 1300 of its worldwide locations in 2020. Another restaurant that lost huge customers was Burger King.
Is Pizza Hut Closing Locations?
The closure of Pizza Hut restaurants began long before the Covid-19 pandemic. In 2019, Pizza Hut owners Yum! Brands announced that almost 500 stores would be closed in the oncoming two years due to their underperformance.
During the second quarter Pizza Hut conference, the company's president, David W. Gibbs, said. "We are leaning to accelerate the transition of our pizza Hut U.S. asset base to truly modern delivery carryout assets. This will ultimately strengthen the Pizza Hut business in the U.S. and set it up for faster long-term growth."
Pizza Hut also projected that as many as 7,000 locations would close in the next 24 months from the August announcement in August 2019.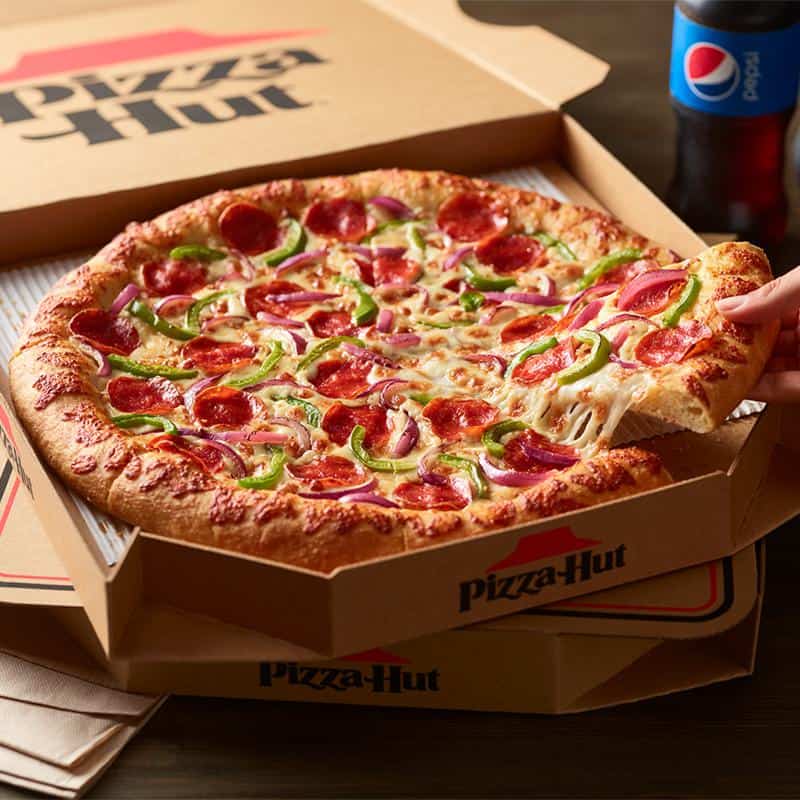 However, they also project the transition to carryout assets would increase the company's outreach and make its service more modern and appealing to its loyal customers.
Some of the challenges Pizza Hut faced in this transition was that most customers did not know the company did take-out and delivery services. This is more so in states and regions with traditional red-roof dine-in restaurants.
Pizza Hut opened in 1958 in Wichita, Kansas, where they started serving their signature pan pizza with other assortments of quick bites like desserts and pasta. The original restaurants were family-style dine-in locations that did not offer take-out and encouraged visitors to dine in.
With the huge shift to modern delivery services, many customers needed a convenient way to get their food. Pizza Hut ended up transitioning to take-out services with the invention of Pizza Hut Express.
The new concept introduced many products not seen in the traditional Pizza Hut that served limited Italian-American dishes. You often find Pizza Hut Express joints on college campuses, theme parks, and food courts all over the country.
With the transition in place, Restaurant Business reported that Pizza Hut is gaining more profits with delivery and take-out than the dine-in restaurants.
In the report, Restaurant Business noted that almost 90% of the company's revenue comes from these casual dining stores rather than its dine-in locations. This shift prompted David Gibbs to address the challenges by closing most of the dine-in locations and replacing them with modern diners.
Despite the changes, David Gibbs clarified that these dine-in locations wouldn't be extinct from the company's portfolio. Pizza Hut Express is the company's main focus due to its profitability and fast delivery.
Express services are more effective since you can order your food and have it made in less than 120 seconds. The popularity of fast-casual restaurants also ensures the company stays afloat and cubs the fierce competition.
With that in mind, you can expect more full-sized Pizza Hut locations closing in the coming months and the foreseeable future.
Also Read: Pizza Hut Crust Types
Why Is Pizza Hut Closing?
Even though the emerging Pizza Hut Express joints are the leading cause of the closures, Pizza Hut has been having many issues that have also led to various locations closing down. One of the major issues is the competitive prices from its rivals like Domino's.
Deals and Competitive Prices
Domino's is one of the most competitive pizza chains in the world. According to a report filed by CNN, the company has maintained its desirable prices while still providing modern services and world-class pizzas.
Many customers opting for fast foods prefer deals and offers from time to time to help them save a few bucks. Pizza Hut lags in this perspective.
Yum! Brands CEO is well aware of this challenge and pointed out that the dine-in locations are the main challenge, "Dine-in is waning in relevance. It complicates our pricing decisions. The chain's messaging is not distinctive enough to attract new customers despite the move to express services."
Pizza Hut introduced a new $5 menu in late 2018 to deal with the competitive prices. You can purchase several items on the menu for just $5 so long as you purchase more than one item.
Some favorite items on the $5 menu include the eight WingStreet wings, Cinnabon Mini Rolls, and Chocolate Chip Cookies from the Ultimate Hershey.
Lawsuits on Deliveries
Law Suits involving Pizza Hut are not new; the company was sued on multiple occasions for underpaying its workers, particularly delivery drivers.
In 2016, Pizza Hut was prompted by a class action lawsuit to pay $3.1 million to Florida delivery drivers the company underpaid.
This case was opened in 2014 because of allegations against the company, which under-reimbursed drivers for their delivery expenses while Pizza Hut kept a huge chunk of the profits.
Pizza Hut also paid $9 million in 2017 regarding a 2009 Las Vegas road crash that landed a motorcyclist in the hospital for months. Another case was reported in 2018 in Kansas regarding a delivery driver who caused a serious crash while on the job.
These and many more cases against the company have seen a decline in the profits and trustworthiness of Pizza Hut.
NPC Bankruptcy
NPC International was the largest U.S. franchise that ran several Pizza Hut stores in 2020. However, in early July 2020, NPC filed for bankruptcy, a decision that affected its 1,227 Pizza Hut stores.
NPC closed about 300 Pizza Hut venues and put the remaining restaurants up for sale to cater to its $1 billion debt. This was amidst Pizza Hut's struggling shift to carry out services, leading to several closures and low profits.
Read More:
Final Thoughts
Despite the Covid-19 pandemic, which affected many hospitality and culinary restaurants, Pizza Hut's closure has more to do with its business practices.
The company's struggle in providing modern services and appealing to the current market has affected its outreach and contributed to several shutdowns.
However, Pizza Hut is not closing for good. The challenges it faces are getting addressed, which might lead to more locations opening worldwide. Before 2020 Pizza Hut had more than 17,500 restaurants worldwide, the number has skyrocketed and is projected to exceed over 18,700.
Frequently Asked Questions
Is Pizza Hut still operating in Australia?
Pizza Hut is still operating in Australia but not in dine-in locations. Pizza Hut Marion in South Australia was the last dine-in venue in Australia that closed in June 2022. You can still purchase Pizza Hut's infamous foods through their current carryout and delivery services in its 270+ Australia locations.
Is Pizza Hut in Canada closing?
The company's struggling business model has not affected Pizza Hut's locations in Canada. Canadian locations received high-profit margins in 2020 compared to their U.S. counterparts, which only had a one percent sales growth.
Which Pizza Huts are closing in the U.K.?
Pizza Hut announced the closure of 29 U.K. branches in late 2020. The closure risked the loss of over 400 jobs, accounting for about 10% of the U.K. Pizza Hut staff.