You may or may not know that Starbucks gives away free drinks and food to customers on their birthdays.
Free coffee on your birthday?
It doesn't get much better than that.
Starbucks has an extensive menu that offers choices for different dietary requirements, making it many customers' favorite because they can quickly find something that matches their preferences.
However, you can't just visit any random Starbucks outlet and claim any day as your birthday to get a freebie. You'll need to follow the instructions outlined in this guide to qualify for this offer and make the best of it.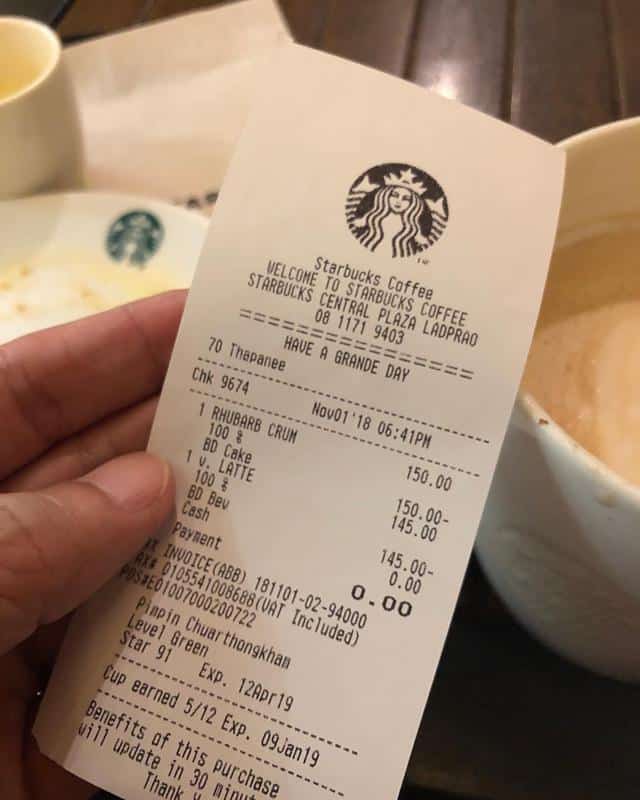 Other essential topics addressed in this guide are how to redeem this free birthday drink offer, the type of drinks you receive on your birthday, and how long the offer is valid for.
How to Qualify for a Free Starbucks Drink on Your Birthday
Starbucks Rewards program allows you to collect points (Stars) with every purchase and then redeem those points for free drinks, food, and other rewards.
To earn a free drink, you have to sign up for a Starbucks Rewards account and be a member for at least seven (7) days prior to your birthday.
You must also have earned at least one star in the calendar year preceding your birthday.
Follow these steps to create a Starbucks Rewards account on your mobile device:
Go to the Starbucks Rewards website or download the Starbucks app on your iPhone or Android device.
Set up an account by inputting your email address, password, and name.
Click on the menu icon in your app's upper right corner and select the Personal Info tab under the Account tab.
Enter your birthdate.
Note: You can only expect to receive a complimentary beverage on your birthday if you input your birthday information on your Rewards account page.
How to Redeem Your Starbucks Free Birthday Drink
On your birthday, check your email or the Starbucks app for an email notification of a free drink. If you tap the "Offers" icon in the upper right corner of the app, you'll be able to access your birthday reward.
You'll need to present the email notification at the time of purchase to redeem your offer and receive your free drink at your nearest Starbucks outlet.
The attending barista will need to scan your Starbucks app barcode or valid Starbucks Rewards card before handing you your free birthday drink.
You can view your Starbucks membership barcode by tapping the "Scan" button at the bottom of the app.
However, the free drink incentive is only valid for a one-time usage on your birthday until midnight of the next day, and you can't combine it with any other offers.
Where Can You Redeem Your Starbucks Free Birthday Drink?
You may redeem your birthday incentive at any Starbucks location participating in the offer. Only Starbucks-owned and operated shops, including those with "Starbucks Coffee" signs, can accept your award.
Licensees such as supermarkets, airlines, hotels, and other comparable establishments aren't permitted to collect incentive redemptions.
To find a participating location in your region, use the Store Locator on the Starbucks website or the Starbucks mobile app. The store's redemption policies are also available on the website.
You may also use the "Store Locator" option to discover information about specific Starbucks locations, such as their addresses, phone numbers, and operating hours.
Furthermore, birthday rewards may be redeemable only at certain times or on certain days of the week. Hence, it's best to call ahead to ensure that you'll be able to use yours when it's convenient for you.
It's also crucial to remember that the Starbucks Rewards program changes frequently, altering the terms under which you can redeem your birthday reward for a free drink. So, check the website or app or ask in-store if you have any queries.
The latest Starbucks Rewards update is expected to go live by February 13, 2023, but the Starbucks free birthday drink offer remains unchanged. This means you can rest assured of continual birthday drink offers for now if you stick to the outlined policies.
What Do You Get as a Starbucks Free Birthday Drink?
Starbucks provides you with a free regular-sized drink on your birthday. Some outlets may offer the free drink in a larger size, such as a "Grande" or "Venti," while others may offer a smaller size.
Overall, Starbucks provides complimentary beverages in the following sizes: Short, Tall, Grande, Venti Hot, Venti Cold, and Trenta.
On your special day, you can have a free drink of any size you choose, as long as it's available. However, the Starbucks Birthday Reward can't be redeemed for a size that's not available.
It's also worth noting that at some locations, you can use your free birthday drink offer on any handcrafted beverage, including hot or iced coffee, tea, lattes, and even some Frappuccinos.
Some alcoholic beverages and extras (like syrups and espresso shots), however, may not be included and will be charged individually.
How Long Is the Starbucks Free Birthday Drink Valid for?
Your Starbucks Birthday Reward is only valid on your actual birthday — you have until the end of the day after your birthday to redeem your price, but you can get a drink of any quantity.
If the next day passes without you claiming your free drink, you'll have to wait another year to redeem it again. Meanwhile, you can rack up points toward complimentary beverages at any time.
Tips for Making the Best of Your Starbucks Birthday Free Drink Reward
Here are some suggestions for making the most of your Starbucks Birthday Reward:
1. Plan Ahead
Remember to cash in on your birthday bonus before it expires. Usually, Starbucks Birthday Reward expires at midnight of the day after your birthday, so it's vital to use them before they go to waste.
2. Use Your Birthday Reward on Something You Want
Since Starbucks birthday points can be applied to any purchase, it makes sense to use them to buy something you've always desired. This could be a baked good, a bag of coffee beans, or a specialty beverage.
3. Take Advantage of Bonus Offers
Make the most of your birthday month by taking advantage of any additional offers for using the app, such as Double-Star Days or Bonus Stars.
4. Be Aware of Holidays and Peak Hours
Remember that your local Starbucks may be busier and have longer wait times on holidays when there's a higher demand for their services.
If you want to avoid waiting in line at Starbucks, try going at a less busy time on your birthday.
Other Means to Qualify for a Free Starbucks Drink
Apart from your birthday, you have other ways of claiming a free Starbucks drink.
Let's examine the most common ones below:
1. National Starbucks Day
On September 29, National Coffee Day, which also happens to be National Starbucks Day, the company offers free brewed coffee to anyone who brings in a clean, reusable coffee cup.
2. Active Participation in the Starbucks Rewards Program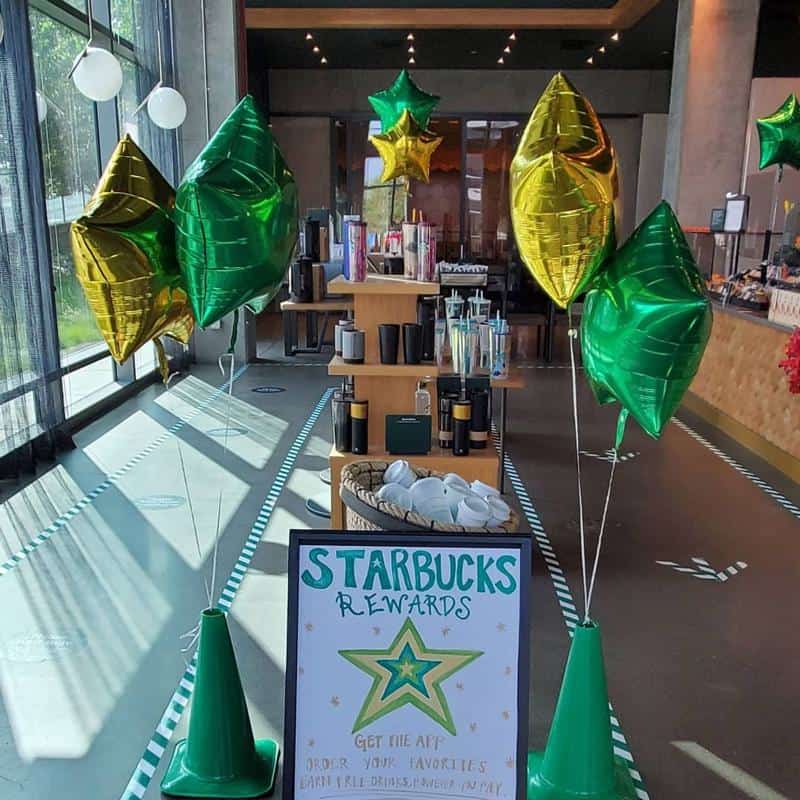 You can get a free drink at Starbucks when you actively participate in the Starbucks Rewards program.
As mentioned earlier, Starbucks Rewards members can earn points (known as Stars) toward incentives by shopping at participating locations.
Customers quickly earn Stars when they make a purchase using the Starbucks app, a registered Starbucks Card, or a linked account on the Starbucks website.
You can redeem your Stars for complimentary beverages, meals, drink customizations, and merchandise. After accumulating a particular amount of Stars, you'll be eligible for various rewards, such as free food and beverages, free refills, and special pricing.
For example, members earn two Stars for every dollar spent and can redeem their points for free beverages and snacks as their Star count increases.
Once you achieve the Green level (300 stars), you can exchange your points for a free appetizer or dessert. At the Gold level (500 stars), you'll receive free refills on brewed beverages, free in-store Wi-Fi, and exclusive discounts and offers.
3. Other Starbucks Events and Campaigns
You can also get a free drink by participating in one of the many Starbucks events or campaigns announced on the Starbucks website, via email, or via the Starbucks mobile app.
As a result, it's critical to keep an eye out for additional promotions and discounts available to Starbucks Rewards members throughout the year.
Read More:
Conclusion
If you'd like a Starbucks free birthday drink on your special day but haven't yet joined the Starbucks Rewards program, consider doing so to take advantage of the offer alongside other perks and benefits.
Registration is quick and easy and may be done via the Starbucks website or the Starbucks app. After registering an account, update your profile with your birthday and wait for your birthday reward — a free Starbucks drink.